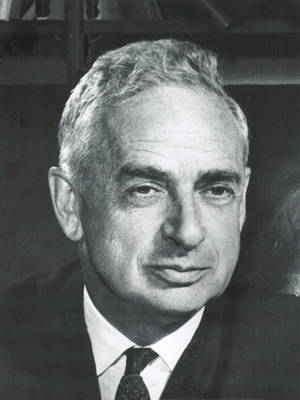 George Charles Sumner Benson served as president of Claremont McKenna College from its founding in 1946 until 1969, when he was summoned to Washington, DC to serve as a as a key Pentagon official in the Nixon administration.
Dr. Benson was born on January 16, 1908 in New York City, where his father was an Episcopal priest. The family subsequently moved to Ukiah, California. In 1928, Dr. Benson graduated from Pomona College, which was founded in 1887 by his grandfather, Charles Burt Sumner. He received his M.A. in 1929 from the University of Illinois and his Ph.D. in government in 1931 from Harvard, where he was an instructor in government from 1931-34.
In the 1930s, Dr. Benson served as research director for the Council of State Governments in Chicago, lecturer at the University of Chicago, associate professor at the University of Michigan, and professor at Northwestern University. In 1941, he published his best known book, The New Centralization, which questioned the concentration of power in the federal government. From 1942-46, he was a military government officer in the US Army, and was responsible for providing food for several occupied provinces in Italy and Austria.
In 1946, Dr. Benson became the founding president of Claremont McKenna College. Over the next two decades, he led the college into the first rank of liberal arts colleges in the United States, with a special reputation in economics and government. He was particularly proud of having recruited an outstanding early faculty. Strongly committed to the Claremont Colleges group plan, he played a leading role in founding Harvey Mudd College and Pitzer College and also in bringing the Rancho Santa Ana Botanic Garden to Claremont.
Reflecting his interest in public service, Dr. Benson was active in Republican Associates of Los Angeles, supported the early career of Congressman Richard Nixon, served as research director for President Eisenhower's Commission on Intergovernmental Relations, and chaired all campaigns, from 1978 through 1996, of Congressman David Dreier (R-Covina), the Claremont McKenna College alumnus who is chairman of the House Rules Committee.
Dr. Benson retired from the presidency of Claremont McKenna College in 1969 to accept the position of Deputy Assistant Secretary of Defense for Reserve Affairs under President Nixon. He was instrumental in persuading many universities to keep Reserve Officer Training Corps (ROTC) programs when such programs were under attack across the nation.
Returning to Claremont in 1972, Dr. Benson published a trilogy on ethics in American life: Amoral America (1975), Political Corruption in America (1978), and Business Ethics in America (1982). These books drew on his beliefs as the son and grandson of Protestant ministers and contributed to the national movement to teach ethics in schools and colleges. Into his late 80s, Dr. Benson remained an active presence on campus, pursuing his research and writing in his office and participating in college events.
Dr. Benson and his wife, Mabel Gibberd Benson, raised two sons. Mabel Benson died on July 22, 1983. Dr. Benson later married Katharine Corbett Lowe Benson, who died on March 1, 1999. Dr. Benson died in Claremont on March 22, 1999.