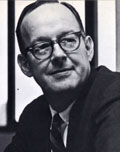 Howard Ralph Neville was the second president of Claremont McKenna College. Neville was born in 1926 in Kankakee, IL. He received his BS in business administration from the University of Illinois, his M.B.A. in 1952 from Louisiana State University, and his Ph.D. in economics from Michigan State University in 1956. He worked at Michigan State University from 1955 to 1969 as an assistant professor of economics in addition to serving as the provost from 1963 to 1969.
Dr. Neville served as president of Claremont Men's College from the fall of 1969 until June 1970, succeeding founding president George C.S. Benson, who left for the Nixon Administration and the Department of Defense. The 43-year old Neville was selected by a trustee-faculty-student committee chaired by Donald McKenna, although CMC historian Kevin Starr opined that, "In retrospect, it is difficulty to determine exactly why Neville was chosen" given his lack of liberal arts college experience, his dearth of scholarly achievements, his paucity of political connections, and his broad experience at very large Land Grant institutions. His brief tenure was marked by protests against the Vietnam War—including a general strike—and disputes about the admission of minority students at the Claremont Colleges. He announced his resignation on June 18, 1970, just a few days after commencement.
Neville left Claremont to accept the position executive vice president for administration at the University of Nebraska in Lincoln, where he worked from 1970 to 1973. From 1973 to 1979, Neville was the president of the University of Maine at Orono, where (according to the University's website) his tenure was generally quite positive. During Dr. Neville's administration, the University of Maine was designated a Sea Grant institution. He initiated and completed a major fundraiser to build Harold Alfond Sports Arena, and saw the construction of an addition to Fogler Library and an academic building named in his honor to house the departments of English and mathematics. He is credited with increasing the number of National Merit Scholars studying at UMaine and establishing academic outreach programs for students. Enrollment increased substantially during his tenure.
Neville became the 11th president of Alfred University in Alfred, NY in 1979 and remained there until he was forced to retire in 1981 due to illness. He died on December 24, 1981 at the age of 55 in Houston, Texas, of a brain tumor. He and his wife, Frederica, never had children. He was survived by his sisters, Harriet Limper and Charlotte Crowe, both of Houston, TX, and a brother, Donald Neville, of Merrimac, MA. Funeral services were held in Ridgway, IL.
On his death, Dr. Neville left a bequest to the CMC of $50,000 to establish the Howard R. Neville Scholarship Fund, which has grown to more than $200,000 and to this day supports CMC students who need financial aid support.