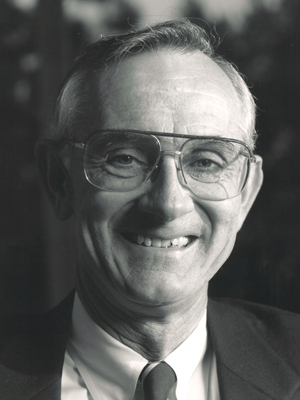 Jack L. Stark served as president of Claremont McKenna College from 1970 until 1999. He was CMC's third president.
Stark earned a Bachelor of Arts in Literature and Economics from CMC (then known as Claremont Men's College) in 1957. After serving as a Captain in the United States Marine Corps for three years, Stark joined the CMC staff in 1961 as director of alumni relations. He was soon promoted to be the chief assistant to founding president George Benson.
Stark served as CMC's chief executive during some of the most challenging periods in the history of higher education. Under his leadership, CMC's endowment grew from $10 million to more than $350 million. He led the college to exceptional growth in reputation, academic quality, and student selectivity.
Since its founding in 1946, CMC has been a liberal arts college with a special emphasis on economics and government. Under Stark's leadership, CMC expanded its influence in public affairs through the creation of nine public policy research institutes.
Stark guided CMC through fundamental institutional changes. In 1976, CMC marked its 30th anniversary by becoming coeducational. In 1981, CMC's name was changed to Claremont McKenna College, honoring founding trustee Donald C. McKenna.
Throughout his career, Stark was a leading advocate for higher education in California and across the nation. He was a member of the board of trustees and past chairman of many organizations, including Independent Colleges of Southern California, Western Colleges Association, and the Association of Independent California Colleges and Universities. He also was a member of the US Army National Advisory panel on the ROTC and the President's Commission of the NCAA.
Stark is also dedicated to serving the local community. He served on the board of trustees and is past chairman of Pomona Valley Community Hospital, Mt. Baldy Region United Way, Foothill Country Day School in Claremont and Thacher School in Ojai, California. He is a member of Town Hall of Los Angeles and the Los Angeles World Affairs Council.
In 1997, the Knight Foundation honored Stark with its prestigious Presidential Leadership Award. He has been presented with honorary degrees by Claremont McKenna College and the University of Redlands. The CMC Board of Trustees named the college's newest dormitory Stark Hall in honor of Mr. and Mrs. Stark. Upon his retirement on June 30, 1999, the Board of Trustees honored Mr. Stark with the title President Emeritus of Claremont McKenna College and was named a life member of the board.
Jack Stark was born in Urbana, Indiana in 1934. He and his wife, Jil Harris Stark, have four children and live in Claremont.