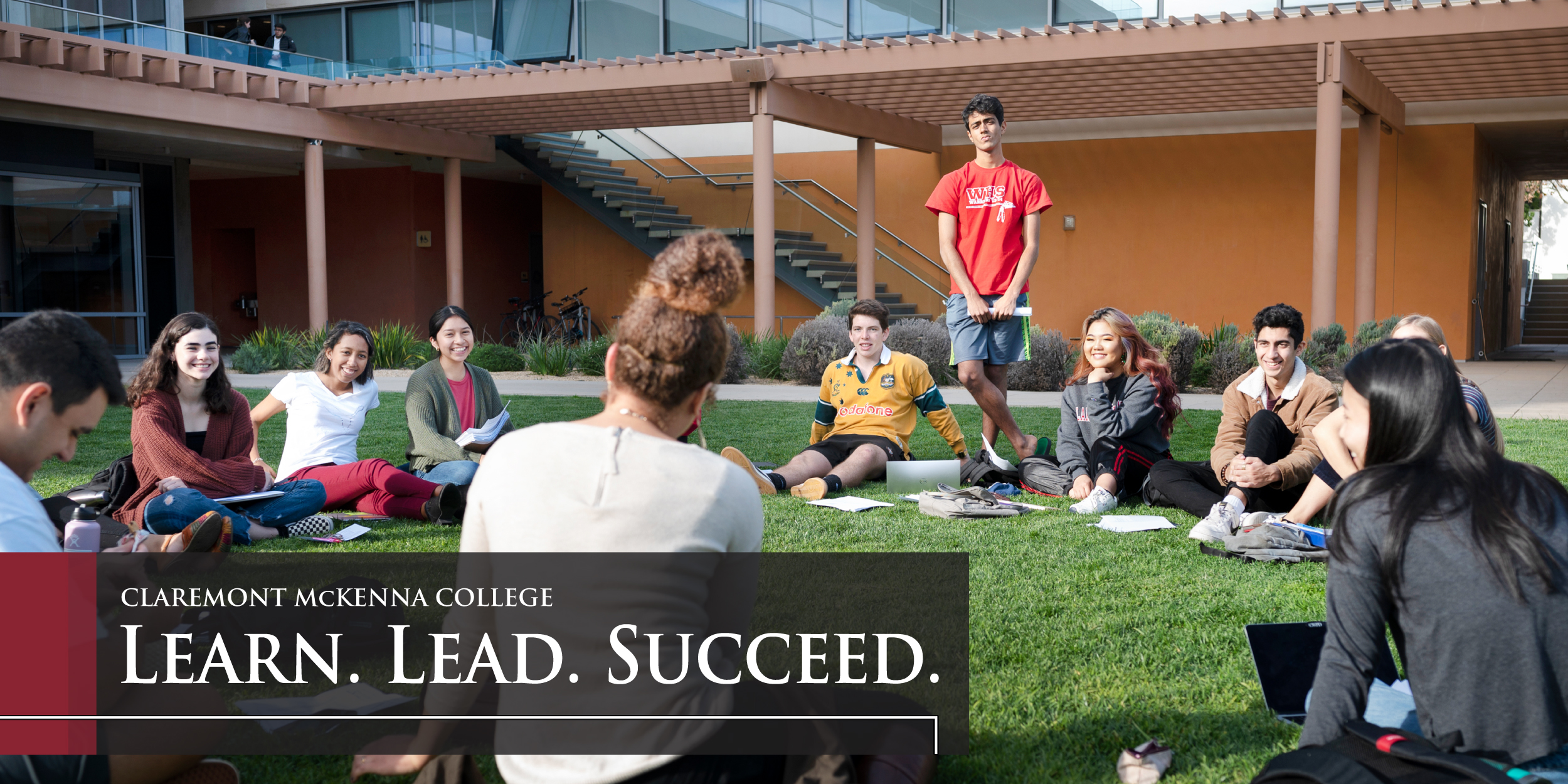 As counselors, mentors and advisors, you play an important role in the college admission process for the students you serve. At CMC, we value the relationships we build with you as well as with your schools and organizations. We greatly appreciate the valuable assistance you provide us as we recruit and evaluate applicants.
This webpage will keep you up to date on our counselor programs, admission policies, and news about the college. Check out our recent mailings to prospective students featuring CMC highlights and current student profiles!
Counselor Events
CMC admission officers are hosting virtual events for counselors throughout the fall. Check out our events to register. We look forward to connecting with you soon!
Eight of the Best Counselor Programs 
The deans and directors of admission of eight nationally recognized colleges invite you to a counselor program in your area. The colleges each have an undergraduate-focused educational experience replete with a low student-faculty ratio, an intimate learning environment, and a challenging curriculum. 
Register for Eight of the Best Counselor Programs.
Who We Are
Claremont McKenna College educates students for thoughtful and productive lives and responsible leadership in business, government, and the professions. CMC attracts students who approach education pragmatically and who intend to make a difference in the world. It is a place where the world of ideas and events work together as one, as opposed to being polarized and isolated concepts and experiences. Graduates leave CMC well-prepared for the challenges of the 21st century.
CMC Updates
​During the fall, Claremont McKenna College will host a fly-in program for students from historically underrepresented communities - first-generation American, first-generation to college, students of color, low-income students, and students from rural communities - who demonstrate strong academic excellence and genuine interest in exploring all that CMC has to offer. This program is open for domestic high school students based in the United States who will be applying for fall admission. Prospective applicants get an inside look into the life of a "CMCer" and can expect the following learning outcomes:
Discover CMC: The opportunity to explore the academic and co-curricular opportunities offered at CMC through workshops with students, alumni, faculty, and staff.
College preparation: Providing information, tools, and assistance navigating the college application process.
You can find the application and more information regarding the program here. Please share this information with students interested in learning more about CMC. If you have any questions please reach out to the Preview Program team at preview@cmc.edu or 909.621.8088.
Test-Optional Policies - With many high school students unable to take the ACT or SAT this summer due to COVID-19 cancellations, Claremont McKenna College adopted a test-optional policy for first-year and transfer applicants for fall 2024 admission. As a result, applicants for fall 2024 are not required to submit an ACT or SAT score to be considered for admission. However, we will continue to accept ACT or SAT test scores from applicants who wish to include them. As we have in the past, CMC admission staff will evaluate an applicant's preparation based on key evaluators such as their high school profile, the strength of curriculum, and student academic performance. CMC will continue to employ an expansive and holistic review process that allows admission officers to evaluate an applicant's academic and personal accomplishments within an individual context. This process is applied to applicants with or without an ACT or SAT test score.
CMC will continue to require an English language proficiency test for applicants whose native language is not English or whose primary language of instruction in high school has not been English.
Recent highlights of the College's advancement success include:
Raising over $200 million for The Student Imperative, an initiative launched in 2014 to expand financial aid and scholarships, create opportunity funding, develop our scholar community program, and establish the Soll Center for Student Opportunity.
Establishing the Kravis Opportunity Fund which provides students already receiving financial aid extra funding resources for summer internships and experiences. 
Maintaining its commitment to meet 100 percent of a student's demonstrated financial need, through generous financial aid packages often supported by the generosity of alumni, parents, and friends of the College.
Accepting an invitation to join the American Talent Initiative, a prestigious national alliance comprised of 68 of the nation's most respected colleges and universities dedicated to expanding access and opportunity for highly talented, lower-income students.
Continuing to set records for giving, in its many forms.
 
In 2017-2018 Claremont-Mudd-Scripps (CMS) Athletics finished third in the Directors' Cup Standing which ranks 400-plus NCAA Division III schools based on their athletic department's success in NCAA postseason competition. 
10 of CMS's 21 teams won conference championships during the 2017-18 school year. 
14 of CMS's 21 teams advanced to the NCAA Championships during the 2017-18 school year.
CMS won the Southern California Intercollegiate Athletic Conference (SCIAC) All-Sports Trophy for the tenth year in a row.
11 CMS student-athletes were selected as "Conference MVP" in their respective sports, and over 100 athletes made the All-Conference teams.
37 athletes were All-Americans.
270 athletes made the SCIAC All-Academic team for excellent academic and athletic achievement.
CMS information for prospective student-athletes is available at cmsathletics.org/recruiting/index.
Upcoming Athenaeum Speakers – The Athenaeum speaker series hosts prominent leaders from all over the world and from a variety of professions four nights a week throughout the academic year. This program highlights CMC's dedication to creating an environment that values diverse perspectives and fosters the free exchange of ideas.
CMC Resources
Charged with seeing the campus through the eyes of the student, The Soll Center for Student Opportunity assists students in exploring, cultivating, and articulating their skills, interests, and talents into real-world opportunities. Partnering with the multiple constituencies that advise, mentor, and guide our students, including faculty, staff, alumni, and parents, the Center aims to empower students to formulate individual goals and strategies for achieving them through the use of resources, thoughtful exploration, and early engagement in personal and professional development. The Center is home to three important resources:
Admission and Financial Aid