Moore Ruble Yudell – Architects & Planners for the Master Plan
The architectural firm of Moore Ruble Yudell, in more than 30 years of practice, has earned an international reputation for excellence based on an unwavering commitment to humanistic principles and thoughtful design for an extraordinary range of projects and places.
Under the leadership of partners Buzz Yudell, FAIA, John Ruble, FAIA, and a talented staff, the firm has built a diverse portfolio of award-winning work that embraces the critical concerns of community, identity and place. The desire to create meaningful, memorable and sustainable spaces, inspired by climatic and cultural understandings, has guided the firm's work at all scales from private residences and multi-family housing, to academic and civic buildings, to campus and community planning.
The firm's work has been featured in numerous exhibitions and publications and recognized with more than 200 awards for design excellence, including the 1992 AIA California Firm of the Year Award, the 2007 AIA Los Angeles Gold Medal for John Ruble and Buzz Yudell, a Royal Architectural Institute of Canada National Urban Design Award, three Chicago Athenaeum American Architecture Awards and seven National AIA Honor Awards for architectural and urban design.
In 2006, Moore Ruble Yudell received the Architecture Firm Award, the highest recognition the National American Institute of Architects can bestow.
From its core set of beliefs Moore Ruble Yudell's principals and staff pursue a broad range of social and artistic initiatives with equal passion, leading to outreach and involvement in contemporary culture through lectures, exhibitions, teaching and research. New technologies have enhanced our humanistic design process and enabled the firm's ability to maintain the continuity, scale and interaction of a single office while taking on larger and more complex work around the world.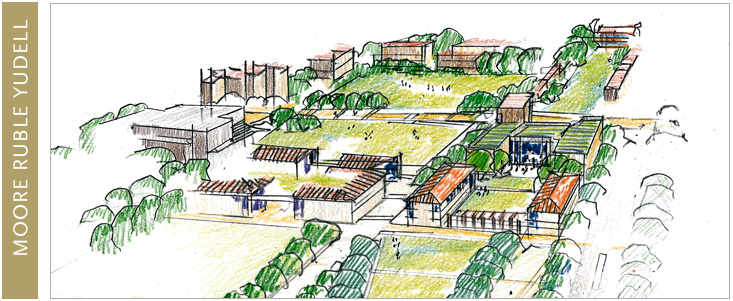 ---
PDF DOWNLOADS
CMC Master Plan in Full (152 MB)
CMC Master Plan - Part 1 (55 MB)
CMC Master Plan - Part 2 (47 MB)
CMC Master Plan - Part 3 (26 MB)