A 240-ton hydraulic crane delivered a 30-ton chiller to CMC on September 9. 'What is a chiller?' you may ask. It is a state-of-the-art, super-cool(ing) unit to service both the Mid-Quad dorms and Roberts Pavilion. And with late summer heat upon us, the timing couldn't be any better.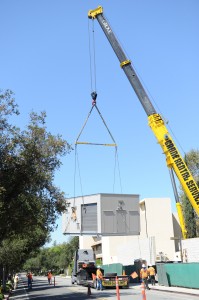 The chiller is hoisted on a crane to its home at CMC.
According to Frank Perri, CMC's director of construction, the new mechanical system uses radiant cooling and heating with air movement by convection, and is much more energy-efficient than conventional air-conditioning. The long-term maintenance costs also tend to be significantly less.
This system is essential for US Green Building Council LEED Gold certification, according to Perri. LEED (Leadership in Energy and
Environmental Design) is the nation's preeminent program for the design, construction, and operation of high-performance green buildings.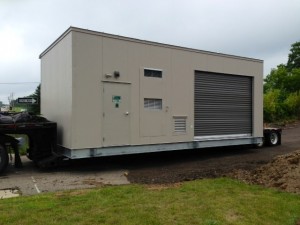 The unit on a flatbed truck waiting to leave the manufacturing plant in Missouri, bound for CMC.
The chiller, which is similar to the unit used to cool the Kravis Center, heats or cools the building through a combination of radiant panels (panels that radiate heat or cold), using either heated or chilled water, which circulates through pipes in the buildings.
In addition to the new chiller, CMC also will be receiving a secondary unit ––a boiler, for heating buildings (using the same convection/radiant system process)––although the boiler will be about half the size of the chiller, says Perri.