A CMC fixture: Dianna "DT" Graves '98

When the call came, Dianna "DT" Graves '98 was up to her elbows in cancer DNA samples.
Only a year out of college, with a degree in biology, she'd landed a plum job as a research associate in City of Hope's molecular genetics department.
Then one July morning, CMS athletic director David Wells '72 phoned with a jaw-dropping proposal: How would she like to take over for Penny Graves as head women's volleyball coach?
"I don't know why he recruited me," admits Graves, who is no relation to the previous coach. "I mean, it's crazy. I was 22. You don't get to coach college athletics at your alma mater at 22. It doesn't happen. Ever."
Young as she was, Graves was a promising pick for leading the Athenas. She'd been a three-sport scholar-athlete at CMC, earning 11 varsity letters in volleyball, basketball and track. She'd received the prestigious Dickinson Award for athletic leadership, was CMC Female Athlete of the Year, served as head resident assistant, and won the Berger Award as one of two outstanding graduating seniors in her year.
That was 20-plus years ago. Graves has been a fixture at CMC ever since. First as volleyball coach, then as director of academic planning, assistant vice president for strategic initiatives, and currently, as associate vice president for student affairs and dean of students.
None of it would have been possible, she says, without four high-impact Claremont mentors.
"On paper, there's nothing about my childhood that would put me in any of these roles at this kind of institution," she explains. "So, when people talk about paying it forward, I take that really seriously."
Graves was born in Denver, the child of teenage parents with little money and no college education.
"Mom was 16 when they had me; dad was just a bit older," she says. "I'm the oldest of five. It was a struggle right out of the gate, but my parents were committed to the best education they could find for us."
Graves' dad, Mark Turner, recently retired after a 40-year career with the U.S. Postal Service. Her mom, Erin Donnegan, ran a thriving day care center from their modest home. (Graves' nickname, "DT," stands for Dianna Turner, her maiden name).
The Turners worked hard to send their five kids to Catholic school, where they received a rock-solid education built on a strong support network. But along with the support came intense social scrutiny.
Looking for a fresh start in college, Graves jumped at the chance to attend CMC, where she could pursue a rigorous pre-med track while playing on an NCAA team.
In high school, she'd played volleyball, basketball and soccer, but as a freshman at CMC she confined herself to volleyball. "It never crossed my mind that you could do more than one sport in college," she admits.
When the volleyball season ended, however, "I was just miserable," Graves recalls. "I missed it so much—just being involved in athletics: the competitiveness of it, and the physicality, the community."
Basketball season was already over, and soccer season overlapped with volleyball. "So, I went out for the track team, which I had never done before." She ended up throwing the javelin and discus all four years. Starting sophomore year, she joined the basketball team too. In 2020, she was inducted in the Claremont-Mudd Scripps Athletics Hall of Fame.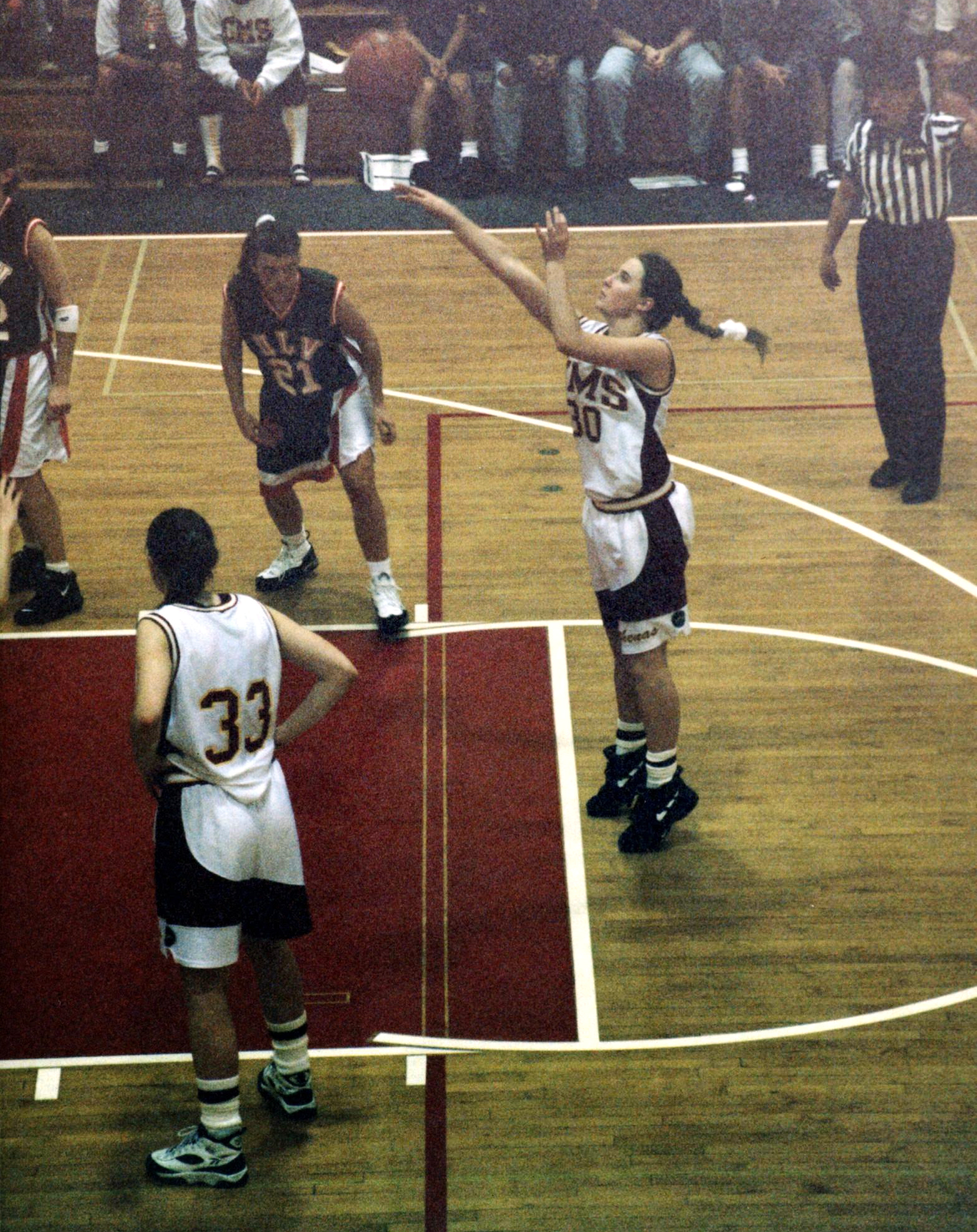 But her path wasn't always smooth. At CMC, four individuals stepped up as life-changing influencers: women's basketball (now women's golf ) coach Jodie Burton and her husband, athletic director David Wells '72, biology professor (now emeritus) David Sadava, and then-associate dean of students Jeff Huang.
She credits the college—but especially these four mentors—with "hanging in there with me, challenging me, and holding me to account. Nobody at CMC ever told me what I couldn't do. They kept asking me: 'Who do you want to be?'"
Burton and Wells welcomed Graves into their family life at a time when she was flailing.
"Neither of my parents went to college, and I was really kind of lost," she says. Desperately homesick, she felt guilt over leaving her four younger siblings behind.
"And Jodie could feel it," Graves recalls. "She would ask about my siblings. She knew them all by name, though she'd never met them."
Burton hired Graves to tutor her three sons. "I was struggling with my family issues, and Jodie opened the door to her family and let me right in," Graves explains. "Her kids became like my little brothers."
The Burton-Wells home wasn't idyllic. David Wells was in the late stages of throat cancer. "He was so sick," Graves says, sadly. "Yet rather than close the door, they were like: 'Here's our family, and this is what life with cancer looks like.'"
And not just to Graves. Wells, who died in 2001, had loved to cook but could no longer eat. A tracheotomy required he use a feeding tube. That didn't stop him cooking for all the CMS players at their annual New Year's Day viewing party.
Another key mentor for Graves was biology professor David Sadava. She had approached him as a potential thesis adviser in her first year, proposing an ambitious four-year project on an unspecified topic.
"He laughed out loud," she recalls, "and sent me on my way, saying, 'Come back in four years.'" A year later, she became his TA, although she ended up writing her thesis under another professor, Merri Lynn Casem.
But Sadava advised her at crucial crossroads. Originally aiming for medical school, Graves unexpectedly fell in love with genetics lab work the summer before senior year, while interning at the Eleanor Roosevelt Institute for Cancer Research in Denver, an opportunity she secured with a strong letter of recommendation from Sadava. With his blessing, she decided to switch gears. Upon graduation, it was Sadava who lined up her job at City of Hope.
When Wells dangled before her eyes the prospect of coaching CMS volleyball, the first person Graves consulted was Sadava.
"My whole focus was on research and medicine, and then this opportunity came up out of nowhere," she says. Graves was still a year shy of the two-year contract she had agreed to at City of Hope. "Dr. Sadava got me the job in the first place, so I wanted to make sure I wasn't burning that bridge. I remember crying," she says. "I told him: 'I don't know how to say no to this opportunity, but I will say no if it's going to hurt your relationship with this scientist.'"
Sadava, now retired from teaching but still active in research, shrugged off that reservation. Professional politics "never even crossed his mind," Graves says. "All he cared about was that I avoid making an impulsive, gratuitous decision I might someday regret. He's an amazing human," she adds, smiling.
Graves' fourth big influencer was Jeff Huang, now president of St. Paul's School in Baltimore, Maryland. Ironically, he was dean of students then—the same job Graves currently occupies.
When the volleyball coaching opportunity arose, she went to see Huang in person. "I told him, 'I don't know how to handle this. I don't know how to think about this kind of opportunity." He, too, helped her work through the puzzle of assessing her own talents and aspirations.
The last person Graves spoke to was her former basketball coach, Jodie Burton. "I asked her: 'Do I have what it takes to do this—to be a good coach?'" She knew Burton would pull no punches, even as the wife of the CMS athletic director who was recruiting her.
In the end, coaching trumped cancer research.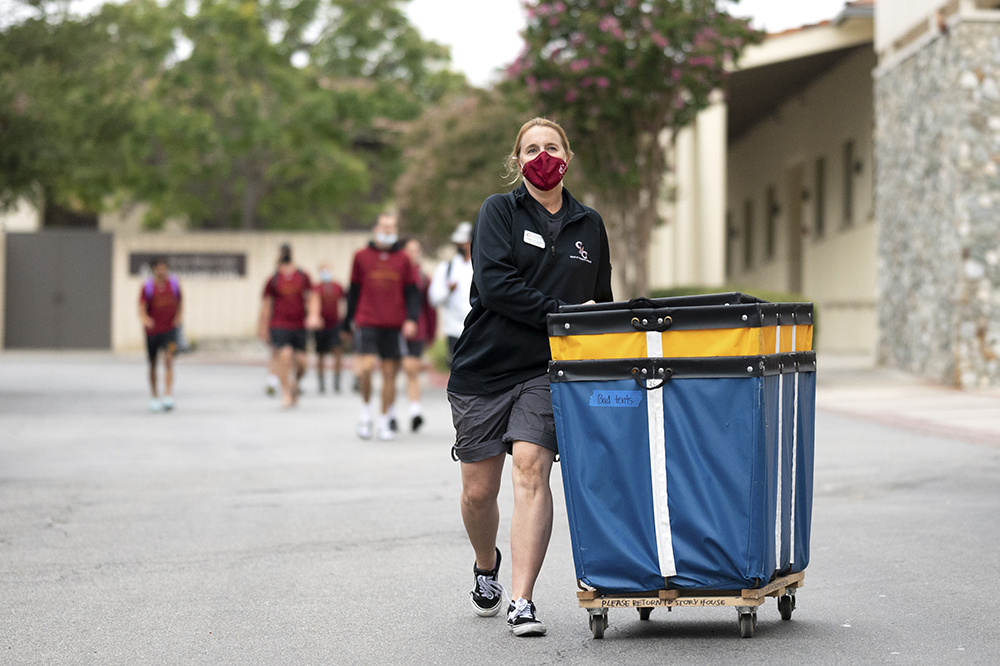 "I felt like science would still be there, and this wouldn't. Then 12 years later I was still coaching and loving it," she says.
Wells had wanted Graves to start on a master's—college coaches typically have advanced degrees—so she enrolled in Claremont Graduate School, eventually earning a PhD in education in 2015.
Returning to CMC felt right on a personal level, too. Her husband, Steve Graves, was—and still is—rooted there as head athletic trainer.
They married in 2002 and now have two teenage children, Matthew, 17, and Erin, 16.
In 2010, Graves hung up her coach's whistle, but she didn't return to science. Her thoughtful, data-rich administrative reports and self-studies written for the athletic department had caught the eye of CMC dean of the faculty Gregory Hess, who recruited her for the newly created post of director of academic planning. Six years later, she became assistant vice president for strategic initiatives under President Hiram Chodosh, and played a leading role in hammering out the college's strategies to address sexual assault, drug and alcohol use, academic integrity and campus climate—winning recognition with the 2015 Exceptional Service Award.
In 2018, she was recruited to student affairs and is now associate vice president and dean of students.
That's a big title, but Graves keeps it real.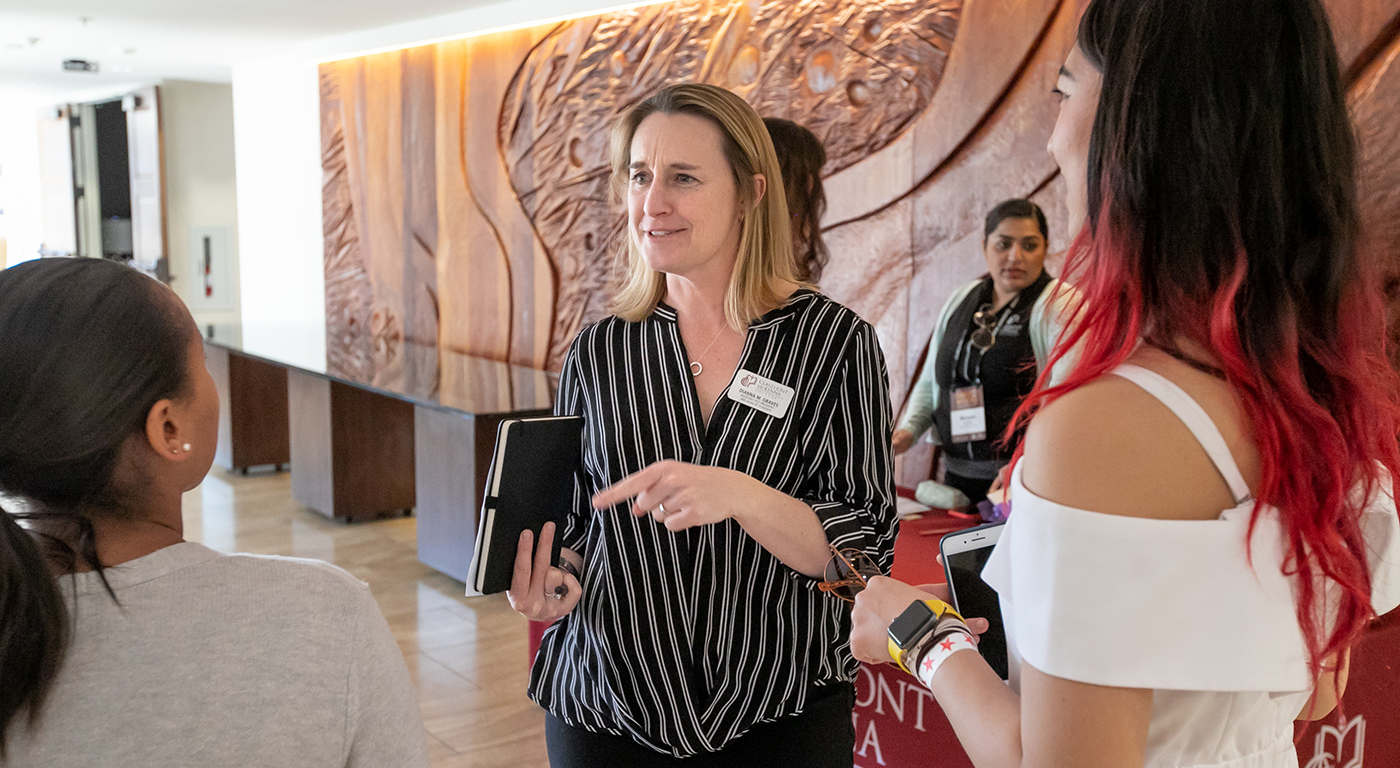 "I'm waving and yelling out my window at students all day long," she says. "I'm texting to check in if I haven't seen someone in a week. We're a very high-touch school. It's hard to be anonymous here, and this role provides a chance to give back to a place that has given me so much."
In 2019 she was honored with the John P. Faranda '79 Student Service Award.
Though her life has turned out nothing like she originally planned, looking back, Graves wouldn't change a thing.
"I miss science. I miss the clarity and the control of science. Coaching and student affairs is nothing like that," she says. "But I've never regretted leaving the lab behind."
She takes great pride in shaping young lives and hopes to instill in the students who cross her path—just as her own mentors did in her—"the feeling that somebody believes in them, somebody will hang in there with them, and that they should pay it forward someday."
Contact
Office of Public Affairs and Communications
400 N. Claremont Blvd.
Claremont, CA 91711
Phone: (909) 621-8099
Email: publicaffairs@cmc.edu

Media inquiries: Gilien Silsby
Phone: (213) 500-8673
Email: gsilsby@cmc.edu