Gavin Landgraf '14 among only 12 in nation awarded Mitchell Scholarship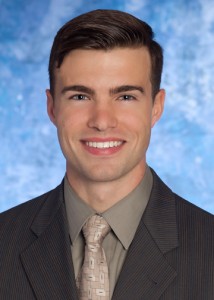 Gavin Landgraf '14 (photo credit: Carol Clayton)
Gavin Landgraf '14 has been a awarded a highly-competitive George J. Mitchell Scholarship to study natural resource economics at National University of Ireland in Galway.
According to the news release from US-Ireland Alliance which administers the award, the nationwide competition drew 270 applicants of which only 12 received scholarships.
Ireland's Ambassador to the US Anne Anderson, welcomed the 20 finalist to a reception held at the Irish Embassy in Washington DC on Nov. 21. Guests at the reception, which was also supported by the Northern Ireland Bureau, included the new European Union Ambassador to the US David O'Sullivan, Kathleen Kennedy Townsend, and many Mitchell Scholars.
Named in honor of the former U.S. senator from Maine for his contributions to the Northern Ireland peace process, recipients are chosen on the basis of academic distinction, leadership and service. All Mitchell Scholars spend a year of post-graduate study at institutions of higher learning in Ireland and Northern Ireland. Scholars receive the cost of tuition and a stipend for traveling both within Ireland and around Europe.
The scholarship is the flagship project of the non-profit US-Ireland Alliance, founded in 1998 by Trina Vargo, a former foreign policy adviser to Senator Ted Kennedy (D-Mass) who was also heavily involved in the Northern Ireland peace process.
Candidate interviews were held in Washington DC. Members of the selection committee included Ambassador Anderson; Jon Brestoff Parker, a Mitchell Scholar and CEO of Symmetry Therapeutics; Ben Casnocha, Silicon Valley-based entrepreneur and author of The Alliance; Kathleen Claussen, a Mitchell Scholar and assistant general counsel at the Office of the United States Trade Representative; David Fidler, professor of law at Indiana University; Kerry Healey, president of Babson College and former Lt. Governor of Massachusetts; and Ganesh Sitaraman, assistant professor of law at Vanderbilt University and former senior counsel to Senator Elizabeth Warren (D-Mass).
Landgraf was a Philosophy, Politics and Economics major at CMC and won the H.N. Berger Prize for Outstanding Senior Man. He served as ASCMC president in 2013-14, was class president 2011-12, a student senator 2012-13, student body president 2013-14 and a Rose Institute Fellow for all of his four years at CMC. During his time as a student at CMC, he interned at the Institute for Historical Justice and Reconciliation at The Hague (Netherlands), the investment banking group of Morgan Stanley and the constitutional law firm of Cooper & Kirk.
Currently, Landgraf is an executive fellow with the California Capital Fellows Program and is working full time for the state on water policy issues. Gavin hopes to pursue a law degree in environmental and natural resource law with the aim to develop and implement public policies to ensure water is a resource on which both agricultural and urban communities can consistently rely.
Contact
Office of Public Affairs and Communications
400 N. Claremont Blvd.
Claremont, CA 91711
Phone: (909) 621-8099
Email: publicaffairs@cmc.edu

Media inquiries: Gilien Silsby
Phone: (213) 500-8673
Email: gsilsby@cmc.edu