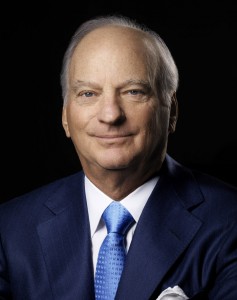 Claremont McKenna College has announced that Trustee and financier George R. Roberts '66 P'93, Co-founder of Kohlberg Kravis Roberts & Co. (KKR) and its co-chairman and co-chief executive officer, will deliver the keynote address at the College's 66th Annual Commencement ceremonies set for 2 p.m. on Saturday, May 18. The ceremony, honoring the Class of 2013, will be held on Pritzlaff Field, south of Bauer Center.
A generous champion of his undergraduate alma mater, Roberts' name is entwined with daily life at CMC, including the conclusion last March of the George R. Roberts Faculty Challenge. The gift-matching measure, launched in 2006, was the largest gift in the history of the College for direct faculty support, and raised a total of $60 million to build, support, and strengthen the College's academic environment with exceptional scholars committed to teaching and research. Faculty members who received an endowed chair under the Roberts Faculty Leadership Initiative are designated as George R. Roberts Fellows.
Within the same year that the Challenge reached its successful conclusion, Roberts then gave an unrestricted gift of $50 million to the College, which pushed the College past its $600 million Campaign for Claremont McKenna goal. Announced in December 2012, his unrestricted gift led the Board of Trustees to designate in his honor a state-of-the-art new fitness and athletics facility as the Roberts Pavilion.
"Claremont McKenna College is honored to welcome George Roberts as this year's keynote speaker," said Pamela Gann, president of the College. "For me, personally, having George Roberts serve as our speaker at my last Commencement as president is most gratifying. He is the embodiment of all that CMC values. Simply put, George Roberts exemplifies visionary and transformative leadership."
A pioneer of the private equity industry, George Roberts co-founded Kohlberg Kravis Roberts & Co. in 1976. For more than 30 years, along with KKR co-founder and CMC Trustee Henry R. Kravis '67, he has led the firm in its growth into a leading global alternative asset manager.
He is actively involved in managing the firm and serves on each of the regional Private Equity Investment and Portfolio Management committees. Roberts also has served as a director or trustee of several cultural and educational institutions, including Claremont McKenna College. In addition to his generous philanthropy at CMC, he is the founder and chairman of the board of directors of the Roberts Enterprise Development Fund (REDF), a San Francisco-based venture philanthropy organization that creates jobs and employment opportunities for people facing the greatest barriers to work. REDF provides equity-like grants and business assistance to a portfolio of nonprofits in California to start and expand social enterprises—nonprofit-operated businesses selling goods and services demanded by the marketplace, while intentionally employing young people and adults who would otherwise face bleak prospects of ever getting a job.
Roberts earned his bachelor's degree from Claremont McKenna College in 1966, and a J.D. from the University of California (Hastings) Law School in 1969. He has more than four decades of experience financing, analyzing, and investing in public and private companies, as well as serving on the boards of a number of KKR portfolio companies.
His philanthropy already touches many facets of the College's life. In addition to the extraordinary Roberts faculty fundraising challenge and his unrestricted gift to the Campaign, Roberts has also supported construction of two academic buildings––Roberts North and Roberts South, which house classrooms and faculty offices––as well as the founding of the Roberts Environmental Center.
More about CMC's 2013 Commencement events, including a detailed schedule and information on parking and hotel accommodations, can be found on the Commencement website.