Golden leadership advice from Olympic speed-skater and Kravis Prize winner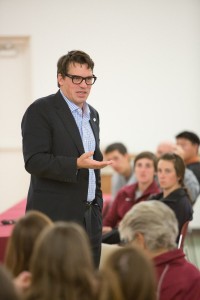 Olympian and 2013 Kravis Prize winner Johann Koss gave leadership advice to CMC student-athletes and faculty on campus, earlier this week. He was a guest of the KLI Leadership Coaching Program.
Great advice about developing leadership skills can be hard to acquire anywhere. But it's golden when coming from a person like Johann Olav Koss, a four-time Olympic speed-skating gold medalist for Norway and recipient of the Henry R. Kravis Prize in Leadership last year for his international humanitarian organization, Right to Play.
Koss was back on campus this week to contribute sage and hard-won knowledge about what it takes to be a leader–– and team player–– to groups of CMC student-athletes, as part of the Kravis Leadership Institute Leadership Coaching Program.
"College athletes, due to their demanding practice and competition schedules and academic work, often can't participate in the various co-curricular leadership development activities offered through the Kravis Leadership Institute (KLI)," said Sarah Smith Orr, executive director of KLI. "To address that situation, several Athena team initiatives seeking leadership development opportunities were funded by KLI. Subsequently, two interactive team leadership development programs were designed for current and potential CMS sports team leaders."
After meeting Koss last spring when he received the Kravis Prize, Orr was determined to bring him back to engage with CMS student team leaders and coaches for a full day of small-group dialogues.
The first program was held in August last year and featured sports psychologist Fran Pirozzolo. The second, on Monday, featured Koss in sessions throughout the day with student-athletes. A morning session, for instance, saw him query CMS women's softball teammates, including Morgan Beltz '14, Megan Latta '14, Hayley Schultz '15, and Tara Robinson '16, about challenges in their roles as Athenas leaders.
The players stated a main goal of having the best won-loss record during a conference season, and then winning the conference championship––both in the same year. Further goals were doing well in regional playoffs, with a possible shot at a national championship.
One problem they identified is how, with a large roster, not every team member gets to play. Therefore, keeping motivation and morale at a peak, among the entire team, is challenging.
Koss diagrammed a Capacity Analysis that he said could be helpful at both an individual and team level, and was a tool the Norwegian Olympic skating team used in training.
"You have to define what you need to have in order to excel as a team," he said. "On our team, we had to excel in sprints and endurance, technical and practical knowledge, and strength."
Koss said it's a universal truth, particularly in sports, that "people you hang out with are usually more similar to you than different, and that's because similar attitudes reflect on who you are and that leads to positive reinforcement of your own identity."
Differences on a team can be good, but the immediate feeling of those differences, as felt by an individual team member, can be one of alienation, Koss said. "And that can lead to conflict."
According to Koss, if you reinforce the positive aspects of the person most different from you, good things can come. "Comparison never works. Don't ever take your own self into a situation where you're looking at other people's skills. If you do that, you are focusing on negativity."
Koss told the Athenas that focusing on the kind of behavior you want to see in an individual is a key to working well as a team, changing the focus from emotional negativity to positive behavior.
"In this way, you can drive negativity into positivity every time," he said. "Don't focus on teammates' inferior skills. It's a rejection, and bad for the team."
Koss said that you must find something on the Capacity Analysis Scale that is true to you and, at the same time, motivational. "But always remember," he cautioned, "skills aren't results. You have to agree on specific values to make a successful team. Three values are good, and they should be extremely specific with clear descriptors."
The Athenas, by consensus, said they highly valued their reputation as a team, and said the small group session was very instructive.
Although breakfast had finished a few minutes prior, the Athenas––courtesy of Koss––had just been served up a second course: Food for thought.
Contact
Office of Strategic Communications & Marketing
400 N. Claremont Blvd.
Claremont, CA 91711
Phone: (909) 621-8099
Email: communications@cmc.edu

Media inquiries: David Eastburn
Phone (O): (909) 607-7377
Phone (C): (808) 312-8554
Email: deastburn@cmc.edu