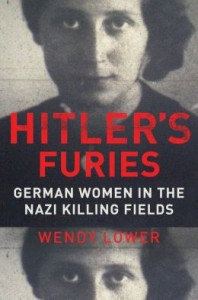 Wendy Lower's new book is a finalist for the National Book Award. The book draws on her archival research and fieldwork on the Holocaust, access to post-Soviet documents, and interviews with German witnesses.
The following press release was issued today by the National Book Foundation, noting that CMC's Wendy Lower, the John K. Roth Professor of History and a George R. Roberts Fellow, has been named a finalist for a 2013 National Book Award for her just-released "Hitler's Furies: German Women in the Nazi Killing Field." (The book was released in the United States on Oct. 8, and is being translated into 12 languages.)
For more on Lower's book, we also offer the following links: • Her interview with CBS Sunday for an Oct 6 segment "The vast reach of the Nazi Holocaust"
• Her Oct. 14 New York Times Q&A
• Video Interview: CMC student Sarah Swartz '15 interviews Professor Lower about her new book
• CMC news release on the announcement of her book being longlisted for the NBA
New York, NY (October 16, 2013, 9 a.m.) – This morning, for the second year in a row on msnbc's national cable television program "Morning Joe," David Steinberger, Chairman of the National Book Foundation's Board of Directors and President and CEO of Perseus Books Group, and hosts Joe Scarborough and Mika Brzezinski announced this year's Finalists for the 2013 National Book Awards. The Foundation also announced that it has made available for the first time The Contenders: Excerpts from the 2013 National Book Award Finalists, a free National Book Award eBook series available for download from the Foundation's website in a variety of formats.
The Winners will be announced at the 64th National Book Awards Benefit Dinner and Ceremony at Cipriani Wall Street in New York City on Wednesday, November 20, which will be streamed live on the Foundation's website, www.nationalbook.org. Winners receive $10,000 and a bronze statue; Finalists receive $1,000 and a bronze medal. The evening is chaired by Morgan Entrekin, Deborah Needleman, Lynn Nesbit, and Shelley Wanger. National Book Award Winner Victor Navasky will present the National Book Foundation's Medal for Distinguished Contribution to American Letters to novelist E.L. Doctorow. Nobel Prize winner Toni Morrison will present the Foundation's Literarian Award for Outstanding Contribution to the American Literary Community to poet and memoirist Maya Angelou.
The selection of Finalists follows last month's announcement of the first National Book Award Longlists of ten books in each of the Awards' four categories: Fiction, Nonfiction, Poetry, and Young People's Literature, the first year the Awards program featured both a Longlist and Finalists in each category. The Longlist selections and Finalists were chosen by a panel of five literary professionals, the first year in decades that judging panels included literary experts who are not writers in that genre. These changes were made to add new and diverse voices to the Awards program and expand its reach.
Many of this year's Finalists are acclaimed in their fields. Among them are one previous National Book Award Winner, six previous National Book Award Finalists, three Pulitzer Prize winners, a three-time Pulitzer Prize finalist, a finalist for the National Book Critics Circle Award; a MacArthur fellow; and two Michael L. Printz Award winners.
This year's Fiction list includes 2008 National Book Award Finalist for Fiction Rachel Kushner; 2000 Pulitzer Prize winner Jhumpa Lahiri; New York Times bestselling author James McBride; 1964 National Book Award Finalist for Fiction and 1974 Winner Thomas Pynchon; and MacArthur fellow George Saunders.
The Nonfiction list includes Bancroft Prize recipient and Pulitzer Prize finalist Jill Lepore, who served as a National Book Award Nonfiction Judge in 2011; historian Wendy Lower; journalist George Packer; 1996 Pulitzer Prize winner in History Alan Taylor; and 2006 National Book Award Nonfiction Finalist Lawrence Wright.
Four of this year's Poetry Finalists are on the list for the first time, the exception being Frank Bidart, who is a three-time National Book Award Finalist (1997, 2005, and 2008) and a three-time finalist for the Pulitzer Prize. Among the first-time Finalists, Lucie Brock-Broido has published three collections of poetry and is the director of poetry at the School of the Arts at Columbia University; Adrian Matejka has published two collections of poetry and received a Cave Canem fellowship; Matt Rasmussen's Black Aperture is his first collection of poetry, and Mary Szybist's first collection, Granted, was a finalist for the 2003 National Book Critics Circle Award.
The Young People's Literature list includes two prior Finalists for the National Book Award: Kathi Appelt in 2008 and Gene Luen Yang in 2006, when Yang was the first graphic novelist to be selected as a National Book Award Finalist. Among this year's first-time Finalists, Cynthia Kadohata won a Newbery Award from the American Library Association in 2005. Tom McNeal is the author of both children's books and novels for adults. Meg Rosoff won the 2005 Michael L. Printz Award.
Publishers submitted a total of 1,432 books for this year's National Book Awards: 408 in Fiction, 517 in Nonfiction, 209 in Poetry, and 298 in Young People's Literature. Judges' decisions are made independent of the National Book Foundation staff and Board of Directors; deliberations are strictly confidential. To be eligible for a 2013 National Book Award, a book must have been published in the United States between December 1, 2012 and November 30, 2013, and must have been written by a United States citizen.
The invitation-only Awards Ceremony is the culminating event of National Book Awards Week. The celebration begins on November 18 with 5 Under 35, the Foundation's eighth annual invitation-only celebration of emerging fiction writers selected by National Book Award Winners and Finalists. On November 19, the National Book Awards Teen Press Conference will take place at Brooklyn Borough Hall. New York Times children's books editor Sarah Harrison Smith will host the event at which invited students will have the opportunity to interview the five Finalists for the National Book Award in Young People's Literature. Also on November 19, the five winners of the Foundation's 2013 Innovations in Reading Prize will present their award-winning programs at a special luncheon at the offices of the publisher Random House. That evening, all Finalists will read from their nominated works at the National Book Award Finalists Reading at The New School.
The Finalists Reading is open to the public; tickets are $10 and are available through The New School box office by calling 212-229-5488 or by emailing boxoffice@newschool.edu.
Following is the list of the 2013 National Book Award Finalists in Fiction, Nonfiction, Poetry, and Young People's Literature.
More information about the Finalists and all National Book Awards Week events, or call Sherrie Young: (212) 685-0261. 2013 National Book Award Finalists
Fiction

Rachel Kushner, The Flamethrowers; 
Scribner/Simon & Schuster
Jhumpa Lahiri, The Lowland; 
Alfred A. Knopf/Random House
James McBride, The Good Lord Bird; 
Riverhead Books/Penguin Group (USA)
Thomas Pynchon, Bleeding Edge; 
The Penguin Press/Penguin Group (USA)
George Saunders, Tenth of December; Random House
Nonfiction

Jill Lepore, Book of Ages: The Life and Opinions of Jane Franklin; 
Alfred A. Knopf/Random House
Wendy Lower, Hitler's Furies: German Women in the Nazi Killing Fields
; Houghton Mifflin Harcourt
George Packer, The Unwinding: An Inner History of the New America; 
Farrar, Straus and Giroux
Alan Taylor, The Internal Enemy: Slavery and War in Virginia, 1772-1832
; W.W. Norton & Company
Lawrence Wright, Going Clear: Scientology, Hollywood, & the Prison of Belief; 
Alfred A. Knopf/Random House
Poetry

Frank Bidart, Metaphysical Dog
; Farrar, Straus and Giroux
Lucie Brock-Broido, Stay, Illusion; 
Alfred A. Knopf/Random House
Adrian Matejka, The Big Smoke; 
Penguin Poets/Penguin Group (USA)
Matt Rasmussen, Black Aperture
; Louisiana State University Press
Mary Szybist, Incarnadine
; Graywolf Press
Young People's Literature
Kathi Appelt, The True Blue Scouts of Sugar Man Swamp; Atheneum Books for Young Readers/Simon & Schuster
Cynthia Kadohata, The Thing About Luck
; Atheneum Books for Young Readers/Simon & Schuster
Tom McNeal, Far Far Away
; Alfred A. Knopf/Random House
Meg Rosoff, Picture Me Gone; 
G.P. Putnam's Sons/Penguin Group (USA)
Gene Luen Yang, Boxers & Saints; 
First Second/Macmillan