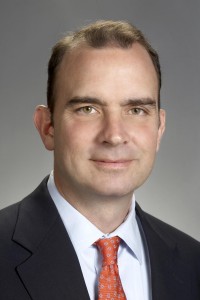 John Shrewsberry '87, currently head of Wells Fargo Securities and an executive vice president, has been named the new chief financial officer and senior executive vice president of Wells Fargo.
As CFO, Shrewsberry will oversee the company's financial management functions (controllers, financial reporting, tax management, asset-liability management, treasury, corporate development, investor relations), its investment portfolios and its corporate properties functions. He also will have oversight of the company's strategic planning function.
"Given his strong financial background spanning more than 20 years and his proven leadership ability, John is well positioned to lead Wells Fargo's established world-class finance team," said John Stumpf, Wells Fargo's chairman and chief executive officer. "John has already distinguished himself as a talented member of our leadership team and a strong partner to the finance team. With John's deep understanding of our company's financial and business operations, as well as shareholder expectations, we are fortunate to have such an experienced executive move seamlessly into the CFO role and continue to steadfastly pursue our strategic priorities. I am looking forward to working closely with him."
Shrewsberry is currently head of Wells Fargo Securities, with responsibility for investment banking, capital markets, trading and investment research businesses, and has led related businesses since 2006. Prior to assuming this position, he was head of Wells Fargo Commercial Capital, the successor to a commercial finance company he co-founded that became part of Wells Fargo in 2001. He currently is a member of the market risk committee, the enterprise risk management committee, and the firm's management committee. Previously, he worked at Goldman Sachs and Credit Suisse First Boston in principal finance.
Read More
Bloomberg: Wells Fargo Names Shrewsberry CFO as Sloan Gets Banking Post
Wells Fargo News Release: Wells Fargo Names CFO Tim Sloan to Head Wholesale Banking Group; Dave Hoyt to Retire at the end of June; John Shrewsberry Appointed New CFO, Senior EVP