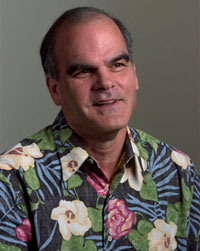 Professor Roderic Camp
The capture on Monday of a brutal drug cartel leader was the topic of today's USA Today story quoting Roderic Ai Camp, CMC's Philip M. McKenna Professor of the Pacific Rim, and scholar on Mexico and Latin America.
Writer Jim Michaels says a contingent of about two dozen U.S. Marines "have been in Mexico training their counterparts in small-unit infantry tactics." The Mexican Marines are credited with swooping in and intercepting a pickup truck in Northern Mexico carrying kingpin Miguel Angel Trevino Morales, leader of the Zetas cartel.
"Of all the operational units in Mexico that are directed toward the cartels, they've proven to be the most effective," Camp said of the marines and navy.
Camp's latest book, Mexico, What Everyone Needs to Know (Oxford University Press, 2011) is designed to provide a solid, up-to-date knowledge base for those interested in the past, present, and future of our neighbor to the South. The book has a unique format of questions and answers that take readers deep into the country's unique culture and explore the inextricably intertwined relationship with the United States.