Prof. Massoud's final accounting banquet honors a 'guiding light'

Measuring Massoud's impact by the numbers
2800 CMC students taught by
Prof. Massoud
3700 enrolled students in Massoud's classes from the Claremont Colleges
250 theses overseen or read by Massoud
690 students whom Massoud has advised
7 student weddings attended by Massoud
3 students Massoud is teaching, or has taught, who are children of previous students
272 the record number of students, alumni, friends and family attending the 40th annual accounting awards banquet
192 the previous accounting awards banquet attendance record
Judging by the numbers, the 40th annual Accounting Awards banquet hosted by the student-run Claremont Accounting Association, was a record-breaker.
More than 270 students, alumni, colleagues, friends and family, packed into the Athenaeum on April 24 to celebrate Marc Massoud P'89, the Robert A. Day Distinguished Professor of Accounting, who after 43 years at Claremont McKenna College, is retiring.
The banquet, which marked Massoud's finale as a faculty member, drew a multi-generational crowd, as many colleagues and former students brought their children to meet the man CMCers describe as "a guiding light," a mentor, and a father figure, affectionately known as "Dad."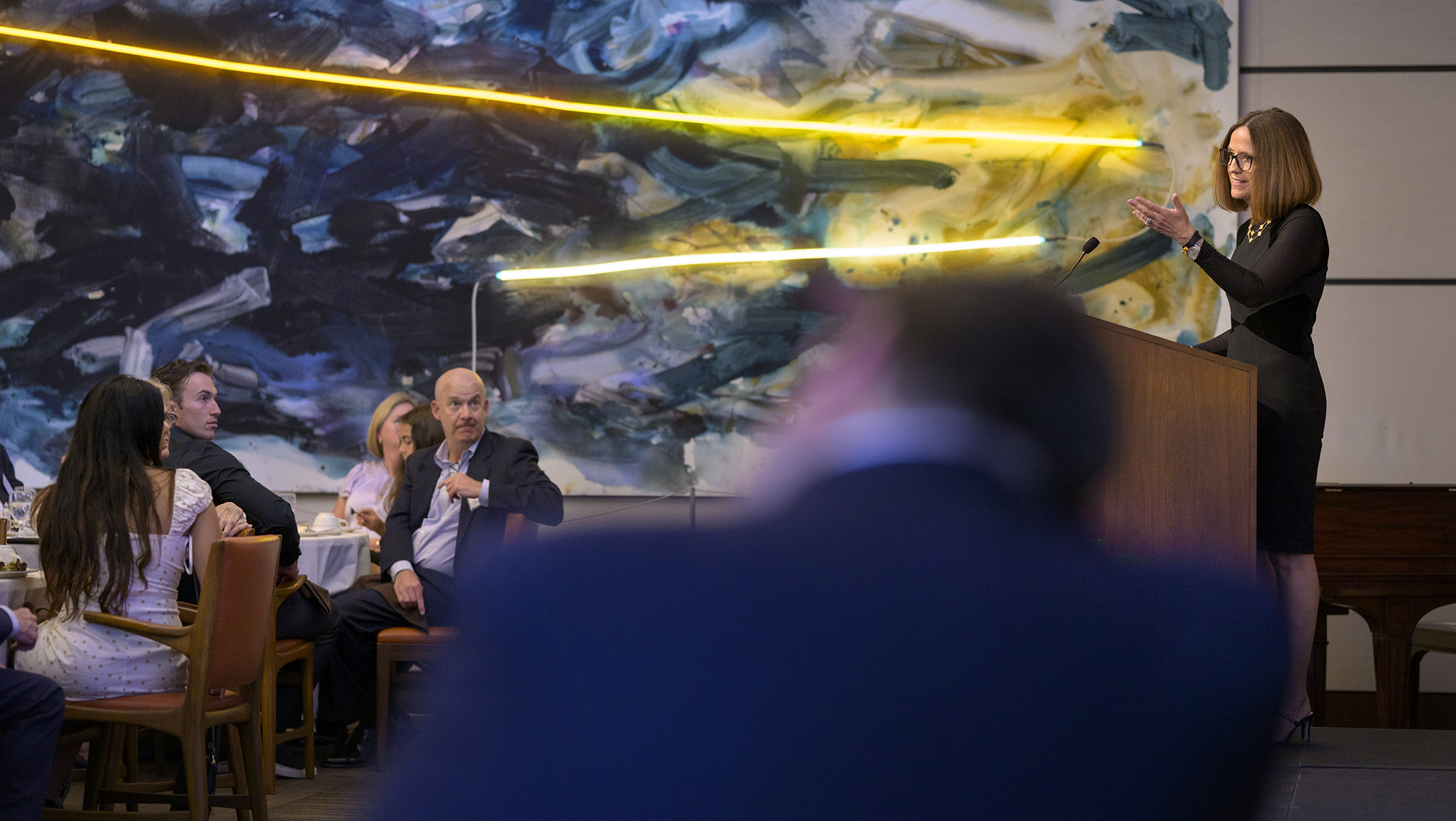 Julissa Ponce '24, co-president of the Claremont Accounting Association, introduced the evening's program, which featured the annual presentation of accounting awards to outstanding students, faculty, and alumni.
She thanked Massoud, for "making us all feel supported and valued, for getting to know us as individuals, learning our interests and struggles, and for always being available to lend a listening ear, and offer advice. Your wisdom and inspiration will continue to guide us," she said.
In "From Claremont to Hollywood: My Accounting Journey," the evening's keynote speaker, Kathleen Shane SCR '88, recounted how as a student of Massoud's, he influenced her career choice, as well as the leadership skills she currently deploys as executive vice president and divisional CFO, global theatrical marketing and distribution finance at Sony Pictures.
Shane praised Massoud for his wise professional guidance, describing how throughout her career, she has applied his "team approach" to managing her staff. "And I'm convinced that that's helped reduce competition, increased collaboration and just made a much better culture," she said.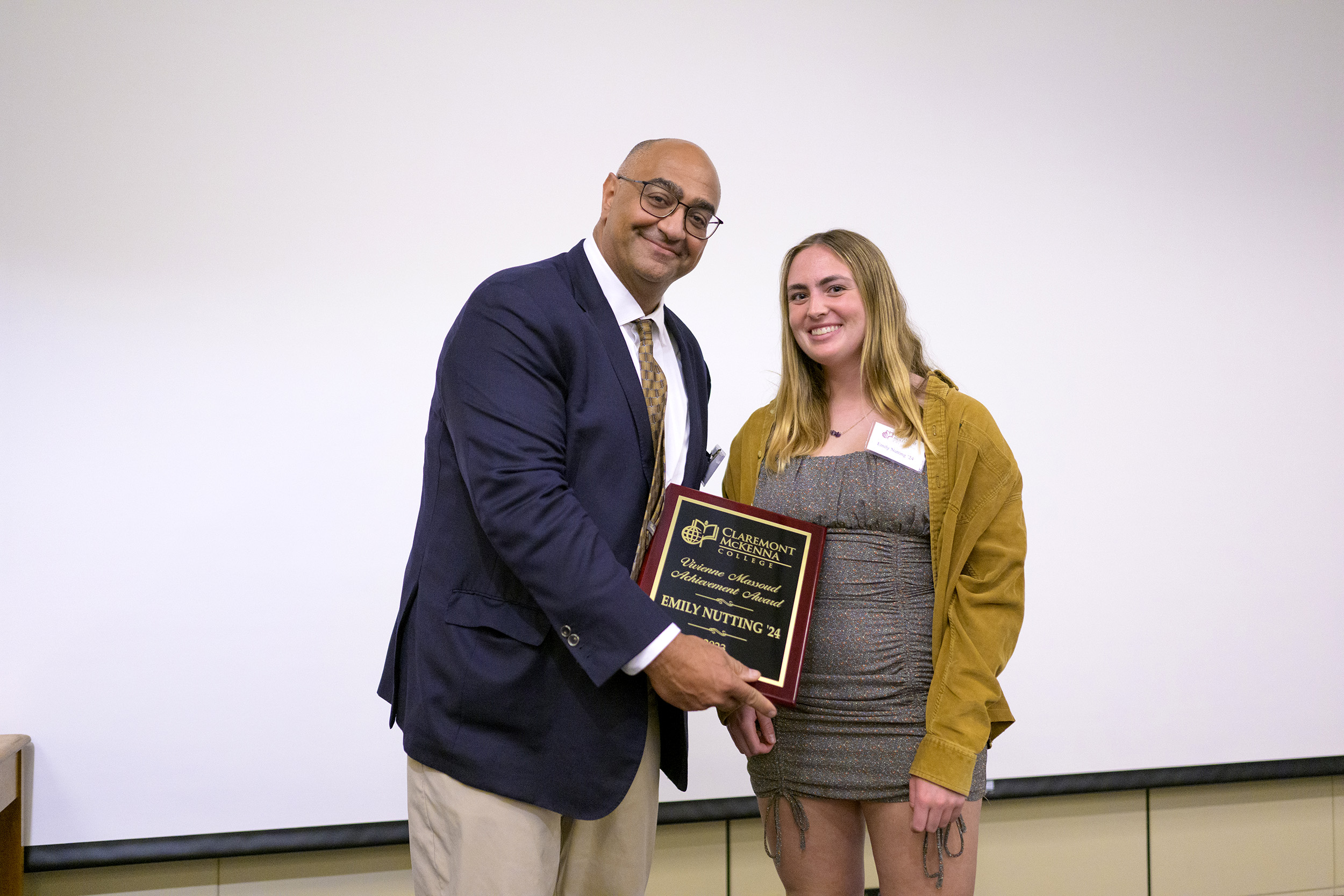 After expressing gratitude for benefiting from Massoud's mentorship, Shane encouraged students in the audience to reach out to her, as, "it's very important to me to be a mentor in return for all this great mentoring."
Shortly after departing the stage, Shane was called back up to receive the Distinguished Alumni award, becoming the first non-CMC alumna to win the honor.
In addition, the following students earned Accounting Achievement awards: Seniors Justin Esters (Outstanding Senior); Lauren Kim; Matthew Landeros; Chris Wicke, and Juniors Bet-Sua Perez Marcial (Outstanding Junior); Sandra Abundio; Lucas Mirizzi; Emily Nutting; Julissa Ponce, Reina Tain; and Will Turner.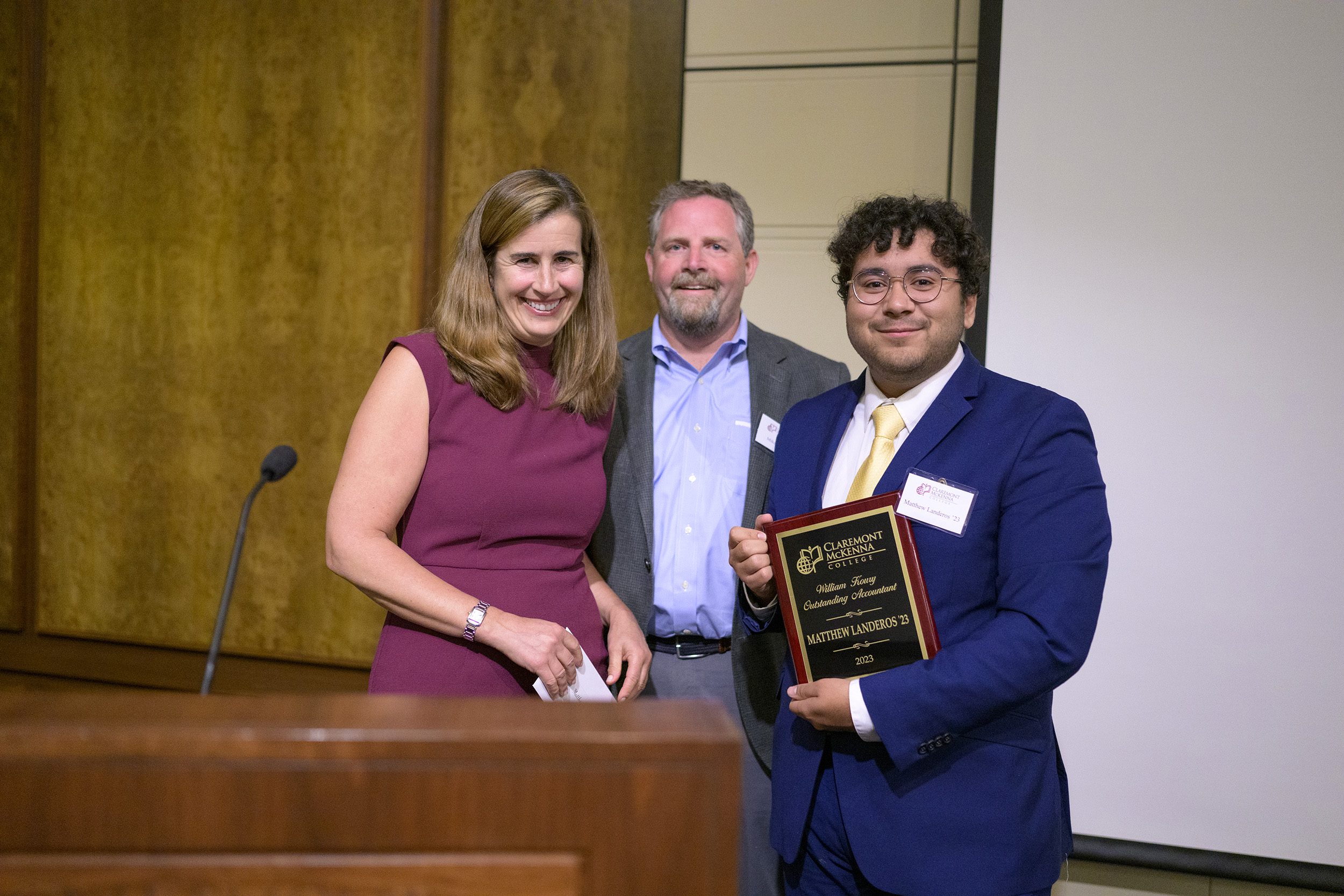 Prof. Massoud's son, Joe '89 presented the Vivienne Massoud Memorial Award, named in honor of his mother, who passed away in 1995. "I've done this every year for the last 25 or so," he said. "But I wanted to take an extra moment tonight to say, 'Congratulations, Dad, on a career well-built and a life well-lived.'"
The annual award named for Vivienne Massoud P'89, Joe said, reflects his mother's legacy, and goes to a female accounting student who is not only a stellar student, but has impressed Accounting faculty members as someone "who's a very hard worker and is willing to lift herself—and lift others along with her." Economics-Accounting major, Emily Nutting '24 took home the prize.
CMC Trustee Tina Daniels '93 and Michael Barr '93 co-presented the Outstanding Accountant award, which is named in memory of their friend and classmate, William Koury '93, who passed away in 2004, and whose parents Susan and Bill Koury P'93, were in the audience.
"There were two people in college who I think had the most impact on my own professional arc," said Barr. "One was Professor Massoud, who's the greatest teacher I've ever had at any level, and the other was Bill Koury. He was a terrific representative of the accounting major here at Claremont. He cared about his classes, he cared about his teachers, and he cared about his fellow students. He helped all of us in a lot of ways to get through the accounting program here and he brought a real joy of accounting to his fellow Accounting majors."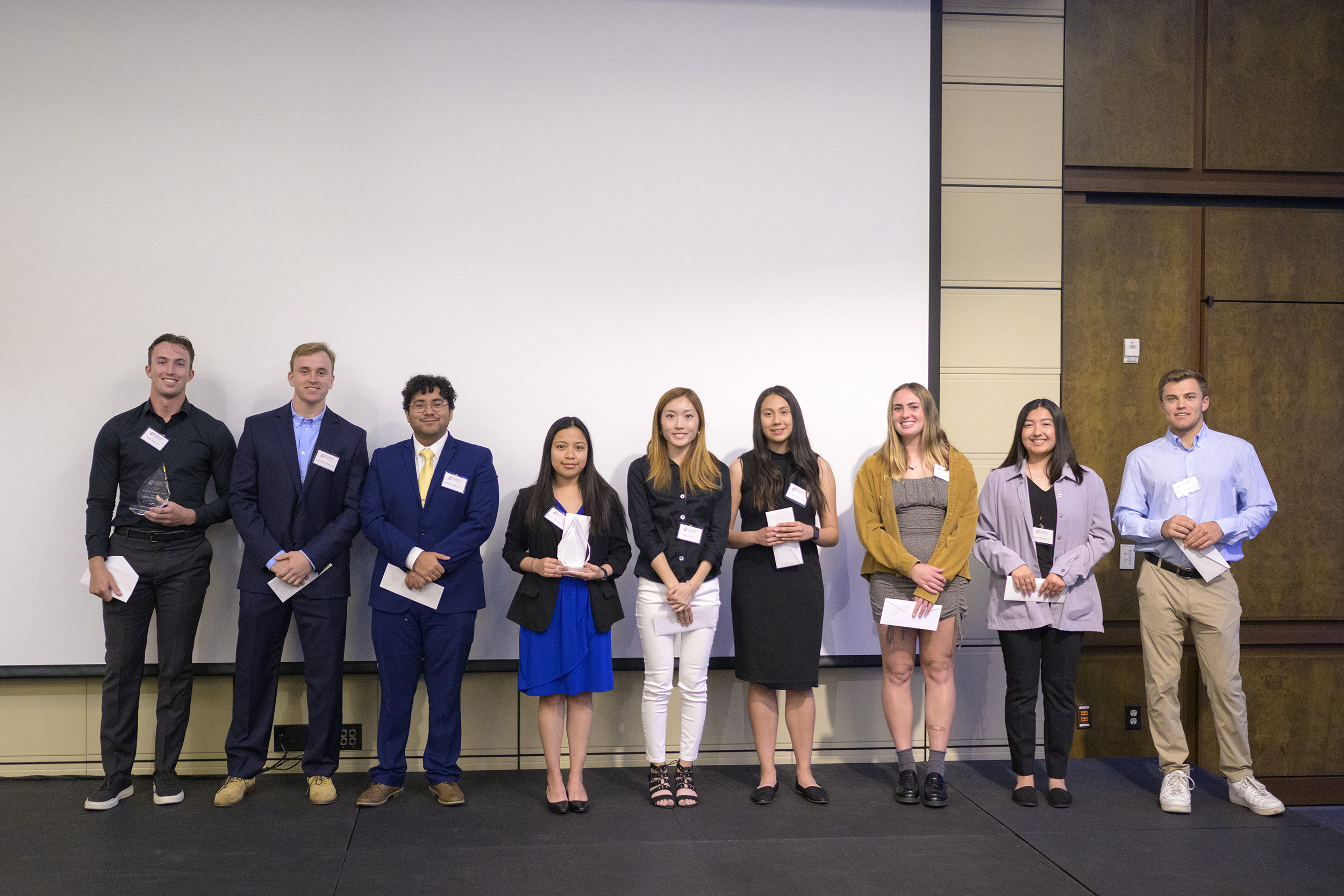 The award went to Matthew Landeros '23, an Economics-Accounting major who's headed to Apple after graduation to work as a financial analyst.
One of Massoud's Accounting colleagues, Prof. Matt Magilke, said that 13 years ago, Massoud helped convince him to join CMC's faculty. "It has been a great honor and absolute pleasure to share at least a part of your 43-year journey with you. I will miss you," he said.
Samantha Bastien '11 introduced Massoud, recalling how when she was his student, he encouraged her to become the treasurer of the Accounting Association, and eventually, by her senior year, to become the president. "He was inviting me to step up and be a leader and to take on a bigger role on campus," she recalled. "And that role set the stage for much of my career and my life, personally and professionally."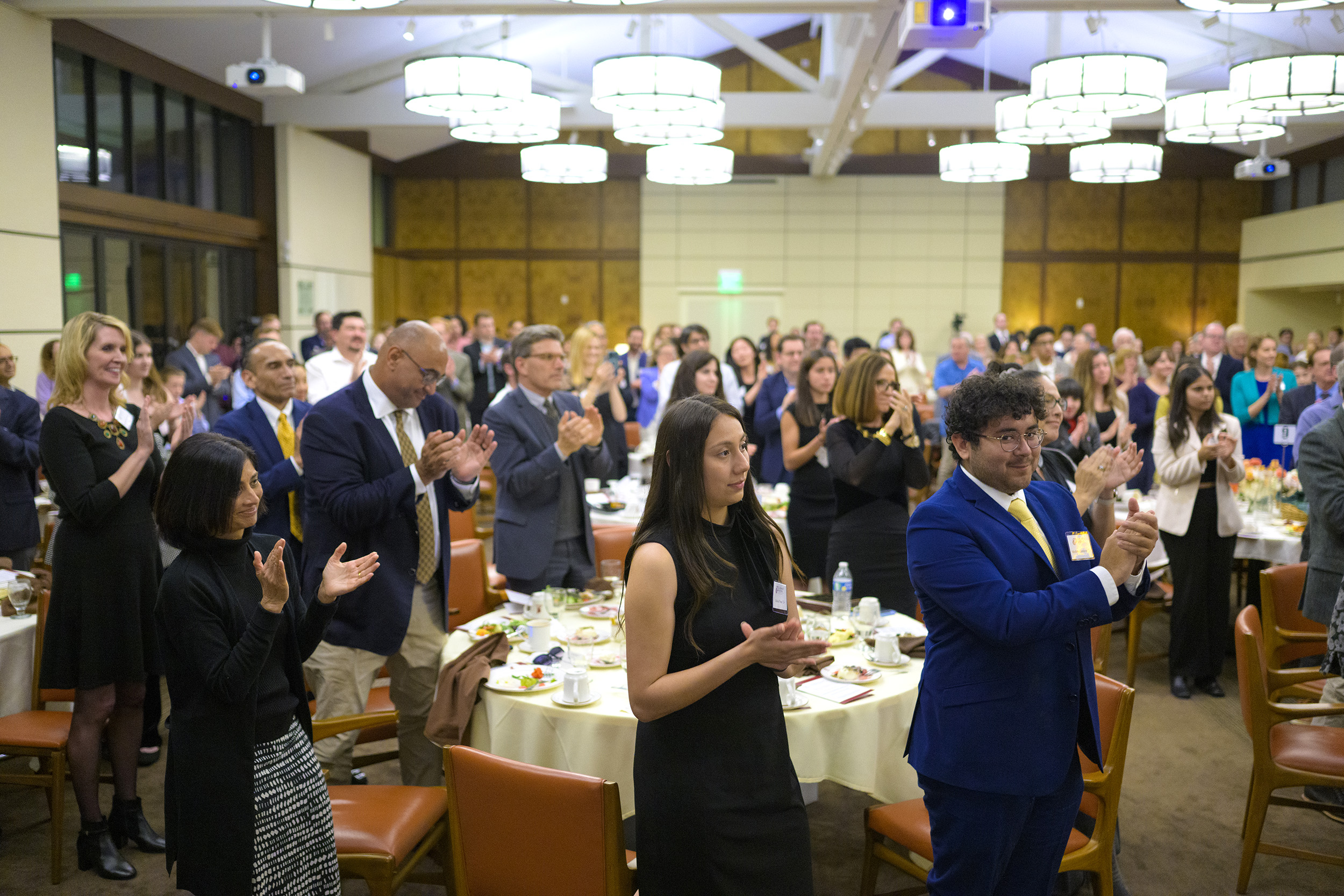 When Massoud took the stage to close the program, he said, "I'm so grateful for all of your friendship, love and support. It has been a memorable 43 years. I always say that if you love your students as your children, you can help them to achieve their big dreams every single day. On that basis, I'm always proud of you. And I'm grateful because you made me a better teacher. While my teaching at CMC may be ended, my commitment to CMC will never end."
As he concluded his remarks, to a standing ovation, warm applause, and multiple cell phone videos and photos, those in attendance reflected on what compelled them back to CMC for the evening.
Khuong Nguyen '91 brought his son Stephen to join him at the banquet and to meet Massoud because, "Professor Massoud means so much to me, he's the reason I became a financial advisor. He encouraged me and believed in me."
To contribute to the Vivienne Massoud P'89 Memorial Scholarship, visit here.
Contact
Office of Strategic Communications & Marketing
400 N. Claremont Blvd.
Claremont, CA 91711
Phone: (909) 621-8099
Email: communications@cmc.edu

Media inquiries: Gilien Silsby
Phone: (213) 500-8673
Email: gsilsby@cmc.edu