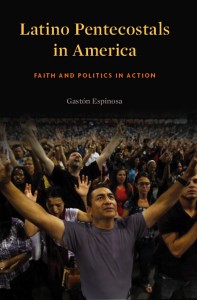 Claremont McKenna College is pleased to announce the publication of a new book by one of the world's foremost scholars on global Pentecostalism and current professor of religious studies, Gastón Espinosa. Latino Pentecostals in America: Faith and Politics in Action published by Harvard University Press provides a social and cultural history of the widespread conversion of U.S. Latinos from Catholicism to Protestantism and its growing impact on American religion, politics, and activism.
After tracing the origins of the Latino Pentecostal movement in America from 1906 to 1914, he analyzes its contemporary impact on U.S. Latino political, civic, and social activism and its increasing influence on presidential politics in the presidencies of George W. Bush and Barack Obama. In so doing, he provides a window into the changing dynamics of U.S. Latino religion and politics, Evangelicalism, and American religion, a topic of interest given their rapid growth and bipartisan political clout. Every year an estimated 600,000 U.S. Latinos convert from Catholicism to Protestantism. Today, 12.5 million Latinos self-identify as Protestant—a population larger than all U.S. Jews and Muslims combined. Espinosa uncovers the roots of this remarkable turn and the Latino Assemblies of God's growing leadership nationwide.
"Espinosa's magisterial study of Latino Pentecostalism will be the most authoritative work on this subject in the field of Latino history and religion for years to come," said Dr. Mario Garcia, professor of Chicano studies at the University of California, Santa Barbara.
Espinosa provides an analysis of Latino Protestants' political views and voting patterns from 1996 to 2012, which challenges the stereotype that they are all apolitical, right wing or politically marginal. The author argues that these working class Latinos were once called "the silent Pentecostals" but by giving a voice to their untold story, it can be argued that this group is silent no more.
"This illuminating history of Latino Pentecostalism's largest denomination and its social and political effect on the broader society is an invaluable contribution to the study of religions in the United States and Latino history," said Dr. Mayra Rivera of the Harvard Divinity School.
Dr. Gastón Espinosa specializes in American religious history and Latino religions and politics. He is the author of William J. Seymour and the Origins of Global Pentecostalism: A Biography and Documentary History (Duke University Press, 2014) and is the recipient of a National Endowment for the Humanities (NEH) Fellowship, the Andrew W. Mellon Postdoctoral Fellowship, and the Dartmouth College César Chávez Fellowship. He is currently a professor of religious studies at Claremont McKenna College in Claremont, California.
On Wednesday, April 29 at 4 p.m. the Gould Center for Humanistic Studies will host a discussion with Dr. Espinosa called "Latino Immigration, Evangelicals,
and the Future Of American Secularization." He will look at the rapid growth of Latino Pentecostalism in America and its impact on the future of American religion, politics, secularization, and the rise of the "nones." The event will be held at the Gould Center for Humanistic Studies (top floor of the Marian Miner Cook Athenaeum at Claremont McKenna College). All are invited to attend.
Title: Latino Pentecostals in America: Faith and Politics in Action
Author: GastónEspinosa
Publisher: Harvard University Press
ISBN: 978-0674728875
To order visit: http://www.amazon.com/Latino-Pentecostals-America-Politics-Action/dp/0674728874