Professor Robert Faggen adds to his Robert Frost scholarship with publication of definitive volume of the poet's letters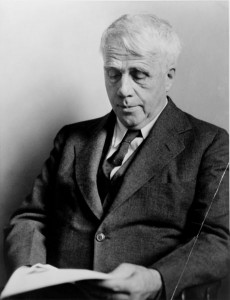 Poet Robert Frost
Noted Robert Frost scholar and CMC's Barton Evans and H. Andrea Neves Professor of Literature, Robert Faggen, is one of three editors on a book of the American poet's letters, The Letters of Robert Frost, Vol. 1: 1886-1920, to be published this month by Harvard University Press.
Devoted to one of the giants of 20th century American literature, it is the first major edition of the poet's written correspondence, featuring hundreds of previously unpublished letters.
An online edition of Harvard Magazine notes that collections of Frost's letters to individual correspondents have been published in the past, but this edition––the first of a projected four volumes––is the first to anthologize the complete letters in chronological order, including hundreds never available before.
Its editors––Faggen among them––hope The Letters of Robert Frost will help readers form their own theories about who the poet was, and what drove him to become one of the most storied men of American literature.
"In his letters, as in his poetry, Frost is a shape-shifting wizard of rhetoric and tone," Faggen said.
Reviewers have already noted its inclusion of material that will bridge a perceived public gap between the younger and older known Frost. "It can sometimes seem, from the surfeit of images of Frost in his later years, that he was born old, incapable of youth the same way John Keats is incapable of age," writes Dan Chiasson for The New Yorker. "The Letters of Robert Frost, Volume 1: 1886-1920, edited by Donald Sheehy, Mark Richardson, and Robert Faggen, part of a heroic effort by Harvard University Press to collect all Frost's writings in a definitive edition, goes some way toward filling this imaginative deficit."
(Read The New Yorker piece in full.)
"After decades in which Robert Frost's letters were unavailable, we are given the first of several volumes, taking him up through 1920," writes William H. Pritchard, the Henry Clay Folger Professor of English Emeritus at Amherst College. "Especially valuable are letters from 1913-14 in which Frost staked out his poetic aims and principles. The editorial job is painstakingly, indeed brilliantly, performed."
The first volume, covering the years 1886 to 1920, examines the crucial first half of Frost's long life–– the years in which he transformed himself from a New Hampshire farmer and schoolteacher into America's leading poet.
It begins, notes Jennifer Schuessler for The New York Times ("The Road Back: Frost's Letters Could Soften a Battered Image") with a charming note from 12-year-old Frost to a childhood sweetheart, and follows him through marriage to his wife, Elinor; a hard decade as a farmer in New Hampshire; three years in England; and return home in 1915, when he became a late-blooming literary star with the success of his second collection, "North of Boston."
(Read Schuessler's piece in full.)
According to the publishers, the letters will also shed light on the drama of Frost's personal life, as well as the workings of a highly inquisitive and prodigious mind, one that led to a full-scale revolution in prosody, sound and poetic style.
In addition to this latest volume devoted to the life and work of Frost, professor Robert Faggen has also edited and contributed to other Frost volumes, including: The Notebooks of Robert Frost (Harvard University Press, 2007), Robert Frost and the Challenge of Darwin (University of Michigan Press, 1997, 2001), The Cambridge Introduction to Robert Frost (2009), The Cambridge Companion to Robert Frost (2001), and Robert Frost Early Poems (1998).
Contact
Office of Strategic Communications & Marketing
400 N. Claremont Blvd.
Claremont, CA 91711
Phone: (909) 621-8099
Email: communications@cmc.edu

Media inquiries: Gilien Silsby
Phone: (213) 500-8673
Email: gsilsby@cmc.edu