RDS Scholars Help High Schoolers Become "Adults for a Day"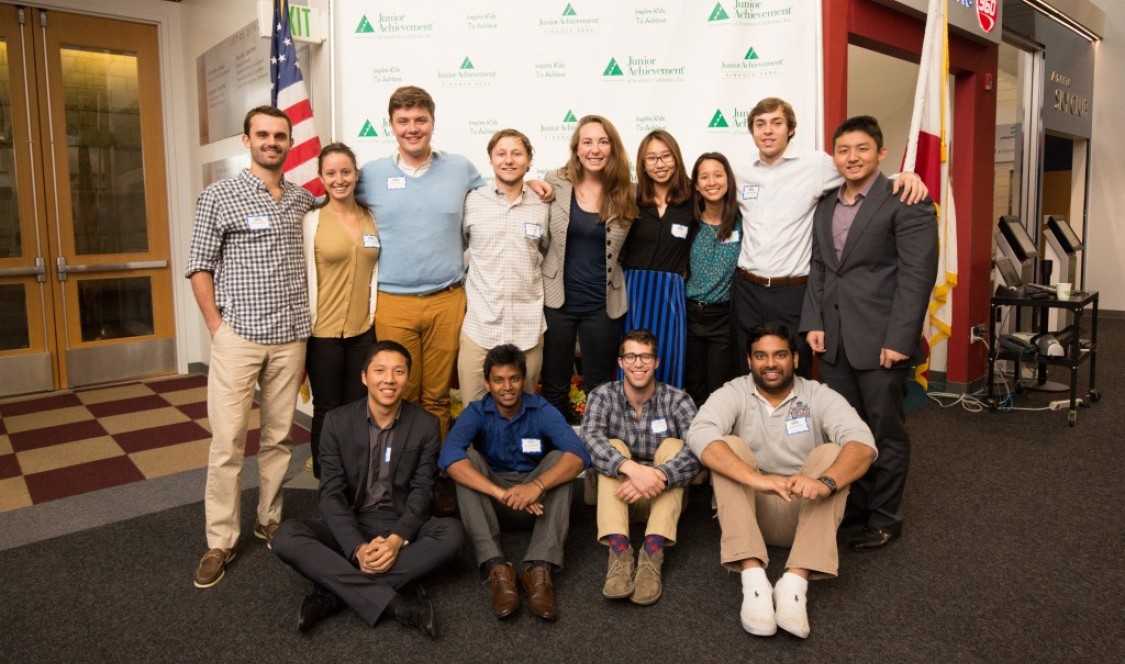 The skies might have been overcast last Friday, but the financial concepts taught by a group of Robert Day School (RDS) volunteers to kids from Banning High School were anything but cloudy.
For the fourth straight year, 13 RDS Scholars, in partnership with Junior Achievement of Southern California (JASoCal), volunteered at JA Finance Park in Los Angeles to teach financial literacy skills to around 50 students – this year from Banning High School located in Wilmington, CA. The day-long event was called, appropriately, "An Adult for a Day" and was a real eye-opener for students into the responsibilities and choices – many of them with financial ramifications – that they will soon face in their post-high school lives.
For Oscar Nuho, a senior at Banning who plans to become an Emergency Medical Technician and then a firefighter, the most important take-away from the day was "to start saving – right now!"
"I thought the day was going to be boring; it's about financial stuff, after all," said Alyssa Cruz, a Banning 10th grader who, after college, would like to become an F.B.I. agent or possibly a S.W.A.T. team member. "The whole experience was fun and very interpersonal. The most important thing I heard today is to try not to waste your money."
Of all the programs taught at the Finance Park, according to Kat Delgado Kirkwood, who is Senior Director of Education at JASoCal, "Adult for a Day" has the biggest impact in the shortest amount of time.
"These are the comments that you hear from students," Kirkwood said. "They will say, 'I appreciate my parents, now I understand why they struggle every day.' 'I'm going to stay in school.' 'I don't want to get married.' 'I don't want to have kids, they are expensive.' You see the light bulb suddenly go on as they begin to see the correlation between their education preparation and their future earning potential."
Kirkwood said that the "An Adult for a Day" is just one of many programs put on each year by JASoCal which will serve about 8,700 students this year with a curriculum that has been taught in Southern California since 2007 and targets grades 7-12.
"We focus on financial education, entrepreneurship and work-readiness via hands-on, project-based learning," she said.
***
On this day of instruction, the inside of JA Finance Park was configured like a giant live-action Monopoly board with anterooms whose exteriors had the signage and logos of such businesses as State Farm, Bank of America, Capital One, Citibank, Toyota, etc.
It was the job of the RDS Scholars to walk the Banning students through a budgeting process and teach them how to live within their means, all while paying bills and buying (as needed) from the storefronts around them. That meant starting with the basics; explaining such things as how to use debit cards, the various services offered at banks, advantages and disadvantages of using credit, and the risks and benefits of saving and investing.
"Being able to facilitate this learning experience with the high schoolers has been very gratifying to the RDS Scholars. It has encouraged us to carry on and return to the Finance Park annually," said Brian Dennis, Director, Administration and Programs, for RDS. "It's a unique opportunity for RDS to connect with younger people who are possibly growing up in an area where there is less opportunity and feeling like they can really help fill a void.
"And the ability to fulfill a community service goal has been really important too," Dennis added. "The mentoring environment here is very fluid."
Michelle Goodwin '16 was one of the RDS volunteers and the only mentor repeating from last year's Finance Park session that was conducted with middle-school students from Pomona, Calif. Typically, RDS seniors and graduate students make up the mentor ranks.
"I like volunteering so I decided to do it because I'm passionate about teaching budgeting skills to young and old and because it's something you need to know –and no one knows how to do it," Goodwin said.
Goodwin, who plans to work a summer internship for a finance company, added that it's important to teach such skills at a young age. "If not, they are going to go to college and be completely unaware. Their parents may give them money (or not), or they may be working and want to go out with their friends but don't have enough money to do so because they've spent it all the first week on clothes."
For RDS Scholar Vishnu Reddy M'15, educating kids about how to manage their finances was an opportunity he never had in high school in West Virginia. "My first year of college was an absolute disaster as far as budgeting goes. I had to learn on the fly," he said. "Real-life budgeting and money management isn't a part of most high school curriculum – mathematics, science and English are."
Reddy, who, after graduation, will start a job with JMP Securities in San Francisco, said he believes in the CMC credo of "giving back" and that it's an idea universally shared by all colleges and universities.
Apart from what Reddy considers to be the "Golden Rule" of learning how to budget, he said that kids attending "An Adult for a Day" should be aware that "their careers start now!"
"Being able to get out and network is huge," he said. "Everyone that they've met here could be a potential network opportunity for the rest of their collegiate career. I'd like to mentor them to do better in their interviews and networking outreach so they can have a better, less bumpy career path than I did starting out."
Goodwin agreed with Reddy that although learning budgeting skills was the baseline for students attending JA Finance Park, acquiring other skills was also important.
"What you really want to learn is how to be a successful college student or career person and it's up to us to incentivize high school and middle-school students to think beyond their little bubble," she said. "The most important concept I want to instill during 'An Adult for a Day' is goal-setting. It comes with budgeting, career concerns, college and every other goal that is out there -- even relationship success."
According to Kirkwood, inevitably there will be pros and cons in every decision the kids make. "Just don't blindly make a decision," she cautioned. "Be informed so you know what step to take."
Contact
Office of Public Affairs and Communications
400 N. Claremont Blvd.
Claremont, CA 91711
Phone: (909) 621-8099
Email: publicaffairs@cmc.edu

Media inquiries: Gilien Silsby
Phone: (213) 500-8673
Email: gsilsby@cmc.edu