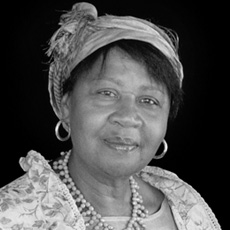 Award-winning novelist Jamaica Kincaid, the Josephine Olp Weeks Chair and professor of literature at Claremont McKenna College, has published See Now Then: A Novel (Farrar, Straus and Giroux, 2013), her first in 10 years and, according to publishers, "her most emotionally and thematically daring work yet."
The novel is constructed around a mother and father and their two children, in a small village in New England. Her characters, constrained by the world, despair in their domestic situations, and––with their minds wandering­­––"try to make linear sense of what is, in fact, nonlinear," the book description says.
Kincaid, whose work has been called "strongly autobiographical," as well as fresh and witty and inclusive of a "watchful, observant precision," was inducted into the American Academy of Arts and Sciences. Her first short-story collection, At the Bottom of the River (1983), about a nameless Caribbean girl, was nominated for a PEN/Faulkner Award for Fiction. She would later win the PEN/Faulkner award in 1997 for fiction, as well as the Lannan Literary Award for Fiction.
CMC's Gould Center for Humanistic Studies will host a reception for Kincaid from 2–4 p.m. on Friday, Feb. 1, celebrating See Now Then's publication. The event will be held on the second floor of the Marian Miner Cook Athenaeum, and include a reading and refreshments.
(For more information, please contact Robert Faggen at rfaggen@cmc.edu.)
Kincaid was recently interviewed by TIME magazine about her novel.
You can also watch her TIME interview on video.
What literary critics are saying about Kincaid's work:
"Ms. Kincaid writes with passion and conviction, and she also writes with a musical sense of language, a poet's understanding of how politics and history, private and public events, overlap and blur." —Michiko Kakutani , The New York Times
"Hers is a voice you have never heard before . . . Exhilarating to read and impossible to forget." —Doris Grumbach, The Washington Post Book World
"Sensuous and funny, by turns compassionate and cruel; her eye is never wrong." —Mary Gordon
"Kincaid continues to write with a unique, compelling voice that cannot be found anywhere else. Her small books are worth a pile of thicker—and hollower—ones." —Jeffrey Rodgers, San Francisco Chronicle
"Kincaid conscientiously and expertly manipulates language the way a photographer adjusts a camera's lens, bringing her characters into clear focus and accentuating their profiles against their natural backdrop." —Liza Weisstuch, The Boston Sunday Globe
"Cool and fierce . . . The toughness and elegance of Kincaid's writing is all that one could want." —Susana Moore, The Washington Post Book World