Robert Day School Scholars Practice the "Art of the Pitch"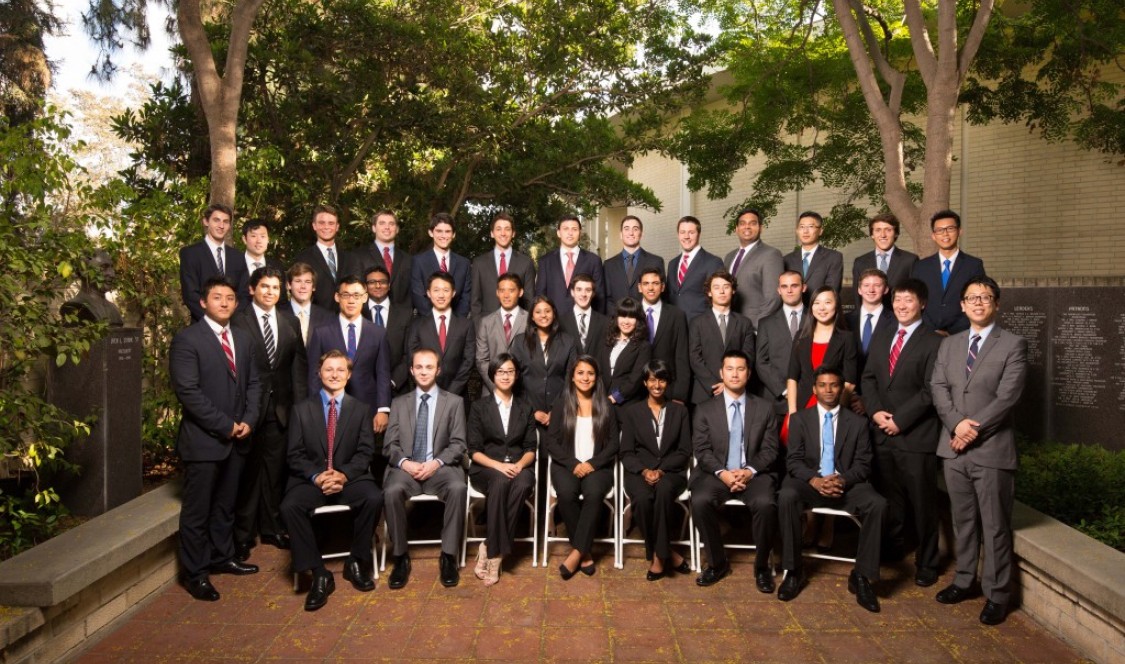 For a group of Scholars at the Robert Day School of Economics and Finance completing their MA's this year, the 2nd Annual RDS Pitch Day held Feb. 13th was a resounding success.
A morning session in which groups of students delivered 20-minute pitches on a variety of ideas to a seasoned panel of senior business executives and CMC alumni was followed in the afternoon by focused feedback from the executives to the students on the pros and cons of their pitches.
For many students the prime benefit of Pitch Day is that it affords them their first taste of real world business experience, taking them out of classrooms and into a business setting where they strive to be, in essence, pitch-perfect.
"Putting yourself in a true professional setting really allows you to see how your presenting skills would compare in the real world," said Sara Mostatabi '15, an Economics and Mathematics dual major and BAMA student. "The professionals giving advice were also incredibly personable and willing to help."
One of 36 students that participated in Pitch Day this year (up from 28 students last year), Mostatabi has plans to pursue a career in investment banking (mergers & acquisitions) at a small boutique investment bank in Los Angeles.
Mostatabi presented on BorgWarner, an American worldwide automotive industry components and parts supplier, and received the most valuable advice from panelist Lee Ann Gliha '96 who is Managing Director and Head of Media in Houlihan Lokey's Media & Telecom Group.
"She spoke very candidly about what it is like to be a woman in investment banking," Mostatabi said, "and provided genuine advice stemming from her great experience and background."
Ms. Gliha was part of a panel of six executives that included Richard Chino '90, Christopher Dodds P'13 P'15, Allison Robinson '92, Mark Robles '78 and Brian Smith '99.
"I felt that the students really presented at a high level," Mr. Chino said. "There are always opportunities to improve, but they are so far beyond where I was when I was in their shoes."
Chino, who, in the past, has helped students hone their Hult Prize pitches, marks his first Pitch Day participation with this event.
"We can bring the lessons we have learned to the students and hopefully provide them with insights that can increase their ability to succeed even in the first days of their career. Supplementing the amazing education produced by our fine faculty is something that I and countless other alumni have done for quite some time and new opportunities to leverage our experiences are always welcome."
According to Mr. Dodds, who originated the idea for RDS Pitch Day, in simulating a real-world work-type interaction, it was important to also provide a setting for students in which they felt safe and nurtured.
"I think they're always a little bit nervous until you can reassure them that it's a safe environment," Dodds said. "My executive colleagues are purely there to help them. We are not going to grade them and give their marks to Dean Blomberg or talk about them to anybody else. We're there solely to provide a one-on-one interaction that can give students feedback and help them do a better job. Once they hear that, they tend to relax a bit more."
Dodds remarked that as was the case with presentations delivered at last year's Pitch Day, students impressed with their polish and ability to articulate and carry good (sometimes better than good) presence into the presentation room.
"The way you present is as important as what you have to say," Chino said. "In my first consulting assignment, I had the right answers but the client didn't believe me until my manager said the same exact thing but in a much better way. It was that lesson that brought home the importance of presentations skills."
For Dodds, the biggest potential stumbling block for students in putting over their presentations seems somewhat antithetical to pitching; and that is retaining the ability to also listen well during a pitch.
"It's really important to listen, as well as talk during a presentation," Dodds said, "because generally, during a presentation, executives will ask this or request that and that is incredibly important. Too many of the kids think that what is most important is for them to talk. You must listen and watch very carefully how the executive responds. You should learn as much from the presentation by watching and listening as the executives learn about what you are presenting.
"Students also try to impress you with how smart they are, and we know that anyone at CMC is a really smart student. What I find myself often telling them is not to rattle off as many things as you can and show us how smart you are. One of the points is to make a complex situation of what you're presenting as simple, clear and straightforward as you can."
Contact
Office of Public Affairs and Communications
400 N. Claremont Blvd.
Claremont, CA 91711
Phone: (909) 621-8099
Email: publicaffairs@cmc.edu

Media inquiries: Gilien Silsby
Phone: (213) 500-8673
Email: gsilsby@cmc.edu