Taking chances on new opportunities is focus of Women and Leadership Workshop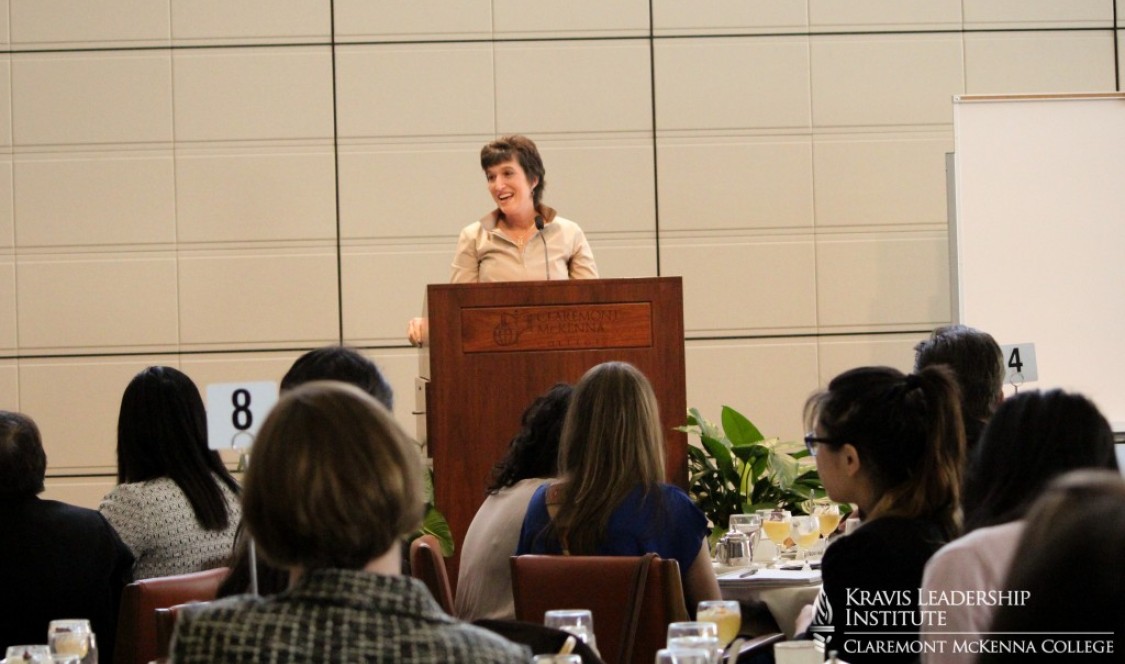 Personal and executive coach Michelle Bauman '89 was the keynote speaker at the 5th Annual Women and Leadership Workshop, held on February 5.
The event, sponsored by The Berger Institute for Work, Family and Children, Kravis Leadership Institute (KLI), and the Robert Day School of Economics and Finance (RDS), included a networking reception and roundtable discussion with 23 Claremont, Scripps, and CGU graduates working in fields ranging from education to pediatrics and public policy management.
Bauman's keynote address served as a reminder to embrace challenges and to forge new paths regardless of the major or initial occupation students chose. Previously a lawyer at a highly regarded law firm, and then the vice president for the labor council for NBC/Universal, Bauman then moved on to graduate with a master's in spiritual psychology after she broke free of a "fixed mindset" and realized her calling lay in education as a personal and executive coach.
Bauman in her address asked students to think about their reactions to obstacles in their lives.
"If the challenge you're facing was here for you, not against you, and only for the purpose of serving you-- what's the opportunity?"
Attendee Alejandra Rivera '14 noted, "Michelle's speech about a 'growth mindset' was very inspiring and allowed me to reflect on how I perceive the world, and with what mindset I am facing challenges. It reminded me there really isn't a straightforward career path and that plans can change as a result of new opportunities."
Students were given the opportunity to visit three different sectors for about half an hour each, for a more personal chance to learn more and connect with the alumni in fields they were most interested in.
Organizers Sara Thompson, director of leadership programs at KLI, and Marisa Walter, associate director of external relations at RDS commented on the success of the event, "We really do believe this event continues to offer support to students during their time of preparation for post-graduation opportunities. The female professionals who offered their time to speak with students provided excellent insight into life beyond the Claremont Colleges, by offering clear guidance and sharing personal stories. We are excited by the outcome and look forward to continuing to offer key programming and support for students focused on women and leadership."
Perhaps the best way to summarize the results of the half-day event were expressed by attendee Claudia Raigoza '14:
"Perhaps the greatest lesson I learned was not a lesson at all, but rather, an important lifestyle change. Michelle Bauman emphasized the importance of getting out of a "fixed mindset" so that we may stop letting obstacles and fear limit our potential success. One featured guest in particular recounted how she and her husband, both CMC alumni, had taken a leap of faith by starting their business in an industry they knew little about. Now, their products are featured in some of the most well-known stores across the country and they are reaping the full rewards of taking the road less traveled. Needless to say, I left the conference feeling inspired and ready to step out of my comfort zone!"
Contact
Office of Public Affairs and Communications
400 N. Claremont Blvd.
Claremont, CA 91711
Phone: (909) 621-8099
Email: publicaffairs@cmc.edu

Media inquiries: Gilien Silsby
Phone: (213) 500-8673
Email: gsilsby@cmc.edu