Washington program offers life-changing Beltway experience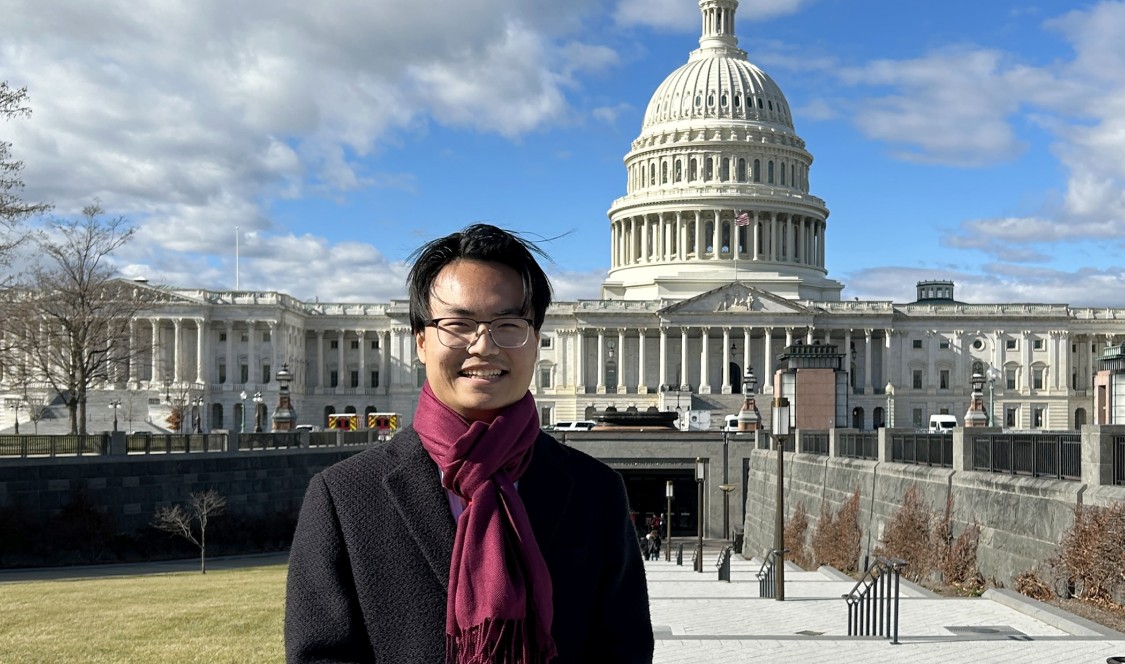 For Joseph Zhong '25, getting an up-close-and-personal tour of the U.S. Capitol — led by the Speaker of the House himself — ranks as one the most memorable moments of his spring semester as part of Claremont McKenna's Washington Program.
Zhong, who is an intern for the Speaker, Rep. Kevin McCarthy (R-CA-23), said, "It was incredible to be on the House floor and hear all the stories about the various congressional members. For me, it humanized many of the members and showed me that most of them are your average Americans."
These types of firsthand experiences are among the life-changing outcomes for CMC students who spend a semester living and working in D.C. This spring, in addition to Zhong, students are working in the offices of five different representatives, a U.S. senator, as well as in the White House, and for the Securities and Exchange Commission, the Wilson Center, and prestigious political consulting firms.
"The benefits of interning in D.C. are significant," said Maija Harkonen, director of CMC's Washington program. "Students who come back from D.C. have impressive work experience they can add to their resumés. They return with valuable contacts and many have letters of recommendation they can use for applying for jobs later on."
And importantly, Harkonen noted, "They waste no time and graduate as planned, as all interns earn credit and grades for four courses while in D.C."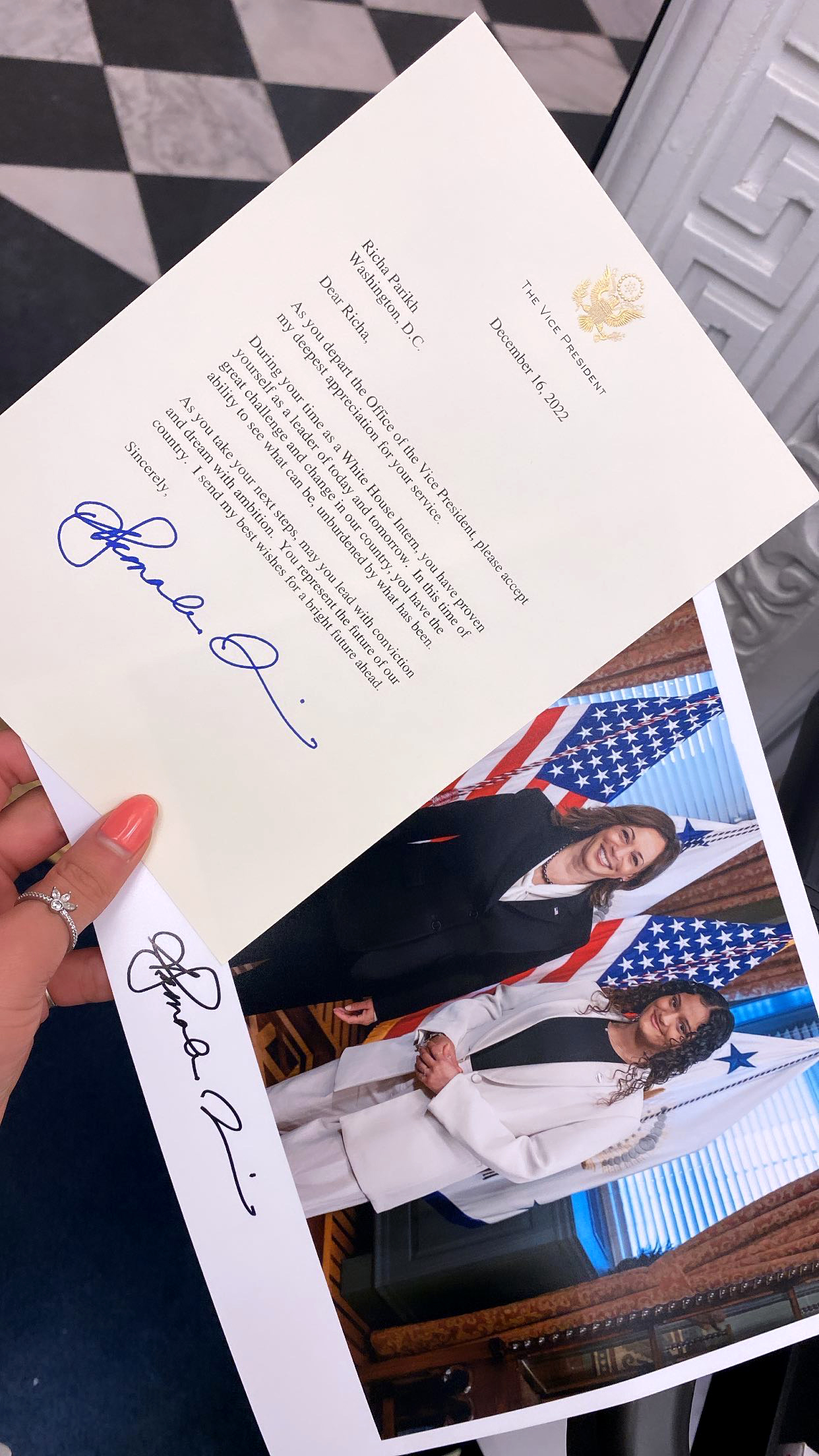 Established in 1972, the CMC Washington Program combines a full-time internship in the nation's capital with a rigorous academic curriculum, which includes two seminars. In 2018, the program launched the "DC Athenaeum," a series of panel discussions, which will include "Putin's War in Ukraine and its Implications to the European Security Architecture" on March 30.
For Richa Parikh '24, who spent the 2022 fall semester interning in the White House, serving in the Office of the Vice President, the Washington Program fulfilled her aspiration to work "within the political world of D.C."
Parikh, a Philosophy, Policy and Economics major with a legal studies sequence, described the program as "an incredibly rewarding experience. I came out of the semester with a greater understanding of my professional ambitions and the resources to turn these ambitions into reality."
With CMC offering subsidized fully furnished apartments to all interns, students get a taste of life in the nation's capital. "Living in this fast-paced environment, surrounded by individuals with similar interests to myself was motivating and taught me more about where I envision myself living in the future," said Parikh.
Zhong, a dual Public Policy and Economics major said that his time on the CMC campus effectively prepared him for his D.C. experience. "CMC has provided me with the skills and work ethic to succeed in my role. I learned policy analysis from my government classes. I learned networking from Career Services (at the Soll Center for Student Opportunity), and also want to 'shout out' the D.C. Networking Trek," he said. "The D.C. Networking trek connected me with alumni here in D.C., so when I moved to the program, I already knew I had a support network present to help me adjust. Many of the contacts I met through the D.C. Networking trek helped coach me on better taking advantage of the resources within the Capitol and in D.C."
As an intern for Senator Jacky Rosen (D-NV), Tara Dawood '25 has attended hearings, written memos, given tours of the Capitol, and answered constituent phone calls. The government and Middle Eastern Studies major with post-graduate aspirations to work in Iraq for an NGO, has had the opportunity to explore her interests and pursue her goals, attending events focused on the Middle East.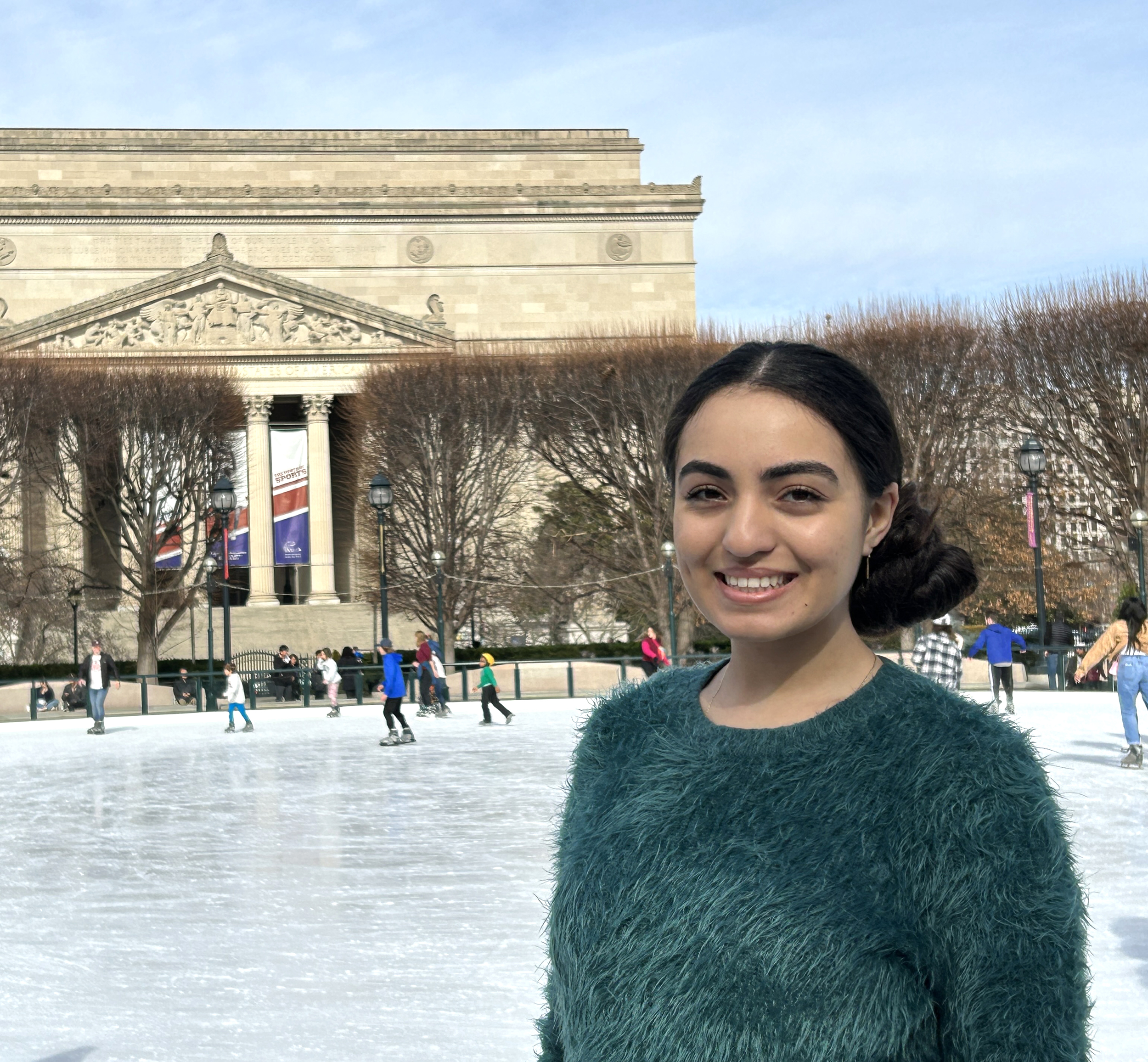 In addition, Dawood shared, "I have witnessed conversations with leaders from other countries, committee hearings and Supreme Court hearings" highlighted by "hearing the Foreign Prime Minister of Iraq's stance on Iraq and the U.S. firsthand," she said. "I feel surrounded by an immense amount of knowledge, and I'm doing my best to take in as much as I can in my short time here."
For Parikh, everything seemed to coalesce at a Diwali celebration at the residence of Vice President Kamala Harris. "Being in this professional political environment surrounded by people who look like me and celebrating our culture together was a moment of awe in my life," she said. "This experience reinforced my dedication to improving representation in high-ranking political positions and gave me hope for the future of diversity in our government."
Do you see yourself in D.C.? Students from all five colleges - Claremont McKenna, Pomona, Scripps, Harvey Mudd, and Pitzer - are welcome to apply. The deadline for Fall 2023 applications is Friday, February 24.
For more information, please contact the Washington Program Director, Dr. Maija Harkonen (mharkonen@cmc.edu) or Kristen Mallory, Director of Global Education and Off-Campus Study (kristen.mallory@cmc.edu).
For further details, visit the Washington Program website.
Contact
Office of Strategic Communications & Marketing
400 N. Claremont Blvd.
Claremont, CA 91711
Phone: (909) 621-8099
Email: communications@cmc.edu

Media inquiries: Gilien Silsby
Phone: (213) 500-8673
Email: gsilsby@cmc.edu