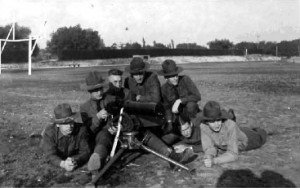 Student Army Training Corps (SATC), Merritt Football Field, Pomona College, 1918. Five Pomona students died in the Great War, and close to 300 served in the U.S. Armed Forces, along with numerous faculty.
An exhibit of World War I artifacts including postcards, uniforms, photographs, posters, music, and documentary film footage, opens today at 4:15 p.m. at Honnold Library, Founder's Room. "Over There, Over Here: A Glimpse of the Great War Through The Claremont Colleges Archival Collections," is a collaboration between Claremont McKenna students and faculty, led by Holocaust scholar and author Wendy Lower, the John K. Roth Professor of History & George R. Roberts Fellow, and director of the College's Center for Human Rights Leadership.
The exhibit is co-sponsored by the Center for Human Rights Leadership and CMC's Department of History, and runs through Sunday, Oct. 5, in the Founder's Room at Honnold Library (second floor).
Guest speaker for today's opening is Roger Chickering, professor emeritus of history at Georgetown University. Chickering will talk about Imperial Germany's "Peculiar" War, 1914-1918.
Additional scheduled programming:
Oct. 2, 4:15p: The Meaning of the Great War: Student and Faculty Perspectives. Wendy Lower (CMC), Evan Wollen (CMC), and a panel of student participants (HIST 136); [Honnold/Mudd Founder's Room]
Nov. 10, 6:45p: The Great War in Poetry and Song. Jeremy Huw Williams, baritone, principal singer, Welsh National Opera; Paula Fan, piano, Tucson Symphony; Regents' Professor of Music, University of Arizona; [CMC Athenaeum]
More about the exhibit
.