Alice Chang '15 and Sara Linssen '16 sell chickens, fight poverty in East Africa
Neither Alice Chang '15 nor Sara Linssen '16 could have predicted where they would end up just a few years after graduating as economics and government majors from Claremont McKenna College.
"I certainly didn't think I'd graduate CMC, move to East Africa, and sell chickens!" said Linssen.
But the two grads are doing exactly what they set out to do when they came to CMC with a deep-seated interest in social impact work.
They work for a social enterprise whose mission is to make smallholder farmers healthier and wealthier. Chang, who is managing director of Uzima Chicken Rwanda and Uganda, joined in 2019; and Linssen, who is operations director of Uzima Chicken Uganda, followed in 2020.
"Sara and I share similar life philosophies — life is short, so let's be intentional about how we spend our time and what kind of legacy we want to leave," Chang said.
Chang and Linssen said the classes they took, the experiences they had, the skills they developed through SOURCE nonprofit consulting, and the relationship they built with one another while students at CMC laid the groundwork for their work together halfway around the globe.
Right out of college, Chang and Linssen worked in management consulting for a few years, at Bain and Deloitte, respectively. And then they were ready to pursue another passion.
"We left consulting armed with a versatile business toolkit, knowing we can make a tangible impact in the social impact space," Chang said.
Empowering Smallholder Farmers
Part of a group of companies called Hatch Africa, founded over 13 years ago and operating in six countries, Uzima Chicken distributes a chicken four times as productive as the local breed, in order to increase food security and diversify income streams for rural farmers. Uzima developed a network of over 1,000 poultry agribusinesses (called agents) in Uganda and Rwanda to brood and sell these chickens. Agents earn a 25 to 30% return on investment within 45 to 60 days.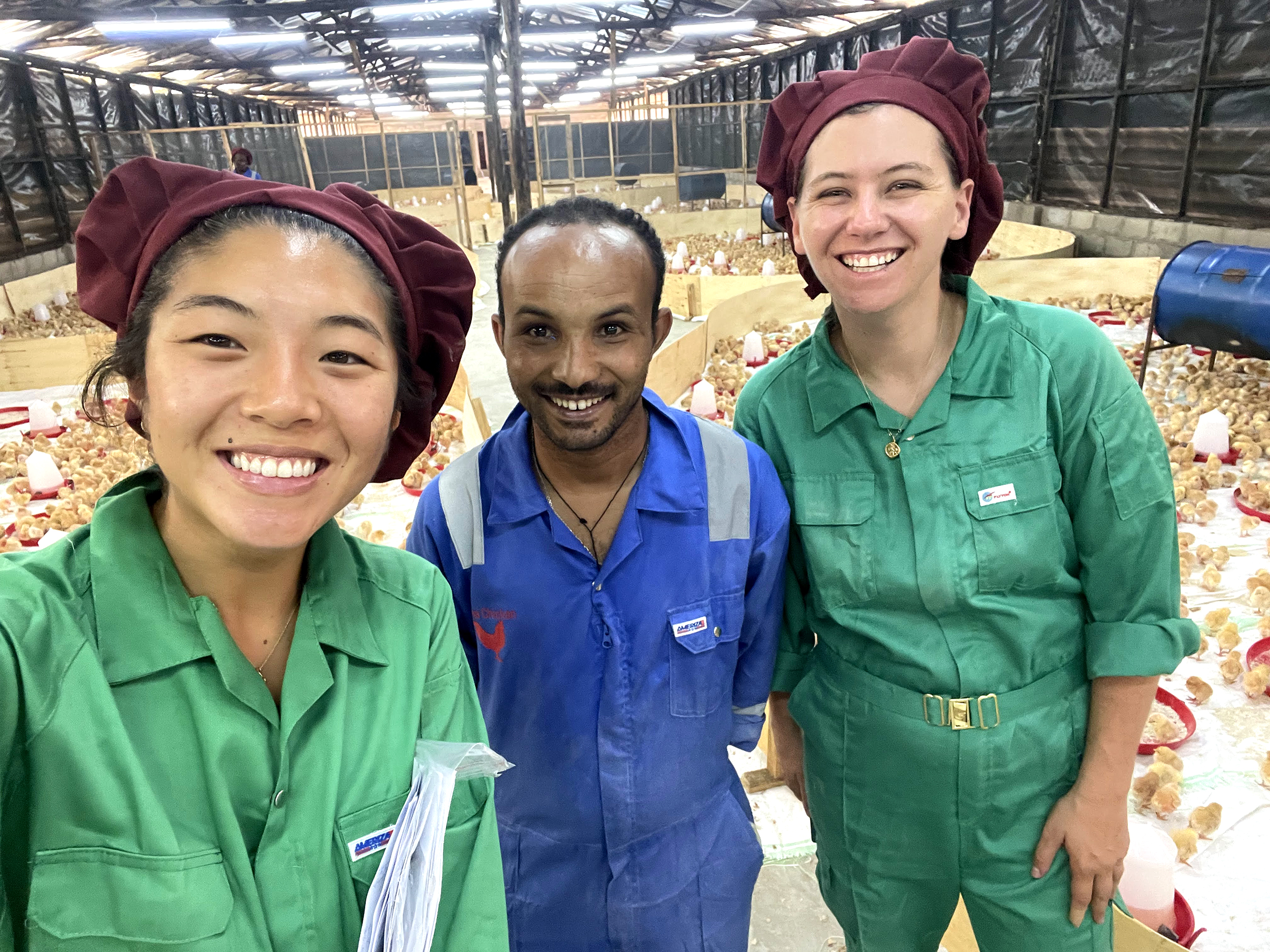 "Through the profits they receive from their Uzima business, I've seen countless agents build new houses, buy land, expand their poultry projects, and put their children through school," Chang said.
Together, Chang, who manages all operations including sales, production, finance, and investor relations, and Linssen, who focuses on the back office (HR, finance, delivery and logistics) and production teams, have overseen the company's rapid growth.
"In the last four years, Uzima has delivered more than 10 million chicks to over one million smallholder farmers in Rwanda and Uganda alone," Chang said. "Annual growth is two to three times in revenue, and we're rapidly scaling with a vision of reaching every farmer in the region by 2030."
Finding Support at CMC
Chang and Linssen say CMC prepared them to make a difference in the world.
"I came to CMC because of how actively they supported and pushed for social entrepreneurship," Linssen said. "I'd travelled during a gap year prior to CMC and done some work in high school for a local social impact, so I knew that I wanted to be surrounded by people and opportunities that expanded that interest."
A San Diego native, Linssen joined CMC's Washington program for a semester in D.C., and a CMC-sponsored spring break trip to Panama that had a big influence on her.
"CMC was extremely supportive of my growth, especially in helping me formulate my hypothesis around how to make lasting change, whether via nonprofits, government and policy, or business," said Chang, who grew up in Seattle and Shanghai.
As a Seaver Scholar, Chang received a freshman summer internship stipend to work for two nonprofits in New York City. She completed a semester in D.C., working on Capitol Hill. Beyond the practical knowledge from economics, corporate finance, and accounting classes, she felt her history general elective course opened her eyes to the level of social injustice in the world.
"Through these explorations, I realized that businesses focused on a triple bottom line (financial, social, environmental) are well-positioned to deliver sustainable impact, which is what piqued my interest in joining the social impact sector," Chang said.
But perhaps the most impactful experience was co-leading SOURCE, CMC's nonprofit consulting group, where they bonded over shared values.
"My experience with SOURCE taught me two key lessons: 1) how to build and manage a team with a mission-driven culture and 2) how to work with external stakeholders, such as nonprofit clients, to understand their pain points then make targeted changes to achieve the desired outcomes," Chang said. "SOURCE also helped build my confidence as an effective communicator and leader."
"I honestly believe that none of my professional steps I've taken since college would have been possible without SOURCE," Linssen said. "It's one of the things CMC does really well — the pre-professional programs, getting client experience and mentorship from older students."
Chang and Linssen are excited to recruit like-minded CMC grads to join them at Uzima Chicken. They're also passionate about mentoring CMC students. Linssen's best advice is to take advantage of all the opportunities CMC offers but don't feel you need to have it all figured out.
"Try to articulate what you value and what you're curious about — each step should be a test of a hypothesis or a chance to grow your skills in a new way."
Contact
Office of Strategic Communications & Marketing
400 N. Claremont Blvd.
Claremont, CA 91711
Phone: (909) 621-8099
Email: communications@cmc.edu

Media inquiries: David Eastburn
Phone (O): (909) 607-7377
Phone (C): (808) 312-8554
Email: deastburn@cmc.edu