Taking the CMC float for a test drive

With mere weeks to go before Claremont McKenna College's Rose Parade® float rolls down Colorado Boulevard on Jan. 2, 2023, the craftspeople at Fiesta Parade Floats are working around the clock to get the float "street-ready."
Local broadcast outlets KTLA and NBC4 were on the scene to capture the moment, as the steel scaffolding of the 55-foot-long CMC float was taken for a test drive, rolling onto the street outside the Fiesta barn in Irwindale.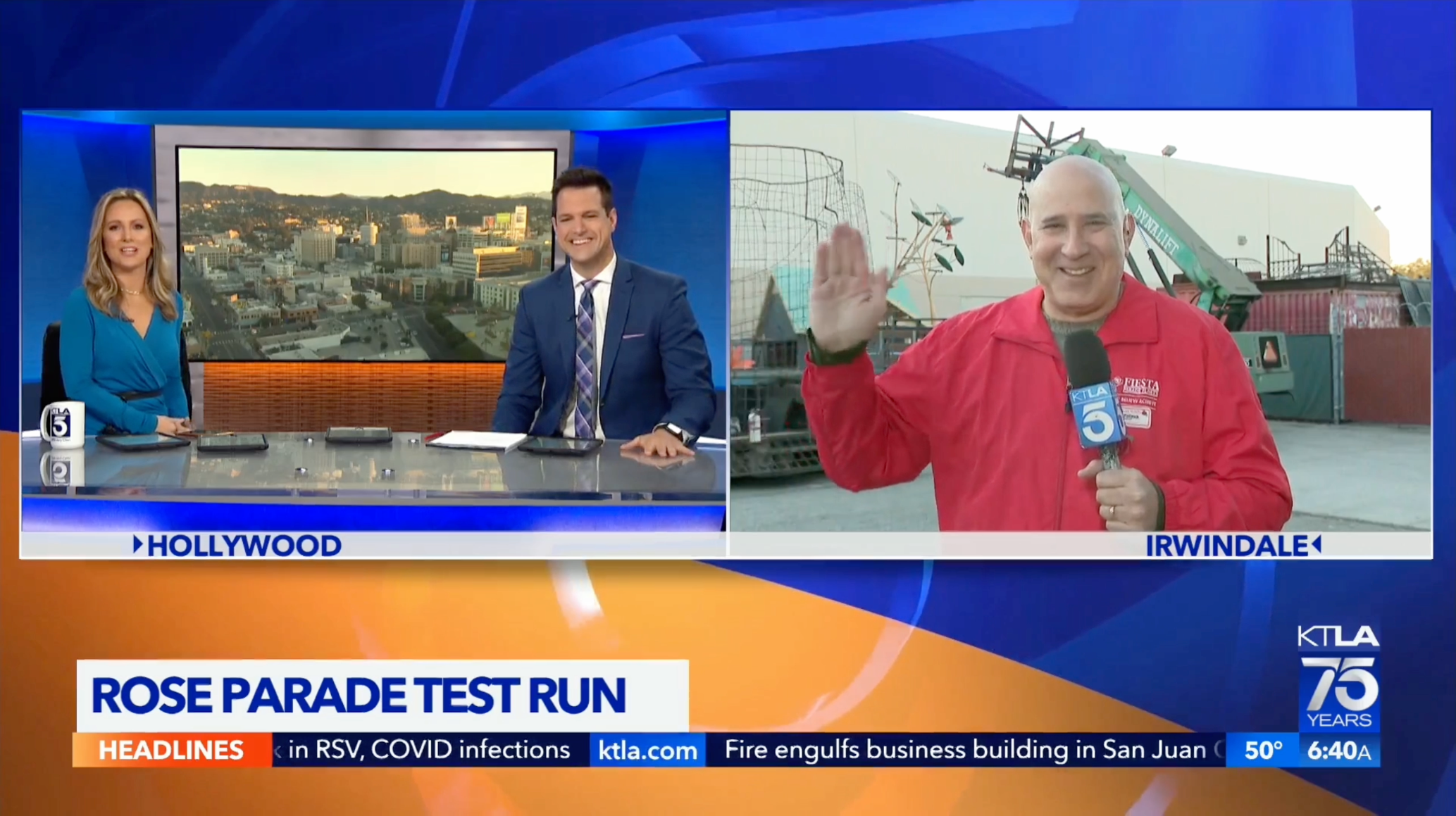 As the float chassis eased out of the barn, Fiesta Floats spokesperson Stefan Pollack explained how CMC's entry—which depicts iconic campus landmarks—will celebrate the College's 75th Anniversary and "bright future" in line with the theme "Turning the Corner."
At this stage, the floats are examined from a mechanical perspective, checking the hydraulics and the braking systems before the floats "get foamed over and ready for decorating," Pollack said.
"Claremont McKenna College is going to have a spectacular entry," he continued.
CMCers will have the opportunity to take part in decorating the float at Fiesta and can attend other family-friendly events to celebrate CMC and 2023. Learn more here.
Alumni, parents, and friends can contribute to scholarships for current CMC students, in honor of our participation in the 2023 Rose Parade® by adopting a rose which will "float" down Colorado Blvd. 100%—every dollar—will support student scholarships. Please see more details here.
Contact
Office of Strategic Communications & Marketing
400 N. Claremont Blvd.
Claremont, CA 91711
Phone: (909) 621-8099
Email: publicaffairs@cmc.edu

Media inquiries: David Eastburn
Phone (O): (909) 607-7377
Phone (C): (808) 312-8554
Email: deastburn@cmc.edu