Objectives and Principles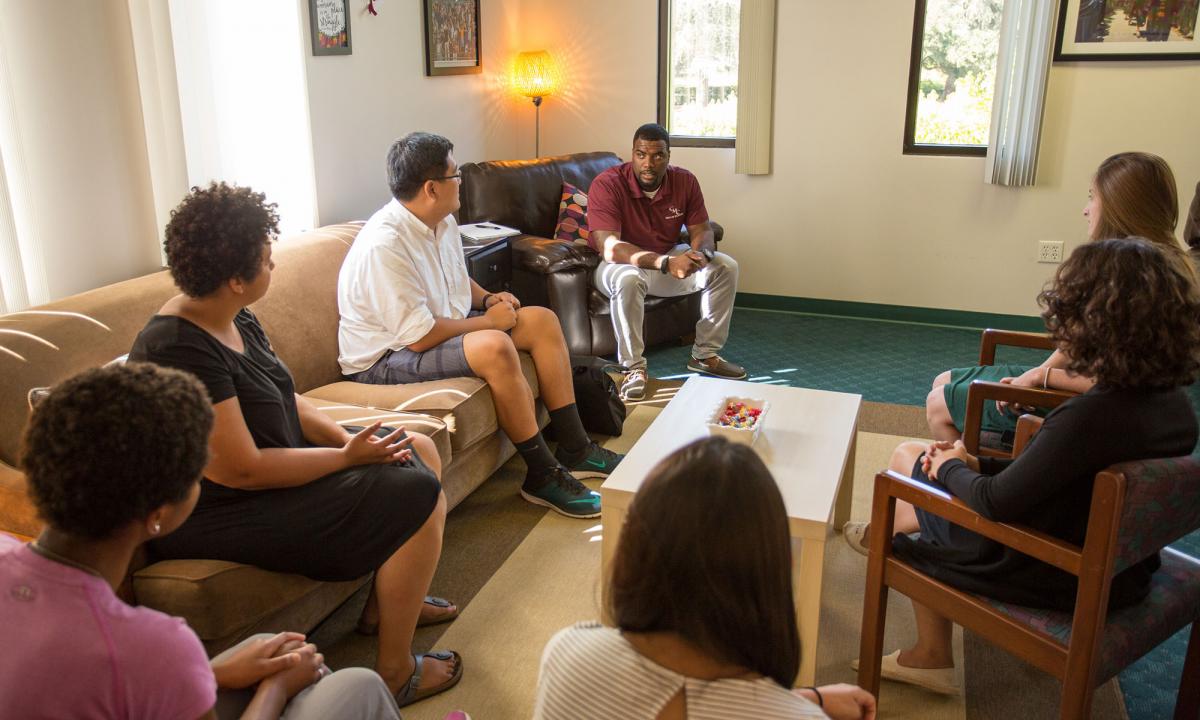 Objectives
The proposed resource center is designed to achieve the College's fundamental goal to "educate…students for thoughtful and productive lives and responsible leadership in government, business and the professions and to support faculty and student scholarship that contributes to intellectual vitality and the understanding of public policy issues." It will do so in three fundamental ways, all related to our educational mission.
First, we will offer initiatives and programs aimed to educate and engage the entire student community. It will be a space for expression, study, dialogue, and exploration of our intersecting social identities and how they inform the ways in which we live within, learn from, and engage with the world. To do this, we will develop a series of programs that encourage students to explore questions of identity and engagement in an analytical and ethical context, while engaging in a real world framework.

Students will be challenged to step outside of the bubble of college and connect with the broader realities of society.

Each year, we will have two or three faculty fellows associated with the center. The fellows will be faculty members with an interest in any of the issues that align with the mission of the center, ideally coming from different disciplines, focusing on different issues, and having different viewpoints. Faculty fellows will hold weekly office hours in the center, and provide input and support for developing and sustaining the intellectual mission of the center. For example, they may facilitate book clubs, speaker series, dialogues, or other events. They will serve for two years. We anticipate the ability to fund faculty through limited stipends from current grant resources, without having to place additional demands on the budget.

We also envision having a similar involvement of staff associates with the center. They, too, could act as mentors, advisors, supporters, or counselors. We know there is much interest among staff in such a role acting as a bridge between communities.

Second, we will coordinate and enhance student services and develop new initiatives that support learning and thriving. The focus will be to remove any barriers within the College that serve as hurdles to students fully engaging with the benefits of the College.

We will pursue this goal strategically by bringing together a number of services, programs, and people, both from within the College and from the Consortium. This will aim to support students who face challenges in their studies and in their social lives at the College. The new assistant or associate dean of diversity and inclusion will oversee the coordination of these services and resources.

The resource center will, ideally, be designed as an attractive space where all students will feel empowered and at ease to get access to services, as well as to study, meet, and learn in more challenging ways from one another.

Third, we will also incorporate an external perspective of outreach into the community, by incorporating College resources and initiatives that relate to community engagement. The questions students deal with in these contexts—inequality along multiple dimensions, the power of dialogue and listening, the virtues of empathy and courage, ways of understanding the world through other's eyes, capacities of resilience and innovation—provide perspective, teamwork, and a sense of shared purpose. The experiential education our students receive can contribute to their understanding of national and global issues related to social institutions and social identity.
Principles
The center will be built on four principles that reflect core values of CMC—openness to all, intellectual pluralism, evidence based decision-making, and student-centeredness.
We will constantly seek to ensure and assess that the center fulfills its aims. The center must be widely used; the events and services must be of high quality. All students will not just be welcomed, but encouraged to use and access the space. The events and speakers will reflect multiple viewpoints and cater to many audiences in order to achieve its goals of supporting all our students to thrive at the College, to gain greater awareness of diversity issues, and to foster cultural competence. We will have the information and the courage to discuss these matters and change them if we feel the center is not meeting these goals or feel the center has to adapt and change to address the needs of the community.
First, the center will be inclusive and open to all, regardless of background, identity, viewpoint, or values. It will aspire to be inviting to all students and to actively create opportunities for the broadest possible range of students to learn and use the space. The goal will be for the resource center to be utilized in a variety of ways by students, faculty, and staff. It will be a training resource for those who want to learn more about themselves and others, a source of support for students from less represented backgrounds, and a place that thrives on the intellectual exchange of varied viewpoints and perspectives by all.

Here are some examples of potential uses of the center by the community:

First-generation students or international students go to the center to access a new mentoring program designed to help them navigate college;
LGBTQ students join regular educational programs centered on their well-being;
Students of color work with resource center staff to organize reading groups, dialogues, and discussions about race and ethnicity and their effects on lives and societies;
Female and male students attend a series of workshops on negotiating the workplace (in collaboration with career services);
Students from different religious, political, or national identities organize dialogues bridging polarized communities;
Faculty fellows associated with the center hold office hours, employ student research assistants who contribute to the intellectual programs of the center, and organize dialogues;
Student organizations can use smaller offices as hoteling spaces for office hours and event planning. This includes Gen-U, SOURCE, Mi Gente, ASCMC, etc.;
Staff would have check-in lunches with their mentees.

The center will host frequent, stimulating events that are open to all and designed to promote meaningful conversations and learning. Ultimately, through its programming and outreach, the resource center will act as an intentional community-building space for groups who wouldn't normally interact with one another, e.g. events that bring together, say, athletes and LGBTQ student groups, or affinity group members and international students, and so on.

The educational purpose of the space will be further reinforced by a resource library that will contain relevant magazines, journals, books, films, and multimedia resources, as well as comfortable designated spaces to read, discuss, study, and relax.

In short, the resource center will be a dynamic space where, at any given point, different people with different interests converge in a relaxed setting and learn from one another.

Second, and related to the open nature of the space, the center will be dedicated to the principle of pluralism in thought, beliefs, and perspectives. It will not institutionalize a single way of thinking, but will instead reflect the core values of the college in focusing on complex issues in ways that are thoughtful, critical, respectful, and interdisciplinary. Whether in the selection of faculty fellows, speakers, reading topics, books in the library, and so on, pluralism and a willingness to question assumptions will be a standard to which all people in the space adhere. Related, high standards of civility, respect, and appreciation for differences will constantly be modeled and required.

Third, the decision-making processes related to the operational functions of the center must be evidence-based, self-critical, and democratic. The center's leadership will develop mechanisms to determine how well and in what ways it supports and advances the goals and principles described above. Assessment rubrics will evolve over time as the center matures, but shall always be in alignment with the college mission and the goals and principles of the center. Students will have an important voice in setting the center's direction and assessing the extent to which the center achieves this direction, and faculty and staff will be involved as well.

Fourth, while programmatic focus and the space, like the college, is first and foremost student-centered, it will welcome faculty and staff as well, and seek to draw them into the center. There are faculty and staff who face issues similar to the ones that our students face, who want to share their experience and knowledge with students and to learn more from one another. Faculty of color and others have expressed their desire to run a mentoring program for students of color, and so have staff—this would be the place to do that. The center will therefore build enduring connections between people and departments across the college community.