Alexan Kendry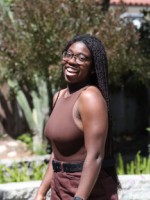 Hey everyone!!! My name is Annette and I'm from Chicago(yes, I am actually from the city). I am majoring in chemistry on the pre-med track. You've probably seen me around campus in my teal shirt as a CMC Advocate(the most amazing people on this campus!) I'm a pisces but some say I give libra energy (whatever that means). Sweatpants and crocs are my go to outfit. When I am not on aux, you can find me at Roberts, DOS, or top floor Keck. I'm stupid excited to be one of the AK RAs. Feel free to stop by and say hi - I guarantee there will always be snacks!
ps. barbeque and hot sauce are the only acceptable condiments :)
ps.ps. choose love <3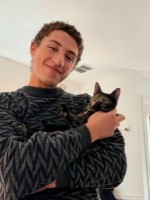 Hi everyone! My name is Mj Lindsey (he, they) and I am from the DMV (the one outside DC, not the car place). I study Biophysics at Keck and am pursuing a sequence in Gender & Sexuality Studies. And of course, I am very excited to be one of the RAs for the Kendry apartments (a.k.a the best dorm). I live with my little scaredy cat, Artemis [pictured], who is always up to trouble and happy to make new friends—so please stop by! In my free time, you'll likely find me laying out on north lawn, people-watching in the cube, or drinking an unimaginable amount of coffee. I am also a huge music guy, so definitely share with me what you've been listening to (for me it's been: Ari Lennox, Brandy, Victoria Monet, and Raveena). To any of my fellow AKers: looking forward to meeting you all! And if you ever catch me speed walking around campus, please say hi!
The CMC Apartments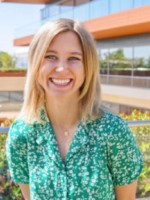 Hello! My name is Maddy, and I will be one of the RA's for the Student Apartments! I am from Tucson, AZ and a Psychology major at CMC. In my free time you can usually find me rock climbing at Hangar18, crocheting, or playing with my cat Mashed Potato. On campus I also work for CPB as Director of Wellness, and I am a research assistant with Dr. Umanaths Memory and Aging Lab. I love the community at CMC and I am so excited to get to know all of my residents and host fun dorm events! My door is always open, feel free to reach out!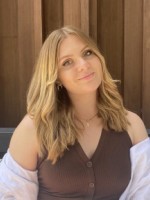 Hi everyone! My name is Jacey Carter and I am an RA at the Senior Apartments. I was born and raised in Phoenix, Arizona. I am a Public Policy major with a sequence in Data Science. I play basketball for CMS and recently started competing in powerlifting (s/o @jaceylifts on ig). On campus, I am a personal trainer and group fitness instructor. Also, if you didn't know, I'm vegan! I love surprising my friends with tasty vegan food and helping people with tips and tricks for eating at Collins as a vegan (hint: cold tofu lol). Aside from that, I really enjoy getting to know people and finding similar interests with others here on campus. I will never pass up a trip to grab boba or Thai food! I'm looking forward to further connecting with my classmates Senior Year to make a memorable time at the apartments!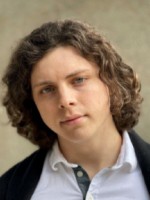 Hello! My name is Nathaniel, and I am currently working towards a degree in cognitive science with a concentration in cognitive neuroscience. I am super excited to be a resident assistant for the senior apartments next year! The apartments offer a unique and lively residential setting, and I couldn't be more thrilled to help facilitate some of the senior class's final memories here at CMC.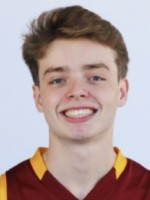 Hi all- my name is Josh Angle, and I am one of the Senior Apartments RA's. Originally, I'm from the Portland, Oregon area, and I love the PNW. Here at CMC, I am on the men's basketball team and a Romero Success Coach. As your RA, I am excited to get to know you all individually and promote an inclusive culture. Please say hi if you see me around campus!
North Quad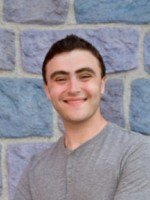 Hey y'all, my name is Sam Bogen, and I am so excited to be the Appleby RA for next year! I am dual majoring in Economics and Data Science, and I'm a part of the Class of 2023. On campus, I serve on the ASCMC Executive Board as our Vice President of Campus Organizations working with clubs. If I'm not working, you can probably find me watching baseball or keeping up on the latest Disneyland news. I love the close-knit residential community that CMC has and cannot wait to help foster that community in Appleby! I'm looking forward to keeping up with some fun Appleby traditions and developing new ones, so be on the lookout for some fun events next year!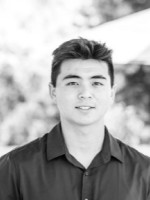 I am going to be a senior studying data science and economics. On campus, I play for the CMS baseball team and am an executive board member for the Student-Athlete Advisory Committee. My favorite part about CMC is the great community. I am excited to be the RA of Boswell next year and I hope to be able to build a fun and close environment for my residents.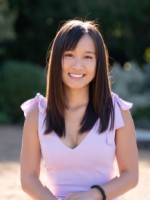 Hey everyone! My name is Claire, and I'm a dual Psychology and Public Policy major with a sequence in Leadership Studies from the class of 2023. I'm from the Bay Area, but I love Socal as much as Norcal. I love spending time with the tight-knit community at the CWPD. If I'm not at the CWPD, you can find me enjoying the sun with my residents on Green Beach or supporting our CMS teams. In my free time, I'm probably drinking coffee and boba.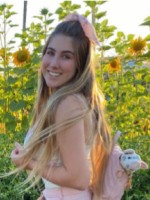 Hi friends! My name is Ari Livi (some of you might know me as Ari Pig), and I am stoked to be the RA of Wohlf, aka the best dorm on campus. Here is a little more about me, I am a SoCal Native, from La Habra CA majoring in Neuroscience while on the Pre-Med track. Around campus you will most likely find me scootering around in my head-to-toe pink outfit. My favorite place on campus is Roberts, where you can find me either tapping someone's ankles in the training room, drawing out biochem pathways on the whiteboards of the downstairs study rooms, or dancing with my teammates in the locker room before a CMS softball game. I am also the president of the Claremont Colleges EMS Club and am passionate about public health education, especially involving drug and alcohol emergencies. I cannot wait to work with the other North Quad RAs to host some fun quad wide activities and events! Stop by Wohlf 212 anytime to listen to music, make friendship bracelets, and ~vibe~
Mid Quad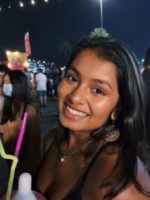 My name is Athulya Nath and I'm from North Las Vegas, NV. I'm majoring in Government and Philosophy with a Legal Studies sequence. On campus, I'm involved in the ROTC program, CARE Center and 5c Volleyball Club. In my free time, I love cooking, trying new restaurants, and hanging out with friends. One thing I love about CMC is just how excited everyone is to meet new people. I'm excited to be the Beckett RA and really get to know my residents through fun activities like dorm dinners, watching weekly tv shows, and study sessions.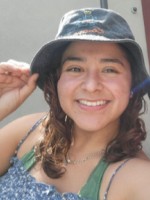 Hi, fellow Becketteers and non-Becketteers!! I'm Danny. I am a government and data science major from the Bay Area. On-campus I am on the Claremont Rugby team and work at the Rose and DOS. If I'm not busy you can find me in my room cuddling Fip (my 2-month-old Emotional Support kitten). I've considered Beckett my home since my freshman year so I am incredibly excited to be the dorm's RA next year! Since my time at CMC, Beckett has been known as a dorm with a lot of community and spirit and I will make sure this is the case next year as well!
Major: 3-2 Economics and Electrical Engineering.
HELLO CMC!!!!!! My name is Helen. I'm originally from Montana and I'm extremely hyped to be Benson RA next year. On campus you can find me studying in Poppa (unequivocally the best study spot on campus), working at the Rose Institute, or dancing in Roberts Studio A. In my free time I enjoy spending time outdoors, researching political scandals, and drinking coffee. I'm always down for an adventure, so let me know if you need a partner on your next outing. Definitely stop by to chat, I love chatting.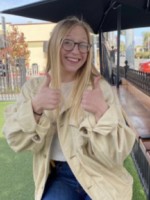 Hey CMC! My name is Jamee (she/her) and I am so excited to be one of the Co-RAs of Benson! I am from Chattanooga, Tennessee and majoring in Biology. On campus I am a member of the CMS Swim and Dive team and a research assistant at Keck studying evolutionary patterns of whale and ichthyosaur teeth! There are so many things to love about CMC, but a few that come to mind are how supportive and friendly everyone on campus is, there are resources for just about anything you can think of, and of course Collins cookies :)! I'm so excited to get to know everyone! I can't wait to bond with my residents over the fact that Benson has a shared kitchen right around the corner in our humble abode of BCB to make sweet treats in!! Some things I love are coffee, all types food, and music! I am absolutely looking for any and all new music recs (bonus points for some rock/alt rock recs), if you have any good tunes or just want to hang out swing by and say hello! I can't wait to see you all next semester!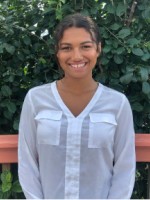 I am studying history and government. I love to examine events, patterns, and policy that affect urban areas, particularly those in the U.S. I am originally from Chicago, and my experiences have influenced my studies, which I love! Aside from other involvements on campus, I am super stoked to be the RA of Berger next year! I love our tight knit community, and I look forward to building inclusion.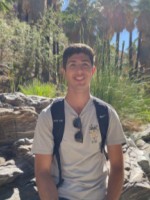 Hey what's up everyone! My name is Jimmy Papas and I am from Greenwich, CT, about an hour outside of NYC. Yes...I am a Giants, Knicks, and Yankees fan. I'm a part of the class of 2024 studying Economics and Engineering and am super excited to be the Berger RA! In my free time, you can find me studying at the Hub, hanging out on Green Beach with friends, or playing club tennis at Biszantz. If you ever want to kick back and play some video games, talk about sports, or do something active, come stop by. Looking forward to next year and can't wait to see everybody in the fall!
My name is Paul Roche and I am from Orange County, California. I am on the CMS baseball team. I love spending time outdoors, playing games, and dreaming about the future. I am excited to be an RA of Crown because I want to help create an awesome dorm culture.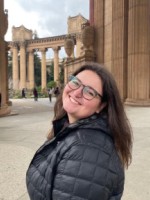 Hi everyone! My name is Sophie and I am one of the RAs for Crown Hall! Originally from Redwood City, CA, I am an Economics and Psychology dual major with a Leadership sequence. On campus, I am the President of the Claremont Boxing Club, and I run the Free Food for Thought Podcast, so I'll always have a podcast recommendation. If I'm not in Crown, you can find me working (or "working") at the Hub or in a computer lab. In my free time, I am either sleeping in or waking up extremely early to watch Formula 1. I am also a huge Marvel fan and enjoy binge-watching TV shows. Please feel free to stop by for Trader Joe's snacks or if you need a good study playlist!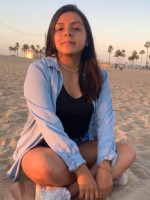 Hello everyone! My name is Karen Almachi, and I was born and raised in Chicago, IL. (I promise that I'm actually from Chicago and not the suburbs) I'm a junior studying Psychology and Economics who does most of her studying at the Cube. On-campus, you'll see me on my scooter trying to get to class on time but don't hesitate to say hi! As the RA next year, I look forward to keeping the chill community that we have there.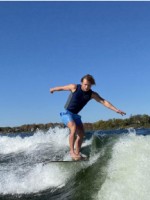 Hi Claremont! My name is Thayer, and I'll be the Marks RA. I'm from Wayzata, Minnesota, where I enjoy spending time on the lake with my family and friends. On campus, I'm one of the leaders of the CMC Mock Trial team and the CMS Swim and Dive team. I am majoring in Government and Philosophy, Politics, and Economics. In my free time, I try to take advantage of all that California has to offer, checking off the bucket list for concerts, outdoor hikes, surfing, beach days, and more. I'm particularly excited to be the RA of Marks because I will love hearing students' music from the Marks music room and hanging out on the outdoor patio and lawn. I look forward to hearing the unique stories of each of my residents and helping them through any of their college struggles.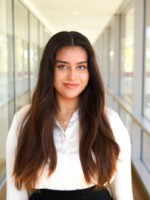 Hi everyone! My name is Mariela Centeno and I am a Senior majoring in Economics with a Sequence in Data Science. I was born and raised in Corona, CA, which is just 30 minutes away from campus. Yes, I love Southern California and I plan on staying here my whole life! At CMC, I love constantly bumping into all of my friends and professors. I also love the weather and being able to go on runs around the 5Cs. I am really excited to be the Phillips RA and develop a tight-knit community within the dorm.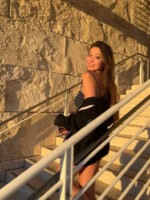 Hello, CMC! My name is Sabrina and I'm so excited to be the RA of Valach Hall! I am from the outskirts of Los Angeles and am studying Media Studies and Economics. I absolutely love CMC and getting to meet so many incredible people everywhere you go— in classes, in dorms, waiting in line for chocolate-covered strawberries at the Athenaeum… you know the drill. I'm especially looking forward to being the RA of Valach Hall, hosting fun events under the lights in the courtyard, and baking nights in Janie's Kitchen. In my free time, I draw digitally and create animatics (think digital storyboards!), play tennis, practice my photography, and go to the theater with friends! I love getting to know new people so never hesitate to swing by 205! :) Looking forward to the best year with you all!
South Quad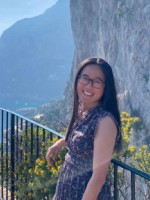 Hi! My name is Aileen and I am from Bethel, CT. I am dual majoring in international relations and history. I spent the last year abroad (SVP and Nice, France) so I'm so excited to be back on campus and to be one of the Auen RAs! On campus I've been involved with the Kravis Leadership Institute, the CARE Center, and APAM. I love the CMC community and how much opportunity there is to get involved, to grow both personally and professionally, and the many resources you can take advantage of! I also love, of course, the Collins chocolate chip cookies. I can't wait to put on fun events for Auen and South Quad as a whole #southquadbestquad! I love to read, travel (solo travel is the best), do jigsaw puzzles, crosswords, wordle, and all its spinoffs - worldle, quordle, nerdle... One of the best experiences I've had studying abroad in Europe is solo traveling to four countries in ten days with just my backpack.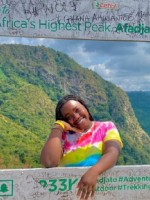 Hi everyone! My name is Aishat (eye-shaht) and I am one of the RA's of Auen. I am originally from Lagos, Nigeria (home of the best jollof), but I grew up in Newark, NJ. I am majoring in International Relations with a regional focus on Africa. If I don't look familiar it's because I've been abroad in Ghana this academic year (that's actually where I am in this photo). I have absolutely loved my experience, but I am looking forward to meeting all of you back on campus. I love to cook and I hope to invite some of you over to taste my famous wings. If i'm not in the kitchen trying a new recipe, you can possibly find me writing or reading poetry. I especially enjoy slam poetry. My favorite thing about CMC is the endless support I have received from faculty and staff, they genuinely make me feel really cared for. Along with that as a FGLI student CMC has given me incredible opportunities I could only dream of. I am super excited to learn more about you all!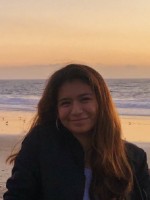 Hi y'all!
I'm Emily, a public policy major from Santa Ana, CA. I love CMC's tight knit community and I'm so excited all of you to become a part of it!
I love coming home to south quad at the end of the day! It is so nice to have a little escape from the hectic scene on campus. I particularly love Fawcett's floor lounges and community!
Can't wait to meet all of you and run into you across campus, whether at Collins, the Soll Center, KLab, or the Fawcett elevator!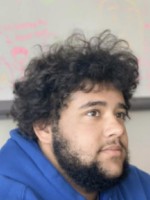 Hello! My name is ErisJames Elliott but I usually go by Eris. I'm from Massachusetts but I'm here studying Psychology and Legal Studies. I enjoy competing in as many intramural sports as my schedule allows for, watching tv whenever I get a chance, and playing video games when I should be getting work done. I came to CMC because I could see during my preview weekend that the faculty and staff of this school care about its students, and work directly to help them, something that cannot be said for most colleges. CMC has a lot to offer as long as you are willing to take the time to ask, and I am excited to be here to help. I hope as the RA of Fawcett I am able to be a resource that can connect my residents to whatever information they might need. I have a blunt personality and will make jokes just about as often as I can think of them but when it comes down to it I do care about helping others and giving students the best opportunities to succeed. I can't wait to meet all of my new residents in the Fall!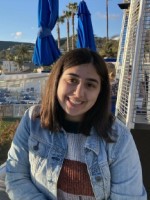 Hey, everyone! My name is Olivia, I am from the Chicago suburbs, and I am so excited to be next year's Stark RA! On campus, I am a PPE major, a member of CMC's Model UN team, and am a research assistant at the Salvatori Center. Last semester, I was lucky enough to study abroad in Paris and work in Jerusalem over the summer. I am almost always doing work and hanging out at the hub, but in my free time I love to bake, play tennis, and watch every dumb comedy that has ever existed. If you ever want to have some dairy free snacks, listen to someone speak french with an aggressively strong midwestern accent, or just stop by and say hello, my door is always open!