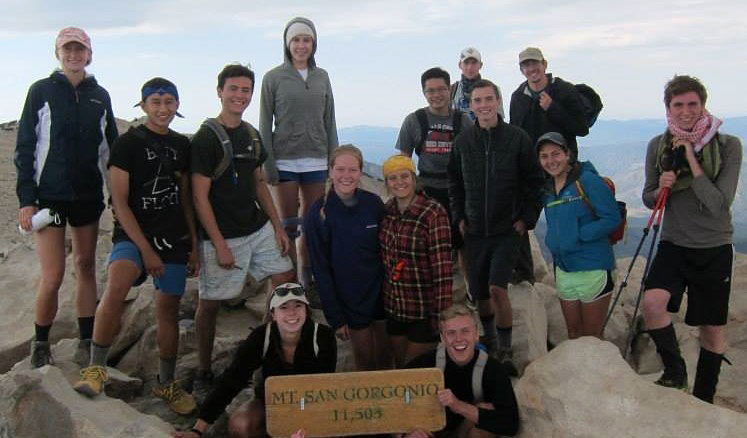 What is WOA?
Who Participates in WOA?
What Should I Bring?
First Year Guides
Trip Destinations - coming in spring!
Login to the Orientation Portal in May to indicate your trip preferences!
---
What is WOA?
WOA stands for Welcome Orientation Adventure. WOA Trips are destination experiences designed to help students make connections and learn life skills before entering college at CMC. Our many trip offerings allow students a variety of opportunities and activities, from surfing to camping to community service and urban engagement. There is truly something for everyone! Each group consists of 15-20 new students and three or four First Year Guides who are currently enrolled at CMC.
WOA Trips are designed to promote:
A supportive relationship with peers

A mentoring relationship with trip leaders

A sense of community and belonging

Readiness for college life

Personal growth

Leadership skills

A connection to the natural world

Responsibility for self and others

Decision-making skills

Challenge and discovery

Self-awareness and self-confidence

An awesome introduction to the CMC lifestyle!
---
Who Participates in WOA?
Everyone! All new students, freshman and transfer, will go on a WOA trip as part of their Orientation experience. There are approximately 18 different trip options and there is something for everyone! A form to list your trip preferences will be available in May 2017 through the Orientation Portal.
It is imperative that students who plan on playing a fall sport contact their coach in order to coordinate practice schedules with your WOA trip.
---
What Should I Bring?
Students will most likely be bringing the items needed for their trip to college. More specific items, such as sleeping bags and pads, are available for a small rental fee if you cannot bring your own. Once you have been assigned a trip, you will receive an electronic packet detailing your trip and the items you will need to bring. Be mindful that while you are on your trip, you will be away from campus and will not have access to your room, so bring what you need and leave what you don't!
---
First Year Guides
Trips are comprised of 3-4 First Year Guides per 15-20 participants. Each trip has at least one male and one female guide who represent a variety of class years. First Year Guides participate in mandatory training prior to the trips, including a course in basic wilderness first aid, in order to ensure safe and well-run trips.
---
Claremont McKenna College has invested in the quality of its risk management practices by participating in Risk Management Training offered by the National Outdoor Leadership School (NOLS), an organization with over 50 years of experience managing risk in wilderness environments. As a result of this training, while NOLS doesn't endorse of certify our practices, Claremont McKenna College is further enhancing its risk management strategy. We have invested time and resources in these practices because the health and well-being of our participants is one of our highest priorities.