Convocation kicks off academic year

In a ceremony that addressed the duality of "excitement and nervousness" permeating campus this past week, CMC's annual Convocation asked important questions about navigating the academic year ahead.
President Hiram E. Chodosh welcomed the audience of students, faculty, and staff, live-streaming from the Athenaeum on Sept. 2, and acknowledged the "confluence of unprecedented challenges and expansive opportunities" that the new year presents with CMC's long-awaited in-person return.
"Each year, we call ourselves together in convocation, and those words take on new meaning today," he said.
First, Chodosh continued, is "the basic fact of being back" on campus. "Our faculty so dedicated and eager to reenter the classroom. Our students so engaged and grateful to be back together. Our staff so tireless in the heroic preparations and inspired to make it all happen. All for CMC to lead with verve and distinction."
Yet, despite feeling grateful to be back in person this semester, Chodosh put forth the "grand challenges" that remain, both on campus and in society. The CMC community will play an active role "in shaping the immediate future we face," he said. To get to that place, Chodosh continued, "will mean we need to overcome our own personal fears and challenges and navigate the maze … together."
To navigate this maze, Chodosh said, will require: "Penetrating the closed world with open inquiry. Hard questions and good answers, leading to deeper questions and better answers. … as we counter the banality of evil and corrosive fear through CMC's emergent properties of goodness and resilience, leadership and collaboration."
Albert L. Park, Bank of America Associate Professor of Pacific Basin Studies, followed with the ceremony's keynote address, "What Now?"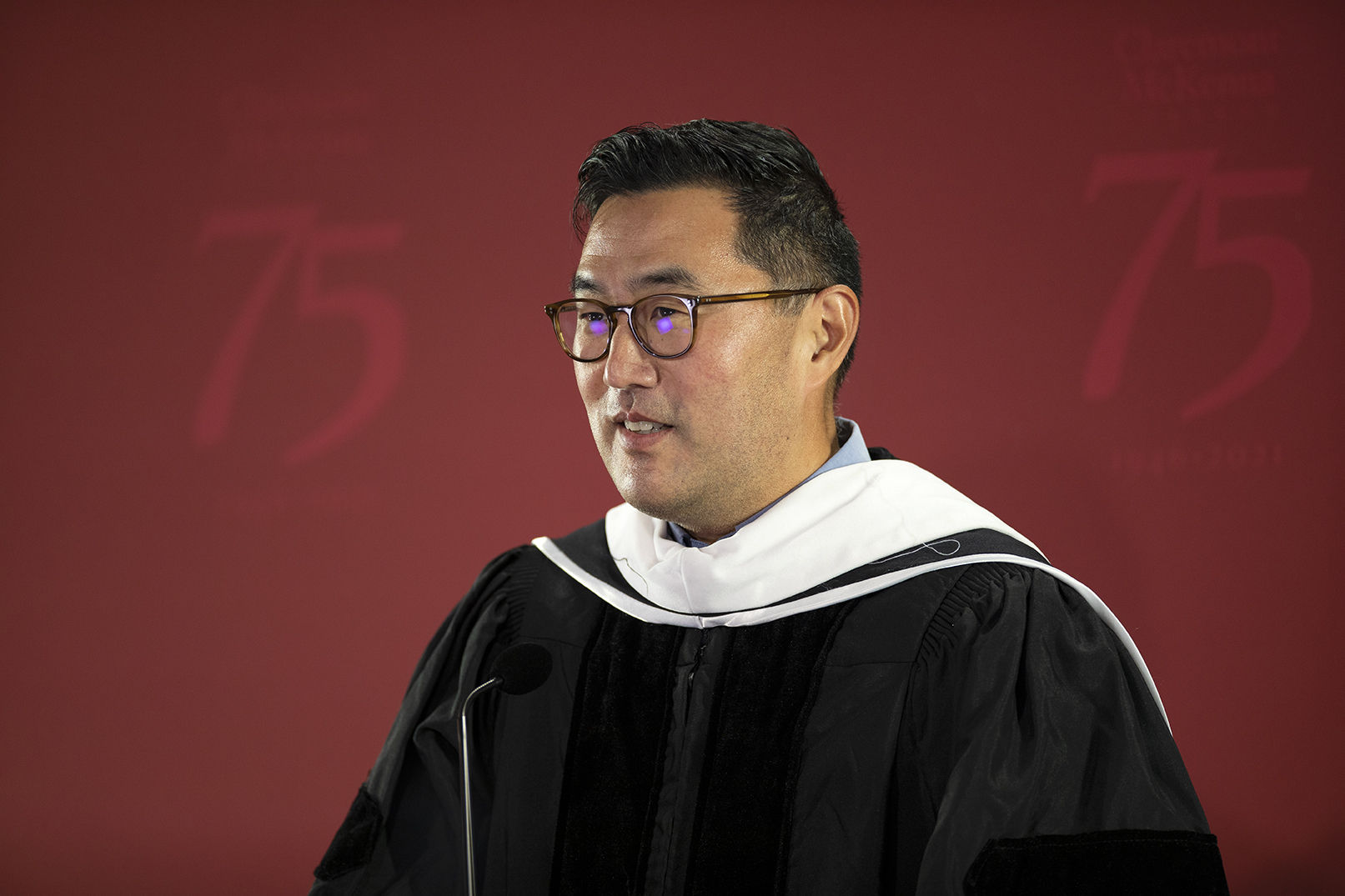 Park, the co-principal investigator for EnviroLab Asia, shared a historical perspective focused on this "moment of disruption that is forcing us to ask the question 'What Now?'" or what Park further described as an "in-between moment."
In history, he continued, "an in-between moment is a time when significant events have shaken routines and customs and loosened structures around people's lives; when everyday lives have been fundamentally disrupted. These disruptions, while daunting, can also present opportunities for change, regeneration, reconstruction, and renewal before routines, customs, structures, and systems settle in again and take on the air of permanence."
Park connected our current in-between moment to one 75 years ago, when "the founders and first students of CMC. … encountered their own in-between moment after the end of World War II."
CMC's 75th Anniversary presents an opportunity to come together and celebrate as a community, Park said. It is also an opportunity to remember and reflect "to help shape our present as we move into the future."
Donald McKenna and Dr. George C.S. Benson P'61 built the College's early foundation and "laid down a tradition of learning based on boldness, care, courage, humility and empathy," he continued. "Students, faculty, staff and administrators who have followed them have carried on this tradition."
Park also encouraged the CMC community "to create new traditions of learning that tackle the pressing issues and problems facing all of us in this in-between moment" and pointed to the establishment of a new integrated science department at CMC as an "opportunity to design a comprehensive way of studying that organically brings together the humanities, social sciences, arts, and the sciences."
ASCMC President Katherine Almendarez '22, offered the ceremony's final reflections. She spoke about arriving at CMC as an asylee from Honduras, who had immigrated to the U.S. four years previous. "I transferred to CMC as a sophomore. There are not a lot of Central American students at the Claremont Colleges, so I found the transition a bit difficult," she said, adding that peers new to campus might also "might be feeling a little scared. However, I found a strong and loving community here."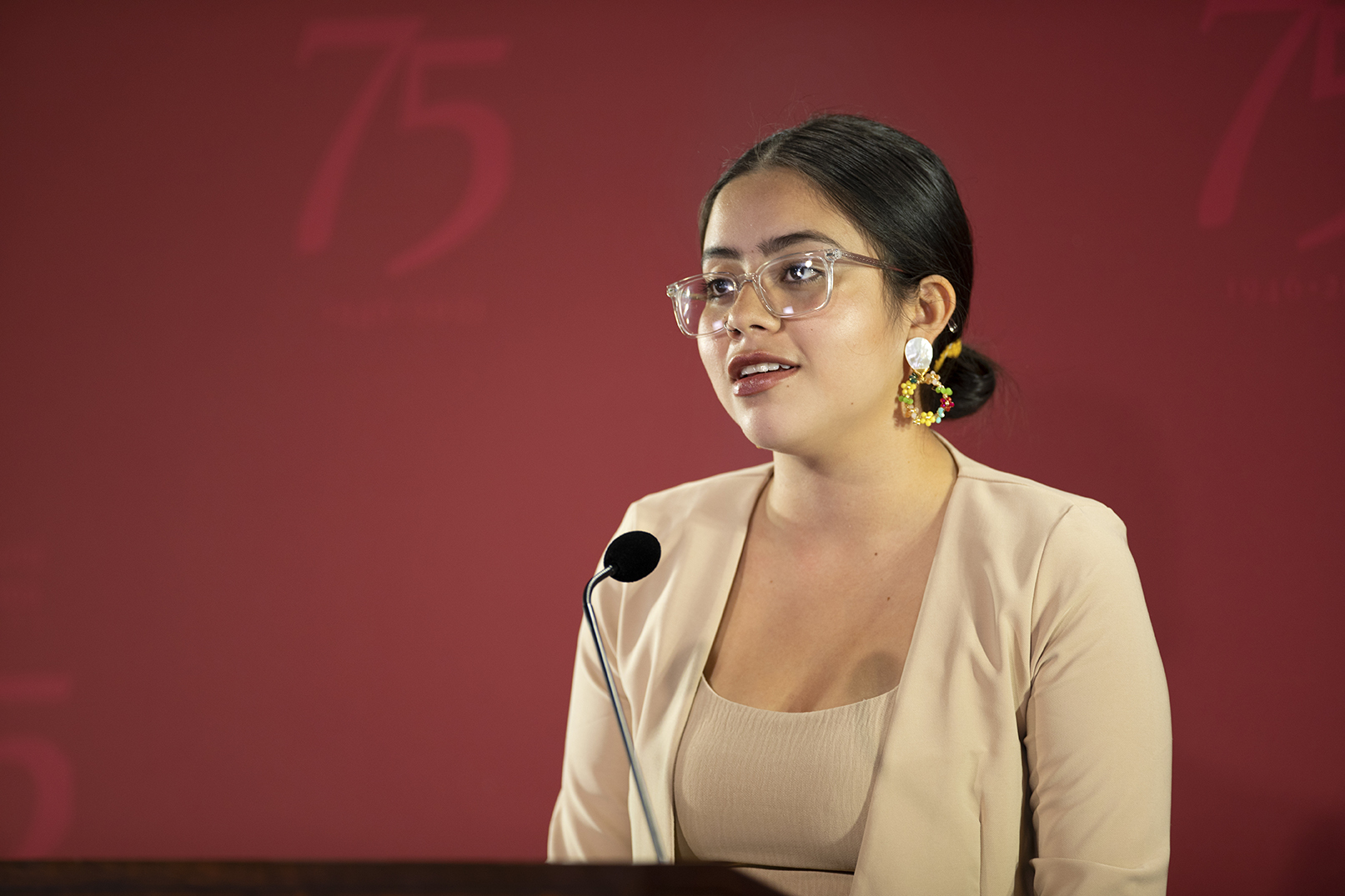 The evolution of community is "an essential part of our 75th history at CMC," she continued.
"From our founding as a men's college for returning veterans, to the pioneering decision to go co-ed in 1976, to the CARE Center's founding in 2016, I believe there can be a community for each of you, each of us."
Almendarez pointed to how she "witnessed a mass group of students setting up mutual aid funds for one another and advocating for one another" during the College's virtual year. "While we did not have a campus, we did have each other. …We could still rely on a Dean, or a professor, or the alumni community, and on one another. These experiences made a difference for me.
"Let's keep moving forward so that CMC truly feels like home for us all," Almendarez concluded.
---

During the ceremony, Shana Levin, associate dean of the faculty and Crown Professor of Psychology, recognized the winners of the 2020-21 faculty awards:
Roy P. Crocker Award for Service
Professor Shanna Rose
G. David Huntoon Senior Teaching Award
Professor Nicholas Warner
Glenn R. Huntoon Award for Superior Teaching
Professor Heather Ferguson
Faculty Scholarship Award
Professor Stacey Doan
Dean's Distinguished Service Award
Professor Tamara Venit-Shelton

The complete ceremony can be viewed here.
Contact
Office of Public Affairs and Communications
400 N. Claremont Blvd.
Claremont, CA 91711
Phone: (909) 621-8099
Email: publicaffairs@cmc.edu

Media inquiries: Gilien Silsby
Phone: (213) 500-8673
Email: gsilsby@cmc.edu