EnviroLab Asia clinic trip to Singapore and Borneo opens eyes to urgent environmental concerns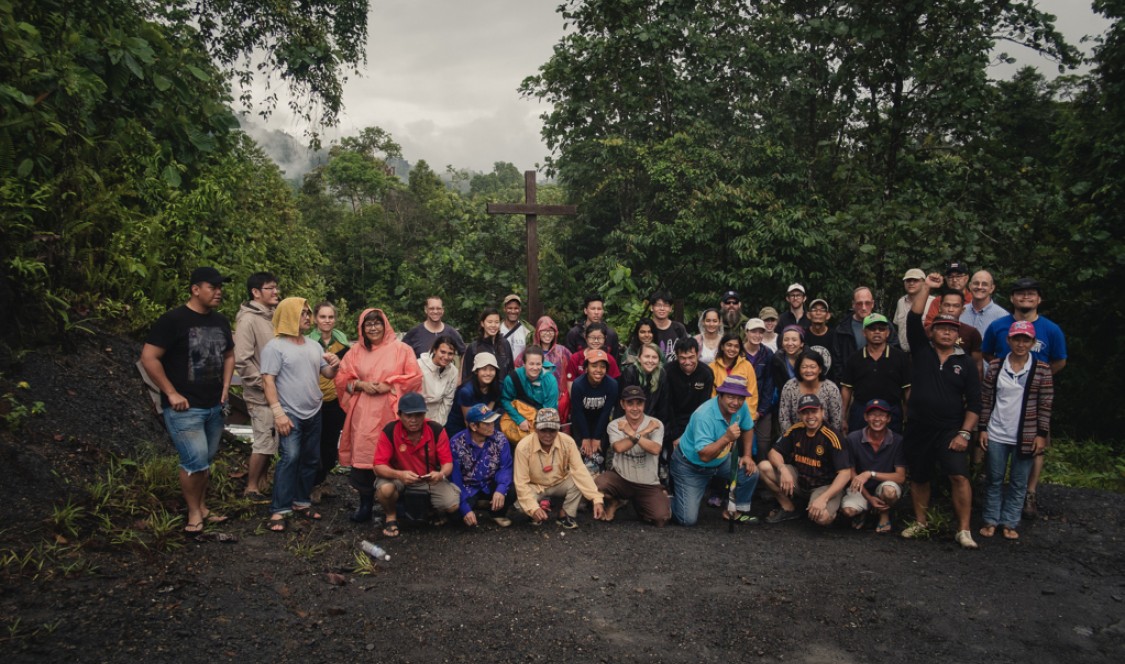 Faculty and students from The Claremont Colleges and Yale-NUS held the first EnviroLab Asia clinic trip to Singapore and Borneo (Jan. 4-13) to conduct research on the relationship between deforestation, oil palm and marine life in Southeast Asia.
Eight students from The Claremont Colleges (three from CMC) and eight faculty members from The Claremont Colleges (including Albert Park, Associate Professor of History at CMC and Co-Principal Investigator EnviroLab Asia) went on the trip. All of the students and faculty members were EnviroLab Asia Fellows. EnviroLab Asia is a five college initiative with CMC as the lead college.
In addition, 14 people from Yale-NUS College (Claremont's official partner in EnviroLab Asia) joined the Claremont contingent in activities in Singapore and the trip to Borneo. Yale-NUS acted as host letting students and faculty from Claremont stay in their dorms.
The Claremont Colleges-Yale-NUS team conducted fieldwork and interviews that sought to shed light on the relationship between deforestation on social, economic, cultural and political processes. In particular, work will be done to see what scientific processes behind deforestation influence haze issues and the overall quality of life (both human and animals) in Southeast Asian countries.
"We envisioned the clinic trip as way to enhance the research done already by gaining knowledge and perspectives through directly talking to people and encountering experiences in the areas we are studying," says Prof. Park.
The trip, according to Prof. Park, was for on-the-ground research for projects being carried out by the EnviroLab Asia Research Clusters.
"This year, the clusters are doing work under the theme of studying the interaction of spaces in Asia, especially the interaction between the space of political economy and environmental space," he says. "As a way to study these interactions more concretely, we are focusing on the interaction between oil palm (space of political economy), deforestation (environmental space) and marine life (environmental space) in Southeast Asia—with a special focus on the areas around Singapore, including Borneo."
In Borneo, the students traveled to areas outside of Miri, Sarawak (Borneo) to investigate how deforestation policies have impacted the natural landscape and indigenous communities.
"We had a fantastic, eye-opening workshop with 'Save the Rivers,' which is protesting against the construction of the Baram Dam," Prof. Park says. "In the workshop we learned about the environmental issues in Sarawak, Borneo and heard about the connections between environmental issues and political issues."
In Malaysia Borneo (Sarawak), the students worked with a local NGO, Baram Kini, to visit sites related to deforestation, oil palm and other serious environmental issues like the construction of a dam that would wipe out hundreds of villages in the Baram area.
"Baram Kini also arranged for us to stay in villages and talk with people who are affected by the various issues we are studying," Prof. Park says. "We visited an oil palm plantation to learn more about the industry as well as the issues faced by indigenous people who are trying to prevent the takeover of their lands by oil palm corporations."
The students also visited villages to learn more about indigenous cultures, their connection to the land and why they opposed the construction of the Baram dam.
"In our car rides to the villages and our boat rides along the Baram River, we saw hundreds and hundreds of acres of oil palm trees and mass deforestation," Prof. Park says. "The landscape is stunning and the people were so welcoming, and you see the alternation of the natural landscape and people's way of life due to human-made decisions to extract natural resources."
In Singapore, students had a chance to visit organic farms in order to learn more about food security and land tenure issues and to attend various workshops with BirdLife International and the Wildlife Conservation Society to learn more about conservation efforts to save forests in Southeast Asia.
"We also had a productive meeting with Wilmar International, which is the largest producer of oil palm. We heard about their sustainability efforts. We held meetings with Wilmar and other organizations to gain a holistic, not one-sided, view of the issues we are studying." Prof. Park says.
But perhaps more than from any other source, the greatest insight about the problems facing Southeast Asia came from the villagers who live there. One of the biggest issues faced by the Dayak people in the Baram area is the issue of land rights and land tenure. According to Prof. Park, the Dayak people believe in NCR (Native Customary Rights), which are traditional rights over land.
"There are no documentation proving NCR because Dayak land is transferred, held and protected based on customs," he says. "The Sarawak Government and several corporations do not acknowledge NCR because it is not protected and sustained based on modern law. Hence, the government believes it can acquire the land without consent from the Dayak people in order to build a dam, which, according to many experts and NGOs, is unnecessary."
The clash of tradition vs. the progressive modernism over land rights seems to be at the heart of environmental issues in the region. "In some ways, we connected the land issue to things happening in Singapore," Prof. Park says. "For example, organic farms in Singapore have limited leases on their lands because the government always seeks to reclaim land for development and military purposes. We also learned from the people about how much they rely on the Baram River to sustain their daily lives.
"We also heard from them about how they try to create movements when they have little political power to achieve their goals of protecting their land," he continues. "They are pushing their goals in the face of a government and corporations that have a large amount of power and resources."
For students who made the trip, it was special experience because it gave them a new, personal, take on the subjects that many had been pursuing at college.
"I am a science and management major with an environmental focus and hope to get into environmental consulting," says Jahnavi Kocha '19. "Such subjects and careers can often become technical and can become based off of textbooks and case studies. This experience provided me the opportunity to see the tangible effects of corporate decisions and inspired me to continue to pursue and study a corporate career with a humanistic interest."
Kocha says that as "an experiential learner," the EnviroLab Asia Clinic trip moved her in ways that went beyond the language and cultural barriers the students faced. "It was this passion, this love for their cause in the indigenous people that made me realize how much courage springs from a powerful cause," she says. "While I did a lot of social service work in India while I was in high school, this gave me a much more vast global perspective on issues that go beyond the island of Borneo and permeate every economy and country."
Johann Lim '18 adds that the ongoing conversations students had, coupled with the immersive and intimate nature of the trip, opened his eyes to many complexities and aspects of environmental issues, such as the impact of deforestation on the way of life of indigenous people.
"The EnviroLab Asia trip has been an experience which like no other and one which I will cherish a great deal for all the lessons I received and friendships I made," he says.
In Prof. Park's view, the EnviroLab Asia Faculty and Students Fellows learned that environmental and sustainability issues are linked to larger political, social, economic and cultural process. "Moreover," he says, "they also saw what grassroots activism looks like and how people cooperate together to achieve the goal of preserving the land, culture and ways of life. It was a real eye opening experience to hear about struggles to protect the river and lands and the pressures they face. We all learned everything by being on the ground and talking with people and experiencing the land."
Prof. Park adds that both faculty and students also learned the need to study and tackle issues in a holistic manner. "That is, we need to study issues through a multidisciplinary lens," he says. "By approaching an issue from all different angles, we are able to come up with more nuanced explanations as to why things have happened and how to solve a problem. It is only through a multidisciplinary lens that we are able to explain what drives and limits change in local areas."
Finally, according to Prof. Park, students learned how faculty conducts research; the research clusters which serve as the medium through which faculty and students work together to do research.
"Through this arrangement, students see how faculty approach an issue and try to understand it," he says. "Throughout our trip, faculty gave mini-lectures on specific topics and showed the students what they do in their research. There were many moments, for example, when Professor Marc Los Huertos (Pomona College) took water samples in ponds and rivers and discussed how the quality of the water is influenced by deforestation and other activities. He showed us how science works with the social science/humanities to produces some really interesting research results."
Click here to view photos from the EnviroLab clinic trip to Singapore and Borneo.
##
Contact
Office of Strategic Communications & Marketing
400 N. Claremont Blvd.
Claremont, CA 91711
Phone: (909) 621-8099
Email: communications@cmc.edu

Media inquiries: Gilien Silsby
Phone: (213) 500-8673
Email: gsilsby@cmc.edu