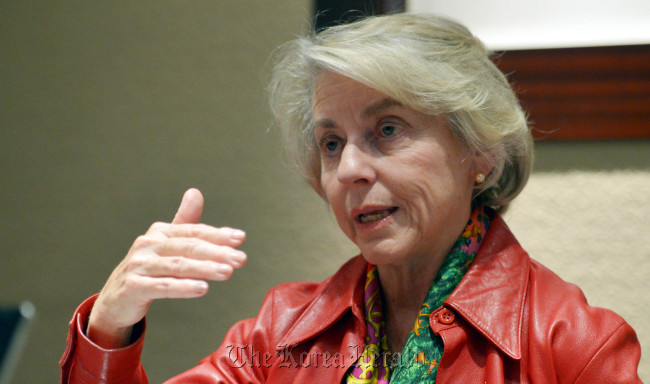 Photo by The Korea Herald; heraldcorp.com
During a week of traveling in Asia on behalf of CMC, President Pamela Gann met with reporters in Seoul to discuss the global value of a liberal arts education, and talk about the success of the College's international partnership with Yonsei University. Her travel to Seoul included a visit to Yonsei as well as the Korea Foundation. She then visited Beijing and Shanghai.
On Feb. 27, Gann told The Korea Herald in Seoul that liberal arts and leadership education are crucial in today's rapidly changing world. The liberal arts teach lifetime skills, she said. "In a rapidly changing world, we would argue that you come away with a lot more adaptability and flexibility that make you better prepared for the dynamic economy (by obtaining liberal arts and leadership skills)."
The piece ("Why Leadership Education Matters") mentions CMC's six-week, summer leadership program with Yonsei, and the College's new Silicon Valley Program, an off-campus study program exposing students to the leading technology firms and executives, including Google––the largest employer of CMC students in 2011.
In an interview with Korea Joongang Daily ("Claremont McKenna Deepens its Yonsei Ties") on March 2, Gann repeated the message that a liberal arts education is a powerful tool in tough economic times, not only in landing jobs but in getting into professional schools.
"I call it a hand-tailored education," said Gann, who also previously served as dean of Duke University School of Law School for 11 years. "We can literally tailor the education of every student to what he or she is trying to accomplish."