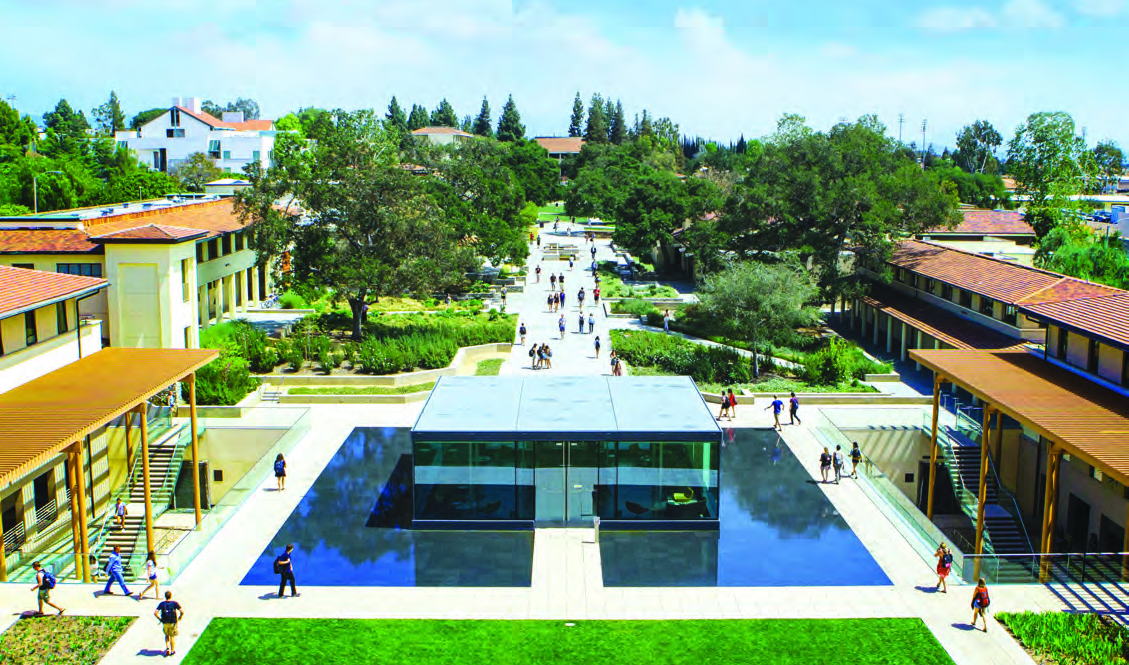 View Domestic Travel Brochure in PDF
A Liberal Arts College Unlike Any Other
Claremont McKenna College is a highly selective, applied liberal arts college guided by its mission to prepare students for thoughtful and responsible leadership in the private, public, and social sectors. A member of the highly regarded Claremont Colleges, CMC brings together a collaborative and cohesive community of broadly diverse students with a distinguished faculty recognized for their excellence in teaching and scholarship.
CMC offers rigorous academic training and a rich interdisciplinary intellectual experience growing out of the close working relationship between students and a faculty of eminent teacher-scholars. Traditionally known for our widely acknowledged expertise in economics and government, CMC features leading departments in the sciences, social sciences, and the humanities, supported by eleven world-class research institutes and centers.
You will reinforce your intellectual and social growth through nationally and globally recognized co-curricular and extracurricular programs in leadership and innovation, athletics, intellectual life and the arts, and global engagement.
The Claremont Colleges
Claremont Graduate University (founded 1925: 2,038 students)
Claremont McKenna College (founded 1946: 1,345 students)
Harvey Mudd College (founded 1955: 844 students)
Keck Graduate Institute (founded 1997: 594 students)
Pitzer College (founded 1963: 1,112 students)
Pomona College (founded 1887: 1,703 students)
Scripps College (founded 1926: 1,077 students)
We were founded in 1946 and are located in Claremont, California
We have 1,345 students 48% women and 52% men from 43 different countries
46 U.S. states & territories (by permanent address)
8:1 student-to faculty ratio
1 residential college campus
11 research institutes and centers for student-faculty research
Over 80% of CMC classes have less than 20 students
97% first-year to sophomore retention rate (2016 entering cohort)
93% six-year graduation rate (2010 entering cohort)
2,300 courses offered for cross-enrollment
2,500 total faculty & staff
About 8,750 total students in the consortium
Areas of Study
Claremont McKenna College (CMC) offers over 30 majors, as well as double, dual, and off-campus majors. At CMC, in addition to completing the major requirements, you have the options to complete one of 12 sequences, which consist of a series of courses related to a theme and allows students to branch out into a topic that cuts across disciplines within the liberal arts curriculum at CMC and the other Claremont Colleges.
Sequences
Asian American Studies
Computer Science
Data Science
Ethics
Financial Economics
Gender and Sexuality Studies
Human Rights, Genocide, and Holocaust Studies
Jewish Studies
Leadership Studies
Legal Studies
Public Policy
Scientific Modeling
Five-College/Intercollegiate Majors
Africana Studies
Chicana/o-Latina/o Studies
Media Studies
Theater
Academic Majors
American Studies
Asian Studies
Biochemistry
Biology
Biophysics
Chemistry
Classical Studies
Economics
Economics-Accounting
Economics and Engineering (3/2 program)
Environment, Economics, and Politics (EEP)
Environmental Analysis Program (EAP)
Film Studies (dual major only)
French
Government
History
International Relations
Literature
Mathematical Sciences
Middle East Studies
Molecular Biology
Neuroscience
Organismal Biology
Philosophy
Philosophy and Public Affairs (PPA)
Philosophy, Politics, and Economics (PPE)
Physics
Psychology
Religious Studies
Science Management
Spanish
For more info about academic programs, please visit Academic Programs website.
Our Faculty and the Academic Community
All classes at CMC are taught by professors - we do not employ graduate students as primary instructors.
At CMC, you will study with accessible and distinguished professors who love teaching, and are committed to research and scholarship, which keeps them at the cutting edge of their field.
The vast majority of CMC's tenured or tenure-track professors have earned a terminal degree in their field (usually a PhD), while some visiting faculty members are professionals who have achieved distinction in their field (as writers, accountants, and ambassadors).
As a CMC student, you can cross-register for classes at the other Claremont Colleges, which means you will have access to over 2,300 courses among The Claremont Colleges.
In 2016 77% of seniors reported having worked with professors on a research project.
Global Experiences
About 50% of students study off-campus
We understand that leadership in today's global society requires a global education. The Center for Global Education offers off-campus study programs that will enrich your education regardless of your major. Students may also participate in international internships, international travel with the Model UN or debate clubs, or attend one of the faculty-led academic trips, like the summer program at Yonsei University in Seoul, South Korea.
Silicon Valley & Washington, D.C. Semester Programs
CMC also has its own semester-long Off-Campus Study programs in Washington, D.C., and in Silicon Valley, CA. In these programs, students take traditional courses while also interning for a full semester.
Silicon Valley internship sponsors include Apple, Intel, LinkedIn, Facebook, Pandora, and Tesla.
The Washington, D.C. internship sponsors include the White House, Environmental Protection Agency, Sierra Club, CNN, Smithsonian, Senate Budget Committee, and Amnesty International.
CMC students and faculty members work closely together in eleven research institutes and centers where they take on real-world projects and studies. Through these institutes and centers, you will have access to professional-level research opportunities as an undergraduate. Many students become co-authors on scholarly papers that are published with faculty members.
Research Institutes and Centers
CMC maintains relationships with 140 partner programs
CMC students and faculty members work closely together in eleven research institutes and centers where they take on real-world projects and studies. Through these institutes and centers, you will have access to professional-level research opportunities as an undergraduate. Many students become co-authors on scholarly papers that are published with faculty members.
Berger Institute for Work, Family & Children
Center for Innovation & Entrepreneurship
Financial Economics Institute
Gould Center for Humanistic Studies
Keck Center for International & Strategic Studies
Kravis Leadership Institute
Lowe Institute of Political Economy
Mgrublian Center for Human Rights
Roberts Environmental Center
Rose Institute of State & Local Government
Salvatori Center for the Study of Individual Freedom in the Modern World.
Many CMC students work one-on-one with a faculty member to research and write a senior thesis in their final year of study
More info about Research Institutes
CMC is a student-centered community that supports diverse backgrounds and interests.

There are so many things that go on at CMC! You can take part in a program that was produced by the College Programming Board, join a club, attend a musical event, cheer for the Stags and the Athenas, gain some work experience with a campus job, discuss ideas with your roommate, play an intramural sport, see a movie, or have a cup of coffee with friends. And that's just CMC…You also have the choice of many more clubs and activities where you can engage with students at the other Claremont Colleges.
SOLL CENTER FOR STUDENT OPPORTUNITY
CMC's emphasis on classroom and experiential learning attracts the top employers and graduate schools. At CMC, you will integrate real-world experiences and global perspectives with a rigorous liberal arts education that will prepare you to take on the careers and professions of the 21st century.
CAREER SERVICES offers programs and career advisors to help you recognize, cultivate, and translate your interests and strengths into meaningful and exciting real-world opportunities.
ROBERT DAY SCHOLARS PROGRAM prepares highly motivated students for leadership roles in a variety of industries including financial services, consulting, and not-for-profit organizations. You can apply for this unique opportunity during your first year.
After CMC, you will have many different opportunities for employment, graduate study, prestigious fellowships, military service, and other meaningful endeavors.
$66,675 average salary for 2016 and 2017 graduates employed full-time in the U.S. six months after graduation.

EMPLOYMENT

The employers that hired the most CMC graduates in the last few years include:

Accenture
Analysis Group
Bain & Company
Bank of America/Merrill Lynch
Boston Consulting Group
DaVita
Deloitte
Ernst & Young
Goldman Sachs
Google
Intuit
J.P. Morgan
KPMG
Microsoft
Morgan Stanley
PricewaterhouseCoopers
Teach For America
Triage Consulting Group
U.S. Army
Venture for America
Wells Fargo

GRADUATE STUDY

CMC graduates have been admitted to graduate study programs in the arts, humanities, natural sciences and mathematics, social sciences, law, business, accounting, and medicine. Some of the institutions where they have been admitted in recent years include:

Cal–Berkeley
Columbia
Cornell
Duke
Harvard
Georgetown
Johns Hopkins University
London School
of Economics
MIT
Northwestern
Penn
Stanford
UCLA
U of Chicago
U of Michigan
USC
U of Washington
Vanderbilt
Yale

FELLOWSHIPS

CMC students are highly successful at winning prestigious international fellowships. Each year, dozens of students receive some of the most competitive fellowships for public service, independent projects, and post-graduate study. In recent years, CMCers have won the following nationally competitive fellowships: Boren, California Capital Fellowships, Critical Language, Fulbright, Gilman, Knight-Hennessy, Luce, Marshall, Pickering, Princeton in Africa, Rangel, and Truman.

THE ATHENAEUM

To enrich an already vibrant intellectual community, CMC offers a series of guest speakers like no other college or university. The Marian Miner Cook Athenaeum was inspired by CMC's founding donor, Donald McKenna, who wished to bring the world of ideas to our campus for discussion and engagement.

Every Monday through Thursday evening, and also many weekdays at lunchtime, the Athenaeum hosts a guest speaker to lead students in a civil discourse about topics that affect their lives and the global community. You may attend as many programs as you like, which include a gourmet meal and an opportunity to sit with and pose a question to the speaker.

CMC brings artists, scientists, political leaders, technology experts, entrepreneurs, media figures, activists, and other really interesting people to expand students' worldview at the Athenaeum.

PAST SPEAKERS AT THE ATHENAEUM INCLUDE:

MIGUEL E. BASÁÑEZ,
Former Ambassador of Mexico to the U.S.

W. KAMAU BELL,
Socio-political comedian and CNN correspondent

ARTHUR BROOKS,
President of the American Enterprise Institute

CORNELL BROOKS,
Former President and CEO of the NAACP

LAVERNE COX,
Actress and LGBT advocate

DAVID FRUM,
Speechwriter for President George W. Bush; Senior Editor at The Atlantic

LOUISE GLÜCK,
U.S. Poet Laureate

BRANDI HOFFINE '06,
Former Assistant Press Secretary and Spokesperson for the White House

JON HUNTSMAN, JR.,
U.S. Ambassador to Russia, Former Ambassador to China; Former Governor of Utah

BILLIE JEAN KING,
Tennis Legend

BILL KRISTOL,
Political Analyst and Commentator

LYNN NOVICK,
Documentarian and Director/Producer of the PBS series The Vietnam War

LISA RANDALL,
Renowned Theoretical Particle Physicist

DAVID SEDARIS,
Humorist, Comedian, Author, and Radio Contributor

NADINE STROSSEN,
Former President of the ACLU, Professor of Law at New York Law School

PETER THIEL,
Co-founder of PayPal

JEFFREY TOOBIN,
Supreme Court Expert, CNN Chief Legal Analyst, and Staff Writer for the New Yorker

FOR MORE INFO ABOUT THE ATHENAEUM WEBSITE

Residential Life

A big part of the CMC experience is that we are a residential college. You will live with smart, dynamic, and awesome people like you, who are also different from you. By living on campus, you will have the opportunity to make lifelong friendships with other students. Each of our 14 residence halls and the student apartments have at least one Resident Assistant, who is selected and trained to build community, coordinate events, and serve as a resource for their peers.

97% of CMC students live in campus housing

Dining

CMC's main dining facility is Collins Hall, and the food service program is run by the Bon Appetit Management Company. In addition, CMC has a snack bar called the Hub, and a convenience store located in the Emett Student Center. There are seven dining halls at The Claremont Colleges. Students at any of The Claremont Colleges may take as many meals as they like at any of the other colleges' dining halls. In fact, we encourage students to get out and try the other dining halls. Go. Eat. Make some cool new friends at the other Claremont Colleges, and then invite them to join you back in Collins next week.

Care Center
(Civility, access, resources, and expression)

The CARE Center is a space for expression, study, dialogue, and exploration of our intersecting social identities, and how they inform the ways in which we live within, learn from, and engage with the world. The Center's goal is to provide space for dialogue and expression in a civil manner while also providing resources to support inclusion and remove institutional barriers to student success. Each year, current student CARE Fellows host programs designed to bring in a wide range of perspectives and provide a place for diverse opinions.

YOUR SAFETY IS OUR PRIORITY. VISIT CAMPUS SAFETY WEBSITE.

CMS Athletics

CMC combines with Harvey Mudd College and Scripps College to become Claremont-Mudd-Scripps Athletics (CMS). There are 21 varsity teams that compete in NCAA Division III Athletics, which means that our scholar-athletes play for the love of the game, and maintain their academic and athletic responsibilities at an extremely high level. About 30% of CMC students participate on a varsity athletic team. CMS teams win. In 2018, CMS Athletics ranked third in the Directors' Cup, which ranks all 451 NCAA Division III athletic programs in the United States. Since 2015, five CMS teams have won national championships.

CLUB SPORTS

In addition to these varsity teams, CMC students participate in several club sports, including: Rugby (Men's & Women's), Ultimate Frisbee (Men's & Women's), Volleyball (Men's & Women's), Cycling (Coed), Equestrian (Coed), Fencing (Coed), and Lacrosse (Men's).

INTRAMURAL SPORTS

For the recreational athlete, CMC offers intramural sports ranging from competitive sports like flag football and basketball, to goofy sports like bubble soccer and inner tube water polo.

MEN'S VARSITY TEAMS

Baseball
Basketball
Cross Country
Football
Golf
Soccer
Swimming & Diving
Tennis
Track & Field
Water Polo

WOMEN'S VARSITY TEAMS

Basketball
Cross Country
Golf
Lacrosse
Soccer
Softball
Swimming & Diving
Tennis
Track & Field
Volleyball
Water Polo

Just 35 miles outside Greater Los Angeles, CMC is located in sunny Claremont, California, a municipality that fuses metropolitan sophistication with the quaintness of a college town. Nearby you will discover the diversity, arts, and culture of Los Angeles, entertainment capital of the world.

CLAREMONT, CALIFORNIA

CLAREMONT WAS RECENTLY NAMED BEST SUBURB TO LIVE IN

THE CITY OF TREES AND PHDS…

Just 35 miles outside Greater Los Angeles, CMC is located in sunny Claremont, California, a municipality that fuses metropolitan sophistication with the quaintness of a college town. Nearby you will discover the diversity, arts, and culture of Los Angeles, entertainment capital of the world.

Only steps—or bike pedals—away from The Claremont Colleges is the Claremont Village, a collection of 150 unique boutiques, art galleries, eclectic indoor/outdoor dining, coffee houses, entertainment venues, public parks, and more. Intersecting the Village is the historic Packing House District where you will discover a cinema, boutique hotel, shops, restaurants, and brewpub.

With California's nearly year-round sunny weather, you will want to explore the great outdoors. Nestled between Southern California's beaches and mountains, you can surf and snowboard in the same day! Outdoor adventures are nearby at the Claremont Hills Wilderness Park or other nearby national forests.

GETTING AROUND

Ridesharing, on-campus Zipcar rental service, Uber, Metrolink commuter trains, and Foothill Transit buses, make getting around—whether around Claremont or in the Greater Los Angeles Area—economical and easy. The Ontario International Airport is less than ten miles away.

FINANCIAL AID

CMC is committed to enrolling the best and brightest students from a wide variety of backgrounds, including lower- and middle-income families. The College is need blind in admission, which means applicants who are U.S. citizens or permanent residents are admitted to CMC based on their talents and abilities, without regard to their family's ability to pay.

CMC also has limited financial aid for international students.

NEED-BASED AID

The College supports its students with generous scholarships and financial aid. After qualifying for financial aid, the College will prepare a package which meets 100% of your demonstrated need so that you may enroll. If your financial aid package includes a loan, the amount packaged to meet need will be no more than $4K per year.

Some students receive an aid package which includes a campus work/study job, averaging approximately 10 hours/week.

For more info visit financial aid website to learn more about financial aid net price calculator

SCHOLAR COMMUNITIES

CMC also offers merit-based and need-based awards to outstanding applicants, which we call Scholar Communities. The CMC Scholar Communities Program is comprised of several individual experiential learning communities created to support students in a variety of disciplines and fields. Each Scholar Community provides powerful benefits to enrolled recipients, ranging from merit-based scholarships, need-based scholarships, designated funding for summer internships, research, service or academic travel, and faculty or staff mentorship.

Applicants must apply by December 1 to be considered for the Scholar Communities Program. Decisions are based on the application for admission and no other materials are required for consideration.

During the review process, we consider academic achievement, leadership qualities, personal background, and likelihood for success at CMC.

Please visit Scholar Communities Program website for more information.

SEE YOURSELF HERE!

Schedule an information session and campus tour soon! While here, you can experience student life as a CMCer by sitting in on a class or staying overnight. We strongly recommend admission interviews so we can learn more about you too!

Schedule a campus visit or apply online today.

CONTACTS & DEADLINES

EARLY DECISION I

Admission Application NOVEMBER 1
Merit Scholarship Application NOVEMBER 1
Financial Aid CSS Profile Application NOVEMBER 1
Free Application for Federal Student Aid (FAFSA) NOVEMBER 1

EARLY DECISION II & REGULAR DECISION

Admission Application JANUARY 5
Merit Scholarship Application DECEMBER 1
Financial Aid CSS Profile Application JANUARY 5
Free Application for Federal Student Aid (FAFSA) JANUARY 5

OFFICE OF ADMISSION AND FINANCIAL AID

Claremont McKenna College
888 Columbia Avenue
Claremont, CA 91711

Phone: (909) 621-8088
Fax: (909) 621-8516
Email: admission@cmc.edu