Madrigal Feast 2001
Inside CMC, December/January 2001
Fit for a King: The Making of Madrigal
-By Jennifer Wickre '03
Like mistletoe and festive lights, the arrival each year of the Madrigal Feast is a warm and welcoming start to the holidays. With its 19th season just wrapped up, the annual holiday dinner brings a taste of medieval England to nearly 1,600 guests at the Marian Miner Cook Athenaeum over five evenings.
Although already known for its exceptional menu, the Athenaeum staff outdoes itself in this elaborate undertaking, and courses are paraded before diners with royal flourish. Corn chowder, salmon, salad, venison, and whiskey pudding anchored this year's cuisine, which chefs began preparing the last week of November. Athenaeum manager Dave Edwards has worked on Madrigal for 16 years, and has mastered its checklist of preparations; among them: the September order of glass mugs for the traditional wassail, and phoning in requests for more than 200 pounds of cheese and upwards of 50 cases of cider.
While much of the menu remains traditional, a few changes have been made to accommodate differing tastes and eating habits. Every year, Edwards and Athenaeum chef David Skinner plan what meat to serve in addition to the salmon. "We used to serve three meats," Edwards says, "but in 1987 I cut it down to two. It was just too much food. We also used to serve oxtail soup, which was a big hit, but with the increase in the number of vegetarians, we switched to a vegetable chowder."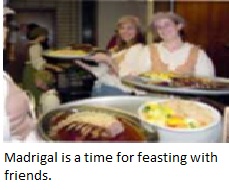 When the dinners commence, courses are brought out for tasting by the feast 'king,' and are then paraded out of the kitchen on large platters for guests. During dinner, patrons are transported to the renaissance period with music from The Chamber Choir, whose members include students from CMC, Scripps, CGU and Harvey Mudd. Chorale director Dr. Anna DeMichelle, assistant professor of music at Scripps, says the 25-person choir (which also functions as the evening's royal court) performs traditional madrigal carols, referred to as "food carols," as well as a new repertoire of songs and short choral compositions known as motets.
DeMichelle has been involved with Madrigal for 12 years, first as a performer and then as director. She selects the evening's play list as early as August, and seeks creative solutions to the challenge of limitations of the time period. "I try to stay within the authentic Renaissance time period, but sometimes I include a piece that simply fits the style of that era," DeMichelle says. The choir starts rehearsing their songs three times a week, beginning in September.
Over the years, DeMichelle has devised her own system to assist in the night's success. The first is turning over some of the creative work to her singers. "During my second year directing, I gave the script-writing job to the students, and it's become a tradition for seniors who have been in the group for awhile to write it." The script is ceremoniously amusing, loaded with puns and one-liners and some pop-culture references. This year's treatment promised to please in the same places. "It's kind of corny," DeMichelle said of the writing, "but there are some nice segues into the music."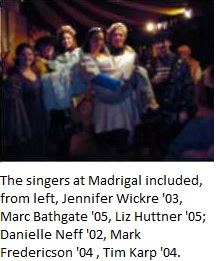 Experience has also taught DeMichelle that song arrangement and madrigal festivities should play off one another, and that small tweaks in timing can make for success. For instance, she learned how difficult it is for the student who — as part of tradition — parades a boar's head platter around the room. "The platter is really heavy, so the Boar's Head Carol has to be taken at a quick pace," she said.
Although it's hard work, Madrigal organizers like the change in scenery. "It's just fun doing something different than we do every other night," Edwards said. Adds DeMichelle, "My favorite part is how much the students enjoy doing it. I've never had a group of students anywhere who get this excited for a performance." But she also admits to feeling relieved when it's over, and there is time to relax.
"I love opening night, when it finally all comes together and works," DeMichelle said. "But my next favorite part is closing night, when I don't have to think about Madrigal for another year."
| | | | | | | |
| --- | --- | --- | --- | --- | --- | --- |
| 26 | 27 | 28 | 29 | 30 | 1 | 2 |
| 3 | 4 | 5 | 6 | 7 | 8 | 9 |
| 10 | 11 | 12 | 13 | 14 | 15 | 16 |
| 17 | 18 | 19 | 20 | 21 | 22 | 23 |
| 24 | 25 | 26 | 27 | 28 | 29 | 30 |
| 31 | 1 | 2 | 3 | 4 | 5 | 6 |