Madrigal Feast 2006
Inside CMC, December 2006
Madrigal Rings in the Yule Cheer
More than 1,500 guests, including faculty, staff, students, alumni, and members of the greater community, celebrated the 24th Annual Madrigal Feast at the Marian Miner Cook Athenaeum, held five separate evenings on Nov. 30. Dec. 2, Dec. 3. Dec. 5. and Dec. 6. Tableside caroling, a cappella music, and a five-course meal toasted with rounds of wassail and eggnog helped entertain hundreds of guests seated at linen-draped tables.
Although the term Madrigal refers to a form of 14th century Italian music, in Claremont the word is synonymous with sumptuous feasting and heavenly serenades by The Concert Choir of The Claremont Colleges.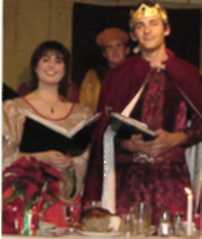 Over its history, guests seem hard-pressed to declare which is the biggest star of the annual event — the Concert Choir or the medieval cuisine of the Athenaeum? But, thankfully, they've never had to choose. While dining on table "removes" of salmon, vegetable chowder, rice pilaf, potatoes, salad, pheasant this year, and a concluding dessert of dense whiskey pudding (servers ignite the dessert just before carving), the Choir sings from a special menu of music in the style of the madrigal.
As tradition holds, the Choir serves a dual role during the evening performances, functioning as well as the royal court, whose privileges extend to scripting some of the evening's program with jokes and barbs pointed at politics, rival colleges, and particular issues of the day.
Athenaeum manager Dave Edwards has worked on Madrigal for nearly two decades, and has mastered its checklist of preparations; among them: the September order of glass mugs for the traditional wassail, and phoning in requests for more than 200 pounds of cheese and upwards of 50 cases of cider.
| | | | | | | |
| --- | --- | --- | --- | --- | --- | --- |
| 26 | 27 | 28 | 29 | 30 | 1 | 2 |
| 3 | 4 | 5 | 6 | 7 | 8 | 9 |
| 10 | 11 | 12 | 13 | 14 | 15 | 16 |
| 17 | 18 | 19 | 20 | 21 | 22 | 23 |
| 24 | 25 | 26 | 27 | 28 | 29 | 30 |
| 31 | 1 | 2 | 3 | 4 | 5 | 6 |