Marion Pike Portraits
Inside CMC, April 2002
Portraits by Pike
The Works of Marion Hewlett Pike Visit the Athenaeum
There is a name behind the faces that currently adorn the walls in the Athenaeum, and if you've not yet heard, that name is Marion Hewlett Pike.
Pike, who died four years ago on Feb. 4,1998, was a third-generation native Californian and a distant relative to both Kit Carson and Benjamin Rush. She had lived in Los Angeles and in Paris, though she traveled frequently across the Atlantic, visiting with friends and family while embarking on new adventures in her artistry.
The exhibition of more than 50 of Pike's paintings at CMC is a rare treat, as it reflects one of the largest collections of portraiture by a single artist exhibited anywhere. It also happens to be the first public exhibition of Pike's work, says longtime friend and artist Barbara Beretich, who arranged the Ath exhibit.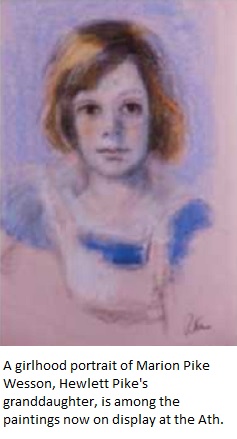 Visitors have already recognized some of the familiar faces included in Pike's collection: Bob Hope, Coco Chanel, Lucille Simon, and Rosalind Russell - legends who were personal friends. During a visit to the Ath on Valentine's Day, Pike's daughter, Jeffie Pike Durham, provided some of the social history behind the paintings, and shared stories about what it was like to grow up with an artist mother. "She was always ready to meet and to help someone with talent," Pike Durham said of her mother, who had once helped Beretich (who was 20 years her junior) find a place to stay in Paris, so she could study there.
Pike and Beretich had become friends in the 1960s when Beretich was a young sculptress who had just earned a master's in fine arts at Claremont Graduate School (now CGU). When Pike died, Beretich became curator and custodian to her lifetime collection of paintings, which includes more than 2,000 works. The portion displayed at the Ath demonstrates Pike's creative range, with quiet, calming pastel pieces juxtaposed with darker, more dramatic and somewhat mysterious renderings.
Pike was raised in San Francisco and graduated from Stanford University. Although she was known to paint into the wee hours of the morning, she had many interests outside of her artwork. Among them: golf, tennis, and horseback riding.
Says Beretich of Pike's CMC exhibit, "This is but a small portion to be seen of an unbelievable output by a tiny woman: small in stature, great in every other arena of life."
| | | | | | | |
| --- | --- | --- | --- | --- | --- | --- |
| 26 | 27 | 28 | 29 | 30 | 1 | 2 |
| 3 | 4 | 5 | 6 | 7 | 8 | 9 |
| 10 | 11 | 12 | 13 | 14 | 15 | 16 |
| 17 | 18 | 19 | 20 | 21 | 22 | 23 |
| 24 | 25 | 26 | 27 | 28 | 29 | 30 |
| 31 | 1 | 2 | 3 | 4 | 5 | 6 |