Player Piano
Inside CMC, November 2003
Piano Finally Has a Home at the Ath
Despite an inoperative player cassette, a nine-month wait for the right parts, a damaged lid that required refinishing, a few corroded bass strings, and numerous other delays, a Sohmer 6-foot grand piano donated to the College more than a year ago has finally been delivered to its permanent home at the Marian Miner Cook Athenaeum.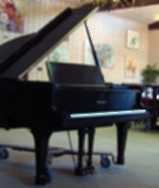 When Larry Mutschler, who attended CMC in 1957, originally donated the instrument in January 2002, an inspection by repairmen determined that its cassette player didn't work, so Mutschler decided to make an additional gift of almost $1,000 to upgrade to a state-of-the-art player CD and to provide for some minor repairs. Parts for the job didn't arrive until October, at which time workers noticed the piano's lid had been damaged. The prognosis? The piano would have to be completely refinished before any other repairs were made, which would take several more months to complete. Once refinished, the piano had to be returned to the repairman's studio.
And, oh—well, the story goes on.
On Sept. 4, the piano finally made it back to the Marian Miner Cook Athenaeum, and the sound is beautiful.
| | | | | | | |
| --- | --- | --- | --- | --- | --- | --- |
| 26 | 27 | 28 | 29 | 30 | 1 | 2 |
| 3 | 4 | 5 | 6 | 7 | 8 | 9 |
| 10 | 11 | 12 | 13 | 14 | 15 | 16 |
| 17 | 18 | 19 | 20 | 21 | 22 | 23 |
| 24 | 25 | 26 | 27 | 28 | 29 | 30 |
| 31 | 1 | 2 | 3 | 4 | 5 | 6 |