Profile of Director Bonnie Snortum
Inside CMC, August/September 2001
Publicly Speaking
Bonnie Snortum tells us how she tackles her job as Athenaeum director
-By Alissa Sandford
Bonnie Snortum's office door above the Marian Miner Cook Athenaeum is cracked open. E-mail has been down for two days because of hacker problems on the server, and Snortum is fielding phone calls. She is in the process of booking guests for the Ath's fall speaker series but unfortunately, the majority of her contact information is tied up in Outlook Express. Above her desk, a pair of wall calendars for the 2001-2002 school year is filling up. Snortum's phone rings again and she holds up a hand apologetically.
The caller is psychology Professor Harvey Wichman. She describes later how the two of them are trying to coordinate a series that could land a trio of astronauts on campus, including millionaire Dennis Tito and the legendary Buzz Aldrin. In other simmering developments, Snortum is negotiating with the director of Amnesty International's capital punishment division, based in London, and is working to bring to campus Charles Ogletree Jr., the Jesse Climenko Professor of Law at Harvard University's School of Law and director of the Criminal Justice Institute. This effort is part of a collaboration with director of forensics, Professor John Meany, to host a series of debates and discussions on reparations — the debate topic of the year.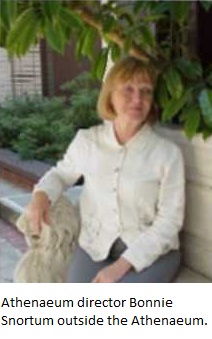 When Snortum smells a good series brewing, she instantly gets to work, sometimes starting with the 4-1-1 buttons on her phone, and working her way to the right contacts and phone numbers. Overnighting proposals to prospective guests usually follows. She and Professor Mark Costanzo are cooking up a follow-up to last year's psychology and law series in conjunction with courses offered by Costanzo and Professor Dan Krauss. This year's guests will address psychopathic behavior, jury decision-making, and the death penalty.
Programming is Snortum's primary responsibility as Ath director, and with it comes The Fortnightly newsletter, a compilation of biographical sketches and photos. "Our target audience is students," Snortum says. "So (The Fortnightly) has to be appealing. You have to tell students why they should want to take an evening to come to a program, even if it's not required for class."
Invaluable help comes by way of two student fellows who are selected each year to assist with Ath functions. Collectively they contribute one-third to half of the newsletter's content, plus monitor the campus pulse to find out who and what interests their peers. Student fellows also help facilitate Ath events, introducing speakers at evening programs and ensuring good conversation at the dinner table. Says Snortum,"The students help host an evening. It's not just the experience of contacting people. It's seeing what you have to do to make something work."
Last year, former Ath fellow Tom Meyer '03 introduced such notables as Nobel prize-winning economist Douglas North; poet laureate of the U.S., Robert Pinsky; Steven Pinker, and former Nixon advisor and presidential candidate, Pat Buchanan. "It was amazing to be rubbing shoulders with people as famous as some of the Ath speakers," Meyer said. With the Buchanan event, Meyer was able to get his name flashed on C-SPAN.
Meyer said Snortum really "trusts the fellows a lot. Our words had a lot of say with her." He also was impressed that the College entrusts those types of responsibilities to sophomores.
Named for the trustee who gave more than one million toward its construction in 1982, the Marian Miner Cook Athenaeum has maintained its rank as an intimate home for intellectual and social exchange. Its definitive speaker series has welcomed renowned scholars, poets, authors, journalists, politicians and others on a broad range of topics. But "the Ath is more than a speaker (venue)," Snortum clarifies. "There are so many other things that go on here all the time," including — but not limited to — the College's annual Madrigal feast, afternoon teas in Parents Library, and official College functions and receptions.
Just how deep the Ath's roots are in its community struck Snortum at a memorial reception held there for former Claremont-Mudd-Scripps athletic director David Wells '72, who died in July. "It showed me how much the Ath is a gathering place for the College community; a place where people come to be together," Snortum said. It also provides a telling glimpse at the broadness of her responsibilities. She works with Athenaeum manager David Edwards to oversee the general operation of the facility and supervise the budget.
What's her favorite part of the job? "I like the open-endedness of it," Snortum answers." I have the freedom to explore ideas; to carry out an idea as far as I'm able to. I'm bringing something to fruition ... and I don't feel impaired by any sort of political agenda. There's nobody breathing down my neck. I can (book) a very conservative speaker, and then a very liberal speaker, Snortum in front of the calendar and that's a very liberating feeling."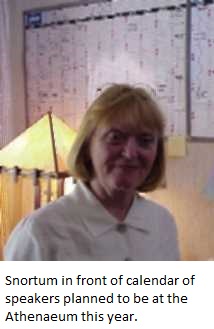 A look across Snortum's bookshelves drives home the point while unveiling her eclectic literary appetite. A New Birth of Freedom by CMC's own Harry Jaffa stands next to various Anna Quindlen titles, and a copy of Malcom X Speeches at Harvard. What's very cool about her job — and something she indeed nods her head to — is the fact that she could potentially invite to the Ath most any author that struck her fancy. Along those lines, she is very excited about a humorist series this year that tentatively includes author P J. O'Rourke (Rolling Stone's current foreign affairs desk chief), and a personal favorite, author and humorist, David Sedaris.
The other thing she enjoys about her job is the students. "I do get to know a few of them pretty well.. and it renews my optimism about life and the world."
Snortum's association with the Ath began years ago, when she was hired on as an assistant to then-director Jil Stark. Her initial introduction to CMC was "as a faculty wife." Bonnie's husband, John Snortum, was the George C.S. Benson Professor of Public Affairs in the psychology department. He was hired at CMC in 1967. Bonnie graduated from college as a music performance major, and while her husband taught, she was juggling jobs as piano teacher, choir director, and as a harpsichordist and pianist in various ensembles. John Snortum died in November 1988. In January 1989, the job of assisting Stark as athenaeum coordinator became available.
"The Ath had suddenly gotten very busy and they needed more help," Snortum recalls. "I started helping in general operations, writing letters and invoices; things like that." When Stark later retired, the director's job went to Snortum.
Her vision then and now has been to cast more fine artists at the Ath's doorstep. A recent brush with flamenco dancers is exactly the sort of variety she says is needed to round out the liberal arts education. And if she has her way, there will be more classical, jazz and folk musicians coming to CMC in the near future.
As for naming her personal dream guests, Snortum thinks for a minute. "Barbara Kingsolver would be one," she answers. "She's a wonderful, prolific writer." Another thrill was having PBS journalist Daniel Schorr on campus last fall.
The phone rings and Snortum lets it go to voice mail. It's not yet noon and there are many calls to return. As for the dream list... "I have a long list of people I keep working on," says Snortum, grinning. "Persistence pays. Call it stubbornness or tenacity, but I just keep chipping away."
| | | | | | | |
| --- | --- | --- | --- | --- | --- | --- |
| 26 | 27 | 28 | 29 | 30 | 1 | 2 |
| 3 | 4 | 5 | 6 | 7 | 8 | 9 |
| 10 | 11 | 12 | 13 | 14 | 15 | 16 |
| 17 | 18 | 19 | 20 | 21 | 22 | 23 |
| 24 | 25 | 26 | 27 | 28 | 29 | 30 |
| 31 | 1 | 2 | 3 | 4 | 5 | 6 |