Recipes
---
Salmon with Lemon Dill Butter Sauce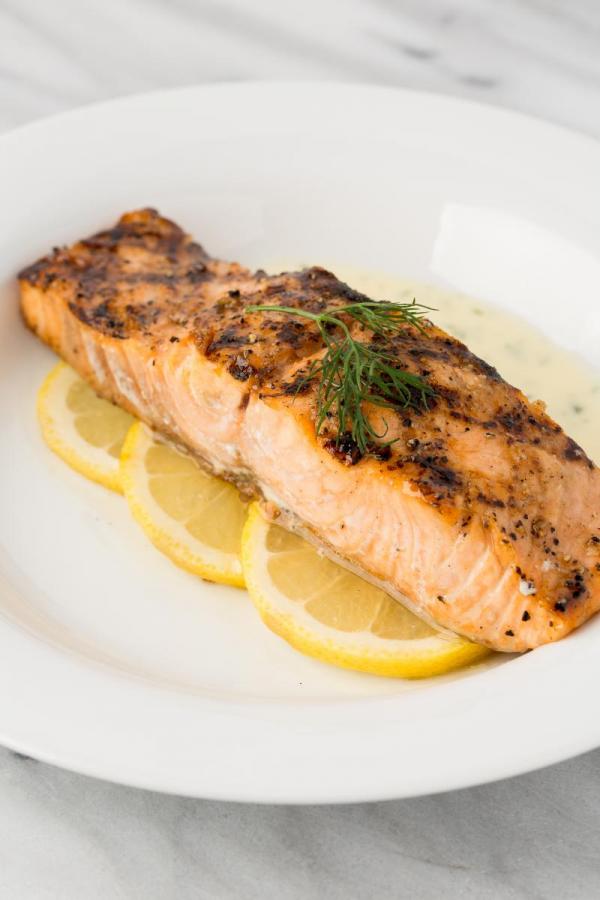 This dish is one of the most requested at the Ath!
Ingredients
4 (8-oz) salmon fillets
Salt and finely cracked black pepper
1 whole lemon, peeled (white removed) and thinly sliced.
1/2 cup white wine
1 large sprig thyme
1 T finely chopped shallots
1/4 cup heavy cream
1/2 lb cold, unsalted butter diced into 1-inch cubes
1 T dill, chopped
Salmon:
Season salmon fillet with salt and pepper.
Mark fillets on a grill and finish cooking on a tray in a 400 degree oven for about 5 to 7 minutes until just cooked.
Lemon Dill Butter Sauce:
In a small saucepan, reduce lemon, wine, thyme, and shallots by half.
Add heavy cream and reduce until thickened.
Lower heat and add butter, one cube at a time, stirring constantly. (Do not boil or sauce will break.)
When you have added all the butter and its as melted, strain through a fine strainer and season to taste.
Add chopped dill.
Plating:
Place salmon fillets on plate and ladle about 1 1/2 ounce of sauce on top.
Garnish with dill sprig.
Serve with roasted potatoes or rice pilaf.
Enjoy!
---
Athenaeum Bars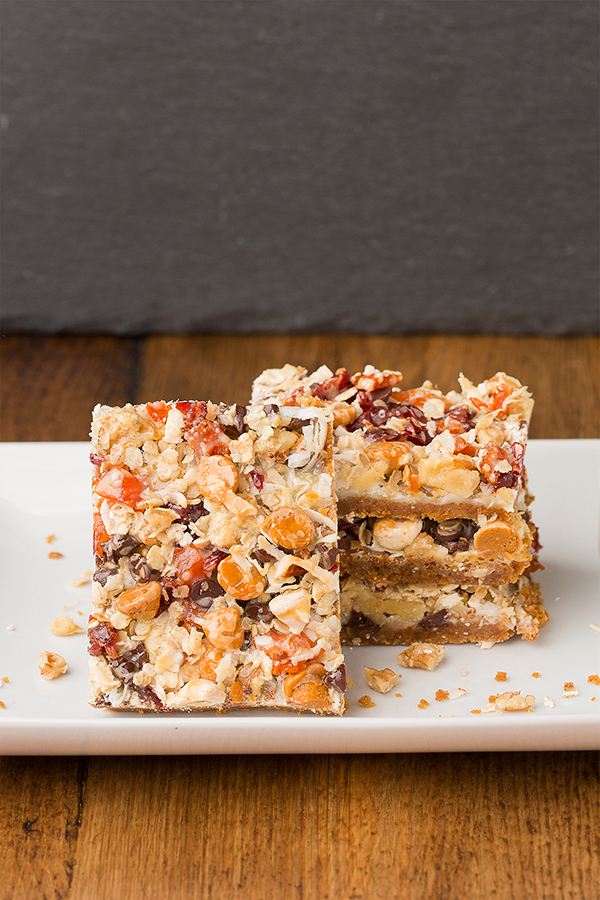 The perfect pick-me-up at afternoon tea.
Ingredients
1/2 cup butter or margarine
1 1/2 cups graham cracker crumbs
14 oz sweetened condensed milk
1 cup chocolate chips
3 1/2 oz coconut flakes
1 cup chopped nuts, dried fruit, seeds, or combo
Directions
Preheat oven to 350 degrees.
In a 13 x 9 inch baking pan, melt butter or margarine in the oven.
Sprinkle graham cracker crumbs over the melted butter/margarine.
Pour sweetened condensed milk evenly over the crumbs.
Sprinkle with the chocolate chips, then coconut and nuts.
Press down firmly.
Bake 25 to 30 minutes or until lightly browned.
Cool completely.
Cut into bars.
Store at room temperature.
Makes 2 dozen bars.
---
Cream of Watercress Soup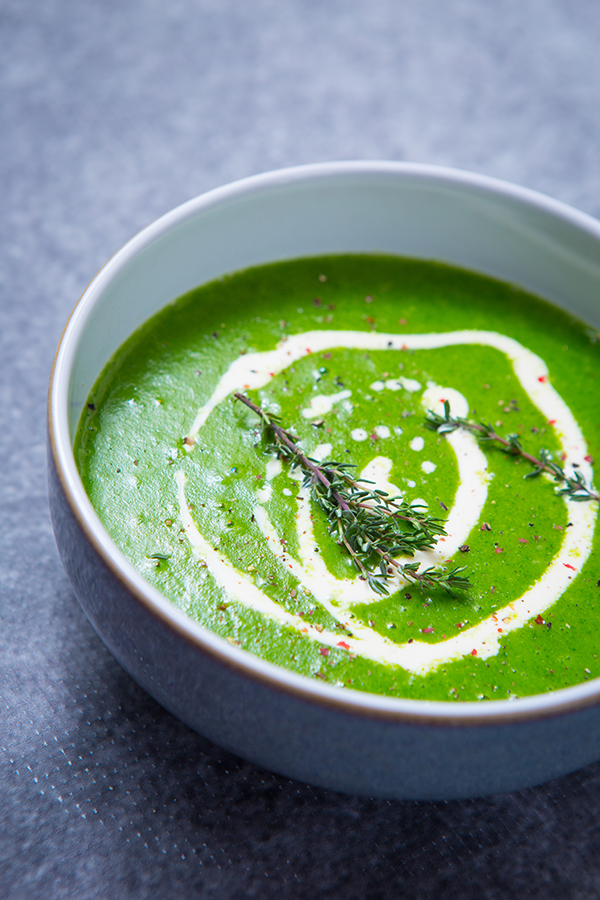 Ingredients
1 stick celery, diced
1/2 yellow onion, diced
1 leek, white part only, washed well, thinly sliced
4 oz melted butter (or sub with olive oil)
1/2 cup all purpose flour
3/4 cup russet potato, peeled and diced
2 bunches watercress, roughly chopped
1 quart chicken broth (or vegetable broth)
4 oz cream (or coconut milk)
8 sprigs watercress for garnish
Directions
Melt butter in 3 quart saucepan.
Add diced vegetables and chopped watercress.
Sauté for 1 minutes on medium heat.
Lower heat, cover, and simmer/sweat vegetables for about 4 minutes.
Add flour and stir well for 1 minute over low heat.
Add broth.
Simmer on low for 5 minutes stirring often to break up any lumps of flour.
Stir in cream.
Add salt and fresh cracked black pepper to taste.
Purée with immersion blender until smooth.
Add additional broth or water to attain desired consistency.
Pour into warm bowls.
Garnish with a watercress sprig and/or chives (or other herb of choice) and a drizzle of cream.
Enjoy!
Makes 8 servings.
Can substitute with olive oil, vegetable broth, and coconut milk for vegan option!
---
Cajun Blackening Powder
A fixture in the Athenaeum pantry, this versatile rub works well on meats, chicken, fish, and tofu. It was brought to the Athenaeum by Chef David Skinner in 1991; he has served as Athenaeum chef since then.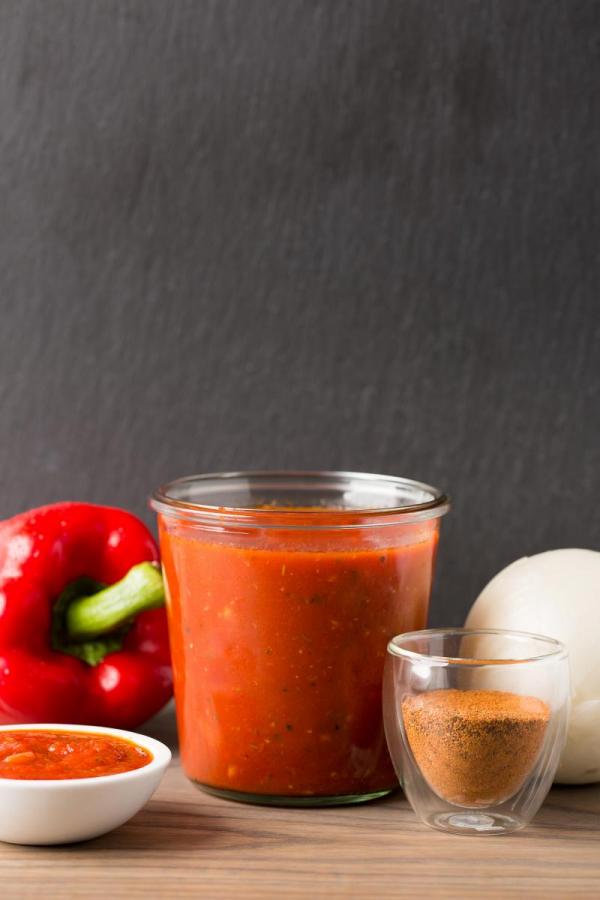 Ingredients
2 T paprika
2 t onion powder
2 t garlic powder
1 t cayenne pepper
1/4 t white pepper
1/4 t black pepper
1/2 t dried thyme
1/2 t dried oregano
1 t salt
Directions
Mix all ingredients together.
Lightly oil whatever you are cooking up: chicken, fish, meat, or tofu.
Rub in the spice mixture.
Cook in a hot pan.
For grilling, make a slurry with olive oil (1/2 cup) and rub (1/4 cup).
Generously rub chicken, fish, meat, or tofu with slurry.
Grill until cooked and blackened.
Mixture will keep well in an air tight container for several weeks.
Follow us on our Instagram and at Facebook to see our most recent recipe.
---
Professor Massoud's Baba Ghanouj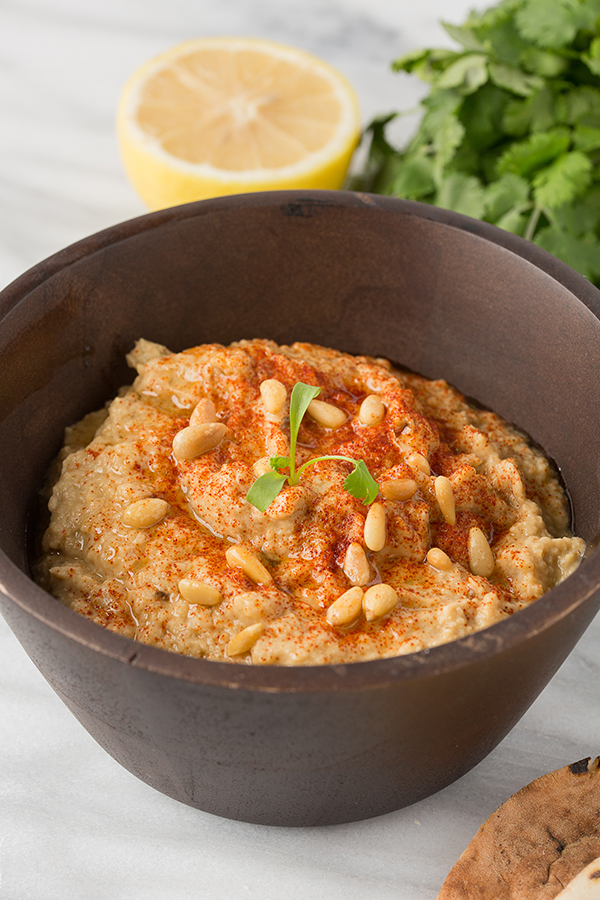 This recipe was served at the Athenaeum at the special request of beloved Professor Marc Massoud in celebration of his son's wedding. It has since become one of the favorite vegetarian sides served at the Ath.
Ingredients
1 large eggplant
2 large onions, skins off
3 T olive oil
1 cup tahini
1/4 cup water
4 garlic cloves
1/4 cup lemon juice
1/4 t cumin
salt and pepper to taste
Garnish:
Parsley
1 T pine nuts (optional)
Directions
Cut eggplant and onions in half lengthwise.
Sprinkle with salt and let sit for 15 minutes.
Rinse eggplant and pat dry with paper towel.
In the meantime, heat broiler.
Brush eggplant and onions with olive oil.
Broil for 5 minutes or until golden brown on top.
Turn off broiler and turn oven to 350 degrees and bake until veggies are tender, 30 minutes or so.
Let cool.
Scoop out flesh of eggplant.
Combine all ingredients in food processor and blend until smooth.
Add more lemon juice, olive oil, salt and pepper as needed for your tastes.
Garnish with chopped parsley and pine nuts.
Drizzle with olive oil.
---
Ath Rice Krispies Treats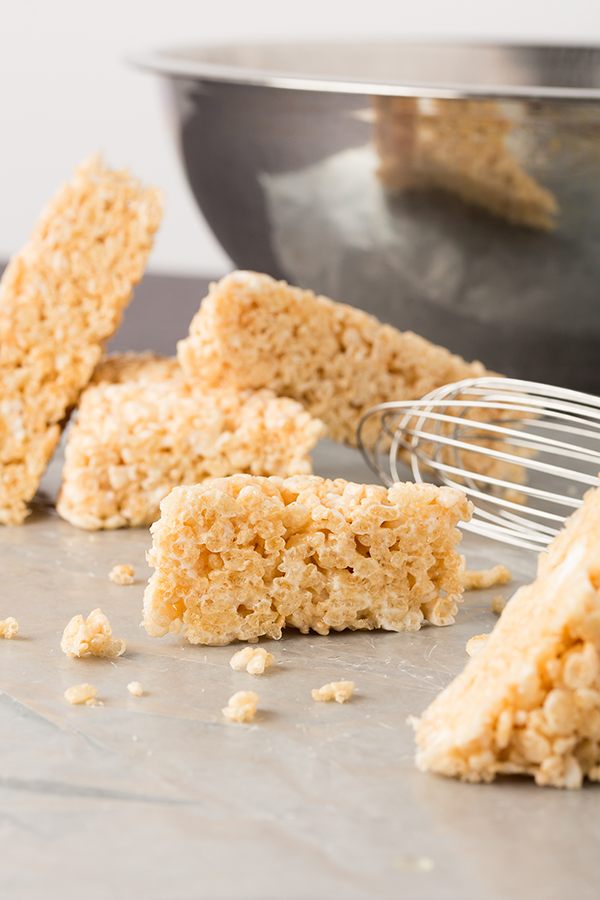 Created by former Ath dessert chef Jackie Hawkins, Ath tea became legendary with her simple yet delightful recipes.
Ingredients
1/4 cup butter
5 cups miniature marshmallows
5 1/2 cups Rice Krispies
Directions
Melt butter in large saucepan over low heat.
Add marshmallows and stir until completely melted.
Remove from heat.
Add cereal.
Stir until well coated.
Using a buttered spatula or wax paper, press mixture evenly into buttered 8 x 8 baking dish.
Let cool.
Cut into 2 x 2 squares when cool.
| | | | | | | |
| --- | --- | --- | --- | --- | --- | --- |
| 26 | 27 | 28 | 29 | 30 | 1 | 2 |
| 3 | 4 | 5 | 6 | 7 | 8 | 9 |
| 10 | 11 | 12 | 13 | 14 | 15 | 16 |
| 17 | 18 | 19 | 20 | 21 | 22 | 23 |
| 24 | 25 | 26 | 27 | 28 | 29 | 30 |
| 31 | 1 | 2 | 3 | 4 | 5 | 6 |