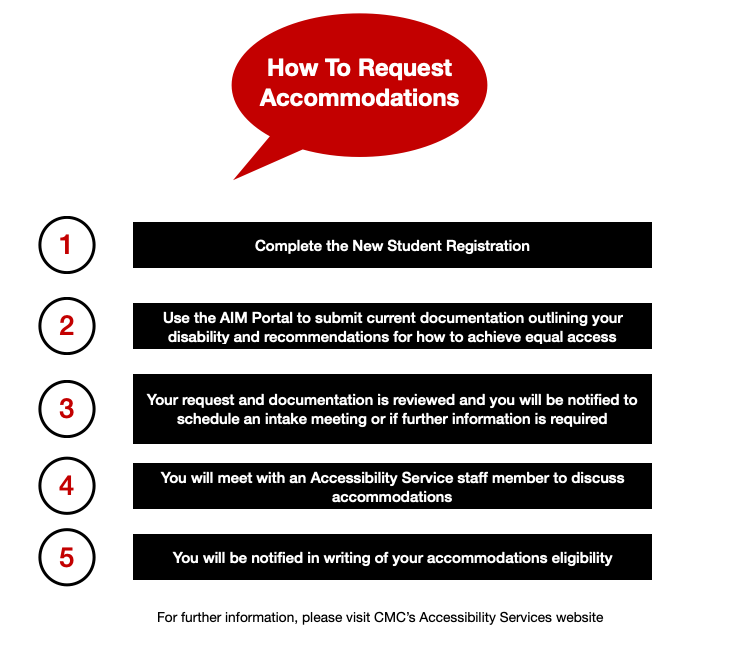 If you wish to access accommodations, please see the process outlined below. For more information, you can connect with the Assistant Dean of Students for Accessibility Services & Academic Success.
New Student Registration Sign Into the AIM Portal
Accommodations Request Process
Complete New Student Registration using the link above.

Any CMC student who is requesting accommodations, regardless of class year, should complete New Student Registration which allows them to complete the Accommodations Request Process.
After the registration has been completed, you can use the AIM Portal link to submit current documentation which outlines your disability and recommendations for how to achieve equal access.
The AIM Portal link is available to you for the entirety of your time at CMC. This is where you can check eligible accommodations, send accommodation letters to faculty members, etc.

Your request and documentation will be reviewed and you will be notified if the documentation is complete, or if further information is required.
As part of our interactive process, we ask to have an in-person meeting with each student to learn more about how our office can help provide access for them. In the absence of an in-person meeting, a phone call or other personal communication will work so that the student has the opportunity to provide all information they would like.
Once accommodations are established, you will be notified in writing of your accommodation(s). Each semester, students must request their academic accommodations to renew them for the semester and to notify their faculty.
If you would like to meet with a staff member to discuss your eligible accommodation(s) please contact accessibilityservices@cmc.edu or 909-607-0316 to schedule an appointment.
All students
Any student is able to connect with Accessibility Services anytime throughout the calendar year in order to request accommodations. During the academic year (fall and spring semesters), all requests are processed in the order they are received and may sometimes take 15 business days to process. However, all requests will be reviewed sooner if time permits. Accommodations will not be available until a student receives their accommodation letter. In the case of academic accommodations, the student will need to request their academic accommodations at the beginning of each academic semester and send their letter to their faculty members to begin using the accommodation(s). They can do this by logging into the AIM portal, linked above. Accommodations cannot be applied retroactively.
Housing Accommodations
See below for more information on dates related to housing accommodations. Please see the Appropriate Documentation page for more information about documentation for housing accommodations.
Incoming Students (Academic Year 2023-2024)

Deadline to request- Friday, June 9

Note: This is the same day that the New Student Housing Preference form is due. Housing forms for new students become available on the New Student Portal in late May.

Room Draw (Academic Year 2022-2023)

Current Students

Deadline to request- Friday, April 9

Students returning from leave

Deadline to request- Friday, April 9

Transfer students

Are not guaranteed on-campus housing by the College. If a transfer student seeks housing accommodations, they shall request as close to their deposit date as possible for case-by-case consideration for on-campus housing and accommodation(s).

Mid-year room draw (Spring 2023, occurs Fall 2022)- All dates subject to change. Dates will depend upon new Room Draw dates to be announced by Residential Life.

Current Students

Deadline to request- Friday, October 28

Students returning from leave

Deadline to request- Friday, October 21

Post-Deadline Requests

If a need for a housing accommodation request arises outside of the above timelines, students should still follow the same application process. They should email accessibilityservices@cmc.edu about their request and Maude Nazaire, the Assistant Dean of Students for Accessibility Services & Academic Success, will talk them through the process. We will review post-deadline requests and will make every attempt to implement approved accommodations based on current availability. Please note that availability for certain types of accommodations may be limited at later points in the year.
Incoming students
It is recommended that you register for accommodations after acceptance of admission to CMC but prior to your first semester so that appropriate accommodations can be in place at the beginning of your college career.
Incoming students can start submitting requests on the Monday after Spring Commencement (May 15, 2023).
All requests for housing accommodations must be received by June 9, 2023. All requests for academic accommodations must be received by July 14, 2023. Please know requests will be considered incomplete if supporting documentation is not uploaded at the time of submission. Incomplete requests will not be processed until the documentation is received. All complete requests submitted with appropriate documentation will be reviewed before the first day of classes. Once reviewed, students will be notified of the status of their requests.

Housing accommodation requests made after July 28, 2023, will not be reviewed for approvals that would occur prior to the beginning of the school year. Any requests submitted made after July 28, 2023, will be reviewed after the first day of classes and will be approved based on demonstrated need and will be fulfilled pending housing availability.