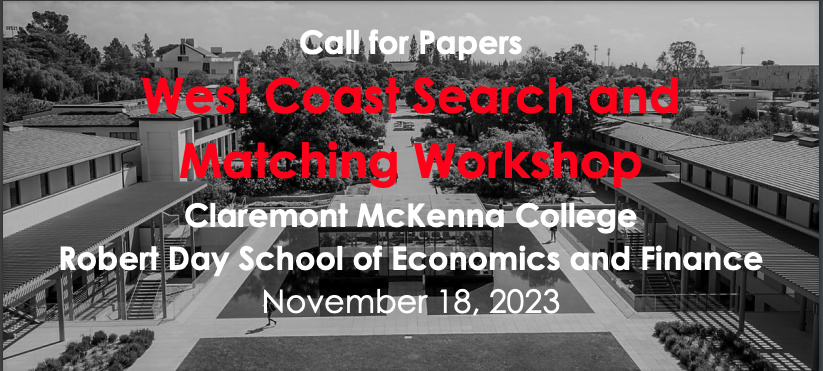 Event Details
The organizing committee and the Lowe Institute of Political Economy invite submissions for the West Coast Search and Matching Workshop held on Saturday, November 18, 2023 at the Robert Day School of Economics and Finance at Claremont McKenna College. We welcome submissions in the fields of monetary economics, financial economics, and labor economics with a focus on search, matching, and information frictions.
Submission of Papers: The deadline for full-paper submissions is Sunday, October 15, 2023. Interested authors should submit their papers in electronic form (PDF) to Florian Madison (fmadison@cmc.edu) and will be contacted shortly after the deadline. Applications by ambitious PhD students will also be considered.
Registration Details: This event is proudly sponsored by the Lowe Institute of Political Economy at Claremont McKenna College. There is no registration fee and lunch, coffee, and dinner are provided for all participants. Please register HERE.
Organizing Committee:
Michael Choi (UC Irvine)
Athanasios Geromichalos (UC Davis)
Lucas Herrenbrueck (Simon Fraser University)
Florian Madison (Claremont McKenna College)
Victor Ortego-Marti (UC Riverside)
Guillaume Rocheteau (UC Irvine)
Pierre-Olivier Weill (UCLA)
Further information: For further information and to register for the workshop, please visit the event website.
Additional Resources