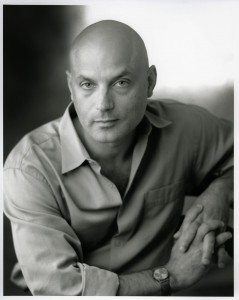 Daniel Mendelsohn is CMC's Podlich Fellow-in-Residence
It's not hard to imagine this as a sci-fi movie, maybe Tom Cruise is the hero, trying to out-maneuver a team of scientists who are trying to steal his genome. It's embedded in a microchip he's locked into his briefcase, and maybe the science folk want to replicate a rare genetic variant of his for––uh––not-so-noble biomedical reasons. That you could carry your genome––your entire genetic makeup–– in the palm of your hand may sound more light years away than palpably present. Or that variables in a person's DNA are just a touch-screen-swipe away… (Really?) Really.
This Fall was another great season of informative and provocative lectures from a bevy of movers, shakers, thinkers, leaders and luminaries.
In case you missed them, see video of entire talks from select Fall speakers at the Athenaeum.
Video:
When he arrived at CMC in 1963, Ricardo Quinones was a rising literary critic whose presence and credentials, writes Kevin Starr in his history of the college's first 50 years, boosted the College's efforts to develop a robust literature major.
He's traded Elizabethan quips with comedian Stephen Colbert and reimagined Shakespeare's daily life—now Harvard Professor Stephen Greenblatt comes to CMC Wednesday, October 23, to explain why the recovery of an old, lost book, described in the following passage, is so important for the modern world:
Yale Law School professor and former legal advisor to the State Department, Harold Koh, spoke at the Athenaeum October 8, on "Is there an Clinton-Obama Doctrine?" The talk was part of President Chodosh's inaugural "Liberal Arts in Action" speaker series.
Koh, who was Legal Advisor of the Department of State, 2009-2013, discussed what it was like being a government lawyer and outlined some misconceptions. He discussed working as one of former Secretary of State Hillary Clinton's legal advisors in the State Department.
The undergraduate years are the time when many students explore their interests and nourish their intellectual curiosity. For Swami Sarvadevananda, they're also a time to ask some crucial questions.
"What is your purpose in life? To receive a degree, and then to find a good job? Is that all?" the Swami asked students Monday night during a dinner lecture at the Athenaeum. "You were born to do great things, to bring out what is dormant inside of you."
Gloria Allred, prominent lawyer and activist known for her work on behalf of women's rights and rights of those discriminated against, spoke at the Athenaeum on Monday, Sept. 23. Allred's talk, titled "Women's Rights and Women's Wrongs – Sexual Harassment in the Workplace and Sexual Assault on College Campuses," can be viewed in its entirety above.
Pages