Statistician-extraordinaire Nate Silver spoke to a packed audience at the Athenaeum on Thursday, Sept. 19, about how we look at data and information, sharing insights from his famously accurate predictions of the state-by-state outcomes of the 2012 Presidential election, and conveying some best practices for accurately analyzing and using data and information, separating the "signals" from the "noise."
September 12th marked the 30th anniversary of the opening of the Athenaeum. Read these excerpted remarks presented at the Athenaeum on that date by Athenaeum fellow Andrew Willis '14 on the venerable institution's history and what "The Ath" has meant to CMC since its founding:
"As you may or may not have been aware today marks the 30th anniversary of the opening of the Athenaeum. Thus, I thought it might be appropriate to tell you all a little bit about the history of this place.
Former White House speechwriter and Deputy Domestic Policy Advisor, Eric Liu spoke at the Athenaeum on Thursday, September 12. The title of his talk was  "Democracy is for Amateurs."
Speaking to an audience of mostly CMC freshmen as this year's freshman class speaker, Liu began with the question "What does it mean to be a citizen?"
Liu outlined two "moments of truth"—that facing the Millennial generation in defining itself instead of allowing others to define it, and a moment of truth for the country.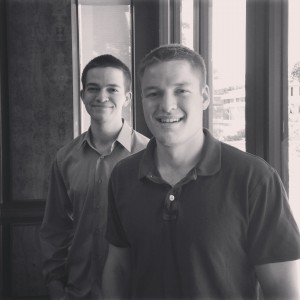 Andrew (left) and Ben. Yep. Their jobs as Ath Fellows are pretty sweet.
Benjamin Tillotson '15 and Andrew Willis '14, new Ath Fellows for the Marian Miner Cook Athenaeum, hope to book a diverse and interesting group of speakers when they begin their stint for 2013-2014.
Pages