CMC professor and George R. Roberts Fellow Shana Levin was installed as the Crown Professor of Psychology during a luncheon ceremony on March 6 at the Marian Miner Cook Athenaeum.
Levin currently chairs the psychology department and is the third academic (via endowments from the family of Trustee Steve Crown '74) to be installed as a Crown Professor at the College.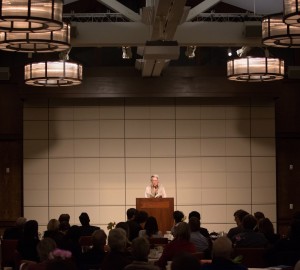 One of contemporary poetry's leading voices, Sharon Olds, gave a reading of her work at the Athenaeum on Monday, Feb. 11.
Something different happened recently at the Athenaeum. The venue, which has hosted political heavy-hitters, literary lights, and distinguished men and women from all over the world, was rocking in rhythm.
Claremont's eclectic A cappella singing group performed for the Board of Trustees dinner as they welcomed President-elect Chodosh last week. Their soul-pleasing sound enchanted the audience as they sung through a set list that included I Won't Give Up and You're a Mean One, Mr. Grinch.
Pages