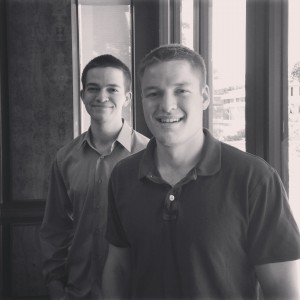 Andrew (left) and Ben. Yep. Their jobs as Ath Fellows are pretty sweet.
Benjamin Tillotson '15 and Andrew Willis '14, new Ath Fellows for the Marian Miner Cook Athenaeum, hope to book a diverse and interesting group of speakers when they begin their stint for 2013-2014.
Home isn't simply the place where you were born. It's more than that, Pico Iyer told students Tuesday night at the Athenaeum.
Home, Iyer said with his trademark pithy style, is "about soul, not soil."
Is Europe facing an economic crisis? For economist and author Guy Sorman, this is a familiar question.
"Europe has always been in crisis," Sorman told a lunchtime audience at the Athenaeum earlier this week. "In fact, I cannot remember when there hasn't been a crisis."
Johann Olav Koss, the Olympic speed skater from Norway and founder of the nonprofit Right To Play, will visit Claremont McKenna College on Thursday and Friday, April 18-19, for activities surrounding the Kravis Prize.
Events throughout the day, including Thursday's Global Leaders Forum––hosted by KLI and featuring previous Kravis Prize recipients–– as well as the Kravis Prize Award dinner, will be live-streamed at this address: http://www.cmc.edu/livestream.
Pages