Staff members Rosie Lupercio and Jennifer Sandoval-Dancs have been announced as recipients of the 2014 Exceptional Service Awards at CMC's Spring Staff Luncheon on April 29.
Rain or shine, CMC will host the 36th Annual International Festival this Saturday, April 12 from 12 to 4 p.m. in the Gann Quadrangle––the lawn between Kravis Center and the glass Kravis Living Room.
It's not often that student groups come to the aid of business interests. Usually, it's the other way around. But sometimes turnabout is fair play, especially when everyone benefits.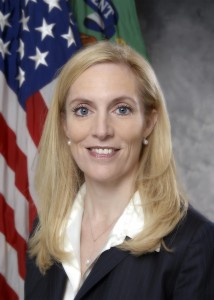 Lael Brainard
On Friday, April 4, the Gould Center for Humanistic Studies will launch a five-session, half-credit course on contemporary painting with acclaimed Los Angeles artist Mary Weatherford, whose lively, color-washed paintings with affixed neon lighting have changed the landscape of contemporary art.
On the evening of the final regular season men's basketball game of the 57-year history of Ducey Gymnasium, the night began with a pregame celebration of Ducey Gym, and also ended in celebration as the CMS men's basketball team defeated the University of Redlands to win the regular season Southern California Intercollegiate Athletic Conference (SCIAC) championship.
Personal and executive coach Michelle Bauman '89 was the keynote speaker at the 5th Annual Women and Leadership Workshop, held on February 5.
Pages