Remarks made by CMC Board of Trustees Chairman David Mgrublian '82 P'11 on April 10, 2015
"Those who cannot remember the past are condemned to repeat it."
As many of you know, April 24th is a day of special significance in the Armenian community – it is the day we remember the Armenian Genocide. What you may not know is that on that day exactly 100 years ago, Ottoman authorities rounded up 250 Armenians in Istanbul who they felt posed the greatest threats to their plans to perpetrate a mass extermination.
Remarks made by John K. Roth, CMC Professor Emeritus of Philosophy, on April 10, 2015
Germany's biggest newspapers are following and reporting the recent work of Professor Jonathan Petropoulos, who has spent much of his academic career on the subject of  Nazi art looting.
Forty students took the opportunity to visit ancient Greece and Rome right in Los Angeles at the antiquities collection of the Getty Villa, Nov. 23. Associate Professor of Roman and Late Antique History Shane Bjornlie led the expedition.
"Students joining the trip represent a cross-section from the five Claremont Colleges, each of whom is currently enrolled in courses that contribute to the History and Classical Studies programs at CMC," said Bjornlie, who is a former Fellow of Ancient Studies at the American Academy in Rome.
The annual celebration of Donald McKenna's birthday, the Tartan Snack, will be held Friday, Oct. 10, from 10:30 to 11:30 p.m. in Collins Dining Hall.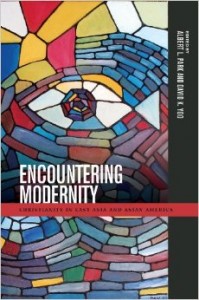 Assistant Professor of History Albert L. Park has co-edited a newly published book titled Encountering Modernity: Christianity in East Asia and Asian America (Univ. of Hawai'i Press, 2014).
Pages