Though many of his books are about visits to far-off places, acclaimed writer Pico Iyer is interested in far more than miles trekked or places of interest.
It's the existential aspect, and the special revelations produced in the course of traveling, that often lie at the heart of his many books.
"The Army I knew as a child, the one I experienced as a young officer, and the one I left in 2010 were as different as the times they resided in," writes retired four-star General Stanley McChrystal in his recently published memoir My Share of the Task.
And yet, regardless of how the military has changed, McChrystal has learned invaluable lessons over the course of more than three decades in the U.S. Army.
CMC professor and George R. Roberts Fellow Shana Levin was installed as the Crown Professor of Psychology during a luncheon ceremony on March 6 at the Marian Miner Cook Athenaeum.
Levin currently chairs the psychology department and is the third academic (via endowments from the family of Trustee Steve Crown '74) to be installed as a Crown Professor at the College.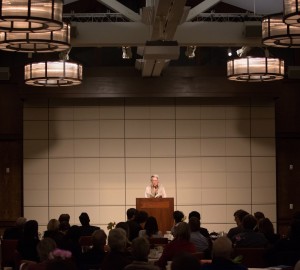 One of contemporary poetry's leading voices, Sharon Olds, gave a reading of her work at the Athenaeum on Monday, Feb. 11.
Something different happened recently at the Athenaeum. The venue, which has hosted political heavy-hitters, literary lights, and distinguished men and women from all over the world, was rocking in rhythm.
Pages