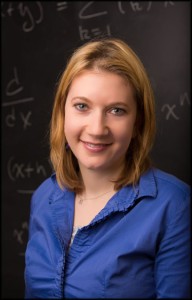 Deanna Needell
Associate Professor of Mathematics Sam Nelson has received a prestigious Collaboration Grant for Mathematicians from the Simons Foundation.
Staff members Rosie Lupercio and Jennifer Sandoval-Dancs have been announced as recipients of the 2014 Exceptional Service Awards at CMC's Spring Staff Luncheon on April 29.
Assistant professor of history Lily Geismer has received an Arnold L. and Lois S. Graves Award in the Humanities.
The biannual award, administered by Pomona College under the auspices of the American Council of Learned Societies, encourages and rewards outstanding accomplishment in teaching in the humanities by younger faculty members.
March 13, 2014-- See photos from a daylong series of activities for the Henry R. Kravis Prize In Leadership at Claremont McKenna College. The day included discussions and panels with past prize winners, a lunch presentation by Kathy Spahn, CEO of Helen Keller International at the Athenaeum, classroom visits by prize winners, concluding with the evening award ceremony dinner with remarks by Henry Kravis, Marie-Josee Kravis  and Kathy Spahn.
Pages