Community-Wide Engagement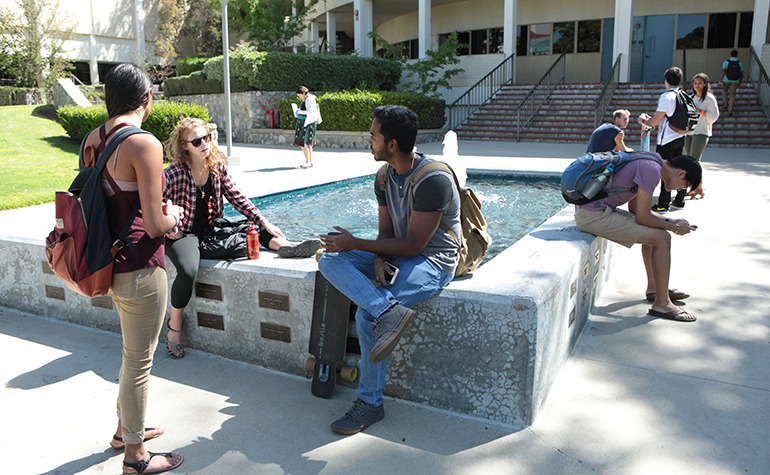 Building Capacity
As the College increases the capacity to address concerns related to diversity and inclusion, a strategic goal is to build core competencies among students, staff, and faculty to value our differences and engage in meaningful interactions. In an academic community, people need tools in which to hear perspectives that are different from their own, challenge their own thought processes, articulate their views, and acquire new knowledge without causing harm or being hurtful.
Student Support Resources
CMC is committed to supporting students' personal and intellectual development throughout their college experience. Every dimension of the College must contribute to an inclusive community. Admission and financial aid, residential life, athletics, student activities, career services, etc.—each contributes powerfully to students' opportunity to thrive while at CMC and in their life after college. Students can also access a range of resources to build community, address collective concerns, and support individual needs based on identity and expression.
As a member of the Claremont Colleges, CMC students benefit from consortium resources including: the Office of Black Student Affairs, Chicano Latino Student Affairs, the Intercollegiate Feminist Studies Center, the Queer Resource Center, the Student Disability Resource Center, International Place, the EmPOWER Center, and an interfaith Chaplains Office. Additionally, students are encouraged to utilize the CARE (Civility, Access, Resources, Expression) Center, located in the heart of the CMC campus.
Dialogue
CMC is committed to facilitated dialogue, roundtables, and workshops for people to engage with each other, question the assumptions underlying their perceived knowledge, and inform the College's approach. Recent activities include:
Faculty and staff meetings to discuss institutional initiatives related to diversity and inclusion.
Reading groups to discuss scholarly work that speaks to current and emerging issues around pluralism and diversity in higher education.
Workshops for students, faculty, and staff on facilitation of difficult dialogues and communicating across difference.
Faculty roundtable discussions on free speech and academic freedom hosted by the Dean of the Faculty.
Faculty workshops to build capacity for inclusive pedagogy and teaching pluralism in the classroom.
Numerous community forums and structured focus groups to inform the development of the CARE Center.
The You. Me. Together CMC community dialogue. In September 2016, the College held a community-wide program to give students, staff, and faculty the opportunity to explore identity and communicating across difference. The annual event is part of a broader effort to arm CMCers with some of the tools required to converse thoughtfully across difference, to engage difficult topics, and to evolve our thinking about personal and socially constructed identities and social justice in the world.
The Athenaeum
The Athenaeum continues to support rich intellectual programs on a broad spectrum of issues related to diversity, inclusion, and the human condition more generally. The Athenaeum hosts dozens of leading scholars, activists, analysts, journalists, artists, and other speakers who challenge us to expand our understanding of the world. The Athenaeum also serves as the primary hub for more informal gatherings, and remains central to community building.
Faculty and Staff Engagement
The College continues to explore opportunities to engage the community around issues of diversity and inclusion. The offices of the President, Dean of the Faculty, Dean of Students, Civil Rights and others support faculty and staff diversity and professional development to enrich campus climate. Recent activities:
Faculty workshops on academic freedom and inclusive pedagogy, based on well-researched, effective strategies for facilitating difficult dialogues in the classroom.
An inclusive pedagogy grant program provides funding for faculty who wish to add additional perspectives or pedagogies to their existing classes, or to develop new classes that enhance students' understanding of the social, historic, economic, and cultural experiences of diverse communities.
The Dean of the Faculty and the Assistant Vice President for Diversity and Inclusion review all hiring bulletins and job placement ads to ensure they evidence a commitment to a diverse learning community; they also require that all faculty-hiring committees attend two workshops—one on how to proactively diversify applicant pools and another on how to recognize and address implicit bias.
The Dean of the Faculty maintains a faculty-managed repository of scholarly work that speaks to current and emerging issues around pluralism and diversity in higher education, and hosts reading groups for faculty and for staff who wish to discuss these materials together.
The College offers staff workshops on diversity, inclusion, implicit bias and difficult dialogue facilitation to support inclusive workplaces.
The College hired an Assistant Vice President for Diversity and Inclusion and Chief Civil Rights Officer to provide staff support and expertise on diversity and inclusion. This position is part of the Dean of the Faculty's senior cabinet and has a special emphasis on academic affairs. The Dean of Students Office added an Assistant Dean for Diversity, Inclusion, and Residential Life who directs the CARE Center.