When critics complain, especially now that the 2016 presidential campaign is starting to take shape, that the federal government should stay out of public education, or that it has no business there, it would make sense for them to turn to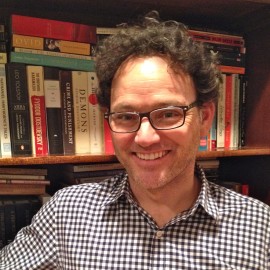 George Thomas (pictured, left) for some helpful historical pe
Harry V. Jaffa, a preeminent professor of political philosophy whose views contributed to CMC's early identity as a bastion of conservatism on the West Coast, passed away last week, on January 10 at Pomona Valley Hospital. He was 96.
It was a homecoming of sorts at the Athenaeum for Steve Bullock '88, Governor of Montana and a Politics Philosophy Economics major during his days at CMC.
"Thirty years ago this past fall is when I first walked onto this campus," he told attendees at an Ath presentation this week that he whimsically named: "How to Get a Job like Mine (and would you really want it?)"
Claremont McKenna's Jack Pitney, Roy P. Crocker Professor of American Politics, was interviewed Monday by KTLA Channel 5 and KCAL Channel 9 on the 2014 election.
KTLA video:
Please click here if the below video doesn't work.
Pages