Both Claremont-Mudd-Scripps golf teams came away with first place finishes and individual winners at the SCIAC #2 Golf Tournament April 6-7 at La Purisima Golf Course. For more details on each team's performance, please see stories below.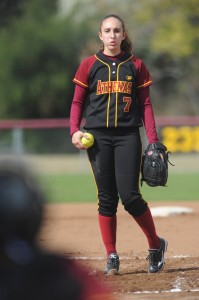 Claremont-Mudd-Scripps softball player and Claremont McKenna College sophomore Hayley Schultz  is featured in the March 4, 2013 issue of Sports Illustrated's "Faces in the Crowd" which is SI's weekly feature that highlights standout amateur athletes and has be
Athenas Make It 11 In A Row At SCIAC Championships
LA MIRADA, Calif. – The Claremont-Mudd-Scripps women's swimming & diving team captured their 11th-straight SCIAC Swimming and Diving title on Tuesday at Splash! La Mirada after leading for the duration of the three-day event. The Athenas tallied 919 points to finish ahead of Pomona-Pitzer (745.5) and the University of Redlands (486). Over the course of the SCIAC Championships, the Athenas won six individual and team events and showed team depth across the board to earn the win.
The big, Wednesday, Jan. 23 basketball game between the Stags and the Sagehens not only drew a capacity crowd, but notice from a local reporter, who called the game "round one in the best basketball rivalry in the Inland Valley."
New Gift Helps CMC Campaign Surge Past the $600-Million Mark
The Campaign for Claremont McKenna surged past the $600-million mark this week with the announcement of a $50-million unrestricted gift from trustee and alumnus George R. Roberts '66 P'93.
The College now has achieved not only the largest goal in its 66-year history, but also the largest campaign ever staged in liberal arts college history.
Pages