There's an old axiom about investing that says always remember to buy low and sell high.
It's a long (and self-evident) view toward acquiring wealth that would be foolish to deny. Indeed, during an Athenaeum luncheon on April 21 entitled A Conversation on Investing, guest speakers (both investment heavy hitters), George Roberts '66 P'93 and Britt Harris, agreed but with a slight twist. In Roberts and Harris' view, it's better for individual investors to buy low and then wait, wait, wait and then wait some more before selling, maybe.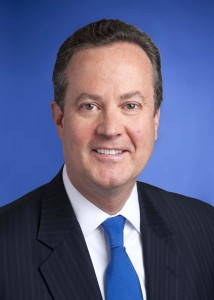 Douglas Peterson
It's not often that student groups come to the aid of business interests. Usually, it's the other way around. But sometimes turnabout is fair play, especially when everyone benefits.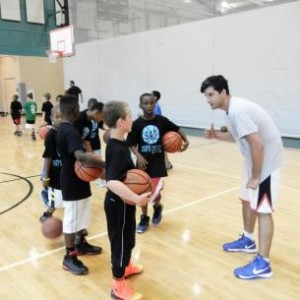 Khurana, with camp participants
847 Hoops founder Aron Khurana '09, who created a free basketball camp for underprivileged Chicago youth, has just been profiled in the NCAA's "40-in-40" series.
On the evening of the final regular season men's basketball game of the 57-year history of Ducey Gymnasium, the night began with a pregame celebration of Ducey Gym, and also ended in celebration as the CMS men's basketball team defeated the University of Redlands to win the regular season Southern California Intercollegiate Athletic Conference (SCIAC) championship.
Every movie begins on a blank page. And someone who knows that better than most is Douglas Day Stewart '62, who broke into TV and film writing not long after leaving CMC.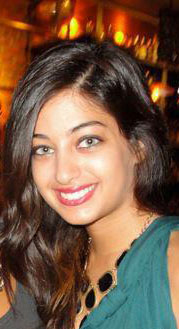 Personal and executive coach Michelle Bauman '89 was the keynote speaker at the 5th Annual Women and Leadership Workshop, held on February 5.
The event, sponsored by The Berger Institute for Work, Family and Children, Kravis Leadership Institute (KLI), and the Robert Day School of Economics and Finance (RDS), included a networking reception and roundtable discussion with 23 Claremont, Scripps, and CGU graduates working in fields ranging from education to pediatrics and public policy management.
Brian Davidson '08, a library science scholar, always thought his nerdy skills as a bookworm would bear fruit academically and professionally. But it never entered his mind that a propensity for trivia, book collecting and the history of information would lead to a stint on one of the hottest game shows on television.
This January, the Financial Economics Institute and the Robert Day Scholars Program sponsored the 11th annual New York City Networking Trip. In the final week of winter break, ten juniors and six sophomores traveled to NYC to learn about the wide array of opportunities in the financial services industry, and to connect with various alumni of all ages.
Pages